If you have an athletic body and don't currently own any Rab outerwear you're seriouslly missing out.  Why you ask?  Rab makes outwear that more so resembles the cut of European ski jackets.  The fit is spot on, there's no bulk and no added fuss.  When you put the Rab Electron Jacket on you'll know what I mean.  Or any Rab jacket for that matter.
Rab Electron Pro Warmth
With less bulk and a better fit the Rab Electron Down Jacket keeps you toasty on the slopes. Thanks to 800FP RDS-certified European goose down that's been treated with Nikwax.  Rab was one of the first brands to introduce me to the Pertex Quantum Pro ripstop nylon outerlayer.  It looks different, feels different and for some odd reasons there's only a handful of brands using this stuff?  Its durable, repels water and works perfectly under a shell as it slides on and off with ease.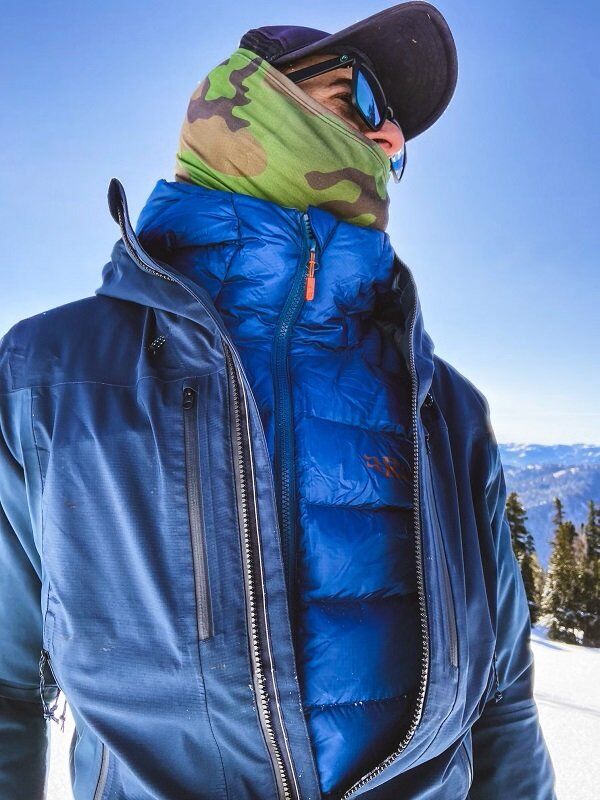 Rab is marketing this as a mountaineer/climbing jacket which would be perfect to wear while standing around or high in the mountains when the elements are getting nasty.
Even though the Men's Electron Pro Jacket is more streamlined, the hood can still go over a helmet while skiing, riding or climbing.  For storage the jacket comes with a stuff sack which can be tossed inside your backpack.  As of late I have found down jackets to be much more durable especially when Rab's using Pertex Quantum Pro for an outer layer. So with added durability I prefer just stuffing a down jacket into my pack.  Which ironically ends up taking up less space then a jacket in a stuff sack.
There's plenty of pockets for your gear and since the Electron Pro was designed with climbers in mind, the pockets are all easily accessible while wearing a climbing harness if that's your intended use.
The Rab Electron Down Jacket is warm, it's not really recommend for touring or hiking or you'll heat up quickly.  So instead of starting your early morning tour wearing extra layers, save them for when you stop for lunch or to transition for going downhill.  If you ski at a resort, this is a perfect layering piece that can be worn under a jacket, over or even just as an outer layer.
Overall Impression
I get a lot of outerwear to test, it comes and goes out of the office quickly.  That is aside from the Rab stuff, it's like that old Patagonia Capilene Baselayer you have. Hard to give up, incredibly reliable and makes you wonder why the rest of the industry has not caught up yet to Rab's style of outerwear for recreating in the mountains.
The Rab Electron Pro Down Jacket ($324.95) is popular and selling out fast for good reasons.  If you can find one, snag it up.  And you can thank me later in the comments.
Another rad jacket from the brand is the Rab Zero G Jacket that comes with even more warmth, 1000 fill and less bulk than the Electron, if that's even possible.
Related Articles: