The RadRover 6 Plus E-Bike is the latest iteration of Rad Power Bikes' flagship fat tire electric bike built for unpaved routes and city streets. This all-new Class 2 ebike comes with a thorough redesign of the previous model to boost usability and stopping power, keeping the RadRover name ahead of the rest when it comes to affordable ebikes.
Already a powerhouse brand in the ebike industry, Rad Power Bikes continues to innovate by delivering a sizeable update to the previous generation of RadRover's. The recent bike craze spurred by the pandemic has made it increasingly difficult to stand out as a ebike manufacturer. That said, Rad Power Bikes have surfed that wave to their advantage. Their commitment to yearly updates that actually incorporate new tech engineered in house and improved componentry is the main reason to why they are the largest North American ebike brand. The most recognizable improvements are the new hydraulic disc brakes and the semi-integrated battery design.
Versatile E-Bike
The RadRover 6 is rated as an all-rounder ebike that's designed for off-road riding as well as comfortable commuting in the city. Riders can take advantage of the fat tires and rugged build and adapt it to their needs. Purchasing front and rear racks transform the bike into a cargo bike set-up for urban errands. The Kenda Juggernaut 4" fat tires offer plenty of performance on unpaved surfaces like snow, sand, and mud.
The RadRover 6 E-Bike comes equipped with a 750W rear hub motor that works in throttle or pedal assist modes. Riders can toggle between five pedal assist levels, maxing out the RadRover 6 Plus speed at 20 mph. The standard half twist throttle design works well for some pedaling-free joyriding. The 12 magnet cadence sensor accelerates the motor smoothly, a big upgrade from the previous model.
New Rad Battery
A major change from the previous generation RadRover is the new semi-integrated battery. The high-capacity 14Ah battery fits into the downtube, but isn't completely hidden. The brand claims this helps users remove the battery for easy charging or carrying. I like the design and think it's a clever way to fit a large battery on the bike without ending up with an unattractive externally mounted battery.
The battery has a 10 LED display so you know exactly how much juice you have left. The RadRover 6 Plus range is rated as 25-45 miles, depending on the power settings you are using. The 6 Plus had shorter battery life during tests we ran in the cold, but that's expected on any ebike.
RadRover 6 Sizing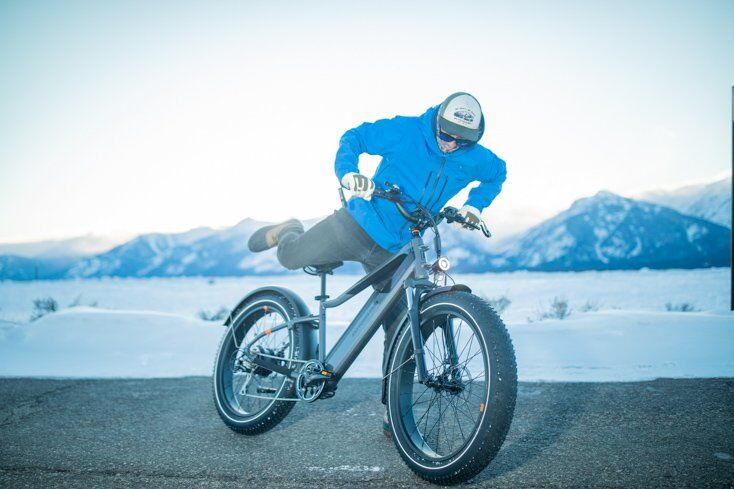 Rad Power Bikes have included a frame redesign with improved tech integration and a better fit for shorter riders. The 6061 aluminum frame is easy to step over and ultra-comfortable with its upright riding position. It only comes in one colorway, but we are a big fan of the glossy charcoal color paintjob.
The RadRover 6 Plus weight is a hefty 73.4 lbs., which is over the limit of many car racks, but the bike is nimble and handles surprisingly well. The overall feel skews towards stability and reminds us of a mini truck floating over tough terrain.
5'2″ to 6'2″ – RadRover 6 Plus Step Though Suggested Sizing
5'4″ to 6'2″ – RadRover 6 Plus Pro Frame Suggested Sizing
Hydraulic Disk Brakes
The quality componentry and new hydraulic disc brakes on the 6 Plus take its all-terrain capabilities to a new level. A smart move for such a heavy and powerful ebike, Rad Power Bikes have finally decided to install Nutt Hydraulic Disc Brakes to increase stopping power. The 4" fat tires come with K-Shield puncture resistant liners and reflective sidewalls.
60 mm Front Suspension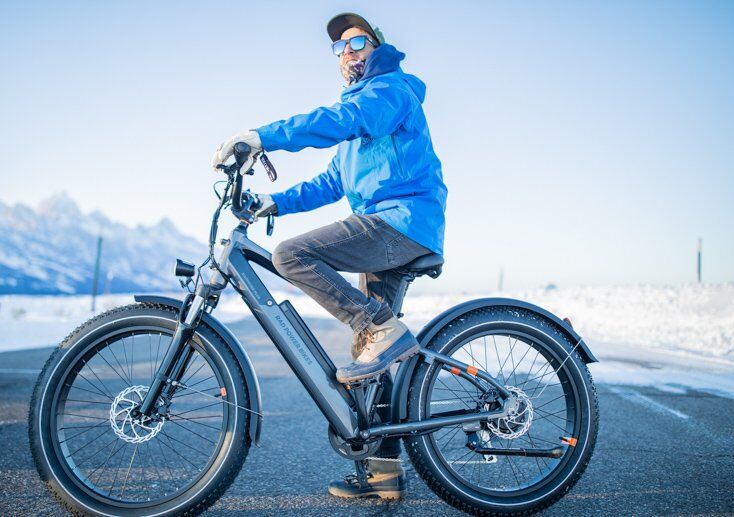 The 60 mm of front suspension is less than the previous model, but users probably won't miss that extra cushion too much. Seems like Rad Power Bikes realized most people treat this bike as more of a all-rounder recreation machine rather than an actual mountain bike. That said, the front suspension fork still has useful preload adjustment and a lock-out lever. The small range 7-speed Shimano Altus 11-34t gearing isn't enough for steep hill climbing — but hey, that's why there's a motor. The over-bar shifter is pretty outdated that doesn't match the rest of the bike's solid spec level.
Rad Display
There is increasingly more tech included on ebikes these days, and the RadRover 6 Plus doesn't disappoint with its onboard computers and other accessories. The sizeable main computer, called the Rad Display, is positioned at the center of the handlebars and is intuitive to use. Riders can easily see important stats like mileage, power output, time, pedal assist level, and speed. There is a secondary display on the left handlebar grip where users can control the motor with practical and simple buttons. That smaller display known as the Intuitive Rad User Interface is useful but relatively dim in sunny conditions.
Bright Automatic Lights
There are integrated front and rear lights that hook up to the battery and automatically turn on when it gets dark outside. The front white light is pretty bright and the tail light is built into the rear fender, doubling as brake light. Another small touch are the cable covers along the downtube to organize cables and keep them shielded from the elements.
It's a bit of an odd choice that's not too necessary, but it does give the RadRover 6 Electric Bike a sleek look. Last but not least, the comfortable seat works well for most riders and has a lifting handle to help with maneuvering the heavy ebike.
Overall Impression
The Rad Power Bikers RadRover 6 Plus is an impressive 2022 model that is sure to be popular among first-time ebikers as well as seasoned users. It will most likely sell out, so we recommend that you act quickly. The RadRover 6 E-Bikes ($2,099 price tag) is slightly higher than the previous generation but the upgrades make this great looking bike well worth the sticker price. For riders searching for an affordable ebike that'll turn heads and conquer any terrain, the 6 Plus has arrived just in time.
Related Articles: