The new QuietKat Ibex is a frontrunner in the emerging class of hunting-oriented e-bikes built with super tough specs and high-powered motors. This model rejects the "less is more" philosophy and shows how bigger tires, longer travel, and extra watts translate into additional utility on the trail.
Its $6,799 price tag puts the Ibex at the top of QuietKat Bikes price range— keep reading to discover our take on this workhorse e-bike and if it's up to the challenge of your future outdoor expeditions.
QuietKat History
Founded back in 2012, the QuietKat brand started out making rugged e-bikes as an alternative to traditional hunting vehicles like ATVs that can be prohibited on local trails or too large and noisy. It's a big ask to replace the utility of gas-powered vehicles, but ebikes like the Ibex are compatible with brawny racks and the ability to bring game loads out of the field.
QuietKat was recently acquired by Vista Outdoor, a company that owns several big-name brands like CamelBak, Bell, and Giro, so the future looks bright for this bike manufacturer.
Full Suspension
What makes the QuietKat Ibex unique is its almost-over-the-top specs package. While all of QuietKat's bikes are rated for outdoor adventures, the Ibex falls into their "overland" category because of its full-suspension setup, designed to perform in the backcountry and over the gnarliest terrain.
This style of bike is a growing niche popular among a wide range of outdoorsy folk including dedicated hunters, recreationists, and fly fishermen. We tested this bike and used it for bow and rifle hunting, strapping on a Kolpin Outdoors Rhino Grip XLR to the handlebars to carry the bow on the front of the bicycle.
The Ibex's full-suspension frame features a 140mm inverted suspension fork that's inspired by dirt bikes and a 130mm of travel RockShox Monarch RL rear shock. The rear end has the FireLink 4-bar suspension linkage design that makes it even more responsive over the rough stuff. Like its namesake, the Ibex soars over steep and chunky terrain just as well as a mountain goat.
Frame Sizes
The QuietKat Ibex frame comes in sizes Medium for people under 6" and Large for taller riders. The Ibex's paint job looks nice but isn't anything special— I would have loved to see a more creative camouflage design or eye-catching green colorway. Without the camo though this bike could be used to commute year round, so maybe that was the angle on the paint job?
The whole bike weighs in at 75 lbs. and has a payload capacity of 300 lbs.
1000W Bafang Motor
This rowdy overland e-bike boasts a Bafang Ultra-Drive motor rated at a whopping 1000 watts. This motor delivers incredible power, and the max output is even higher at 1500W. You can run in Eco, Sport, Throttle, and Walk modes. The unrestricted motor kit means you can go 28+ mph, but you'll need to rein it in on local trails with e-bike regulations.
There's an impressive 160 Nm of torque as well as a torque sensor in the mid-drive motor so acceleration is as smooth as possible. Despite all that power, though, we found that the heavy Ibex was a bit slow off the line, especially on inclines.
When using the Tektro Hydraulic Brakes the throttle won't engage which is a useful safety feature but can make for starting from a dead stop on inclines a bit tricky.
21Ah Battery
This QuietKat electric bike is powered by a 21Ah battery that squeezes in an extra amp hour compared to similar fat tire e-bikes. This high-capacity battery significantly widens the downtube but the cool, beveled shape helps to preserve the aesthetic.
Depending on the power mode, the Ibex battery provides extra range of 30-60 miles in total. There's a lock latch to remove the battery once the key is inserted for charging the battery indoors during the colder months of the year.
Accessories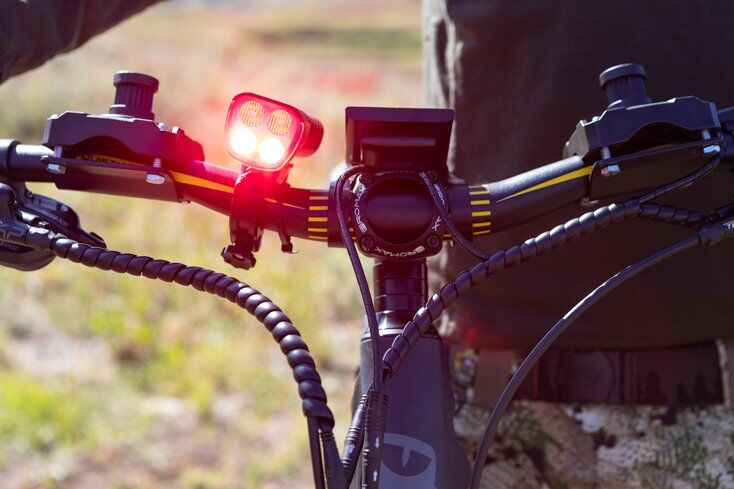 Outdoor enthusiasts are all about their gear and the Ibex has a lot of compatible accessories to choose from. Hunters can attach their bows or rifles to the handlebar with special mounts (not included) and bag racks sold by QuietKat.
There are no integrated headlights which is disappointing, but there are headlight settings on the controller which confused us a bit. The removable light has a red color for early morning outings and the standard bright white LED.
Overall Impression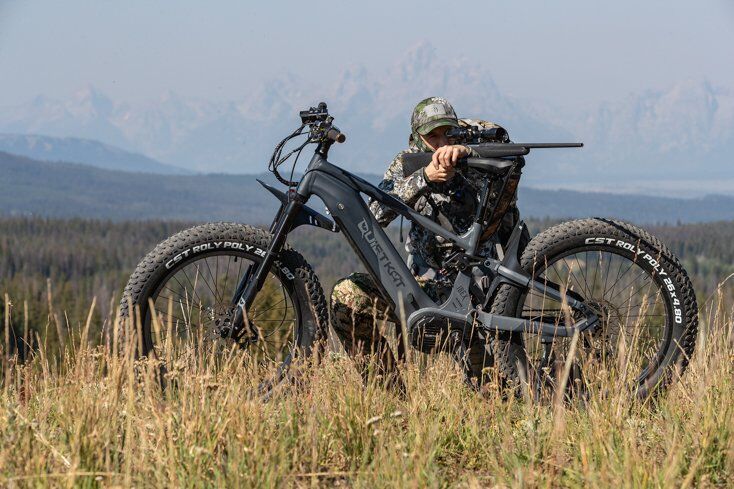 We put the QuietKat Ibex ($6,999) through plenty of trials and learned that the bike performs best on open roads and wide dirt paths. The cushy tires and suspension made for an ultra-comfortable ride, even when loaded up with lots of gear.
It's a large bike so it takes extra effort to make tight turns so we occasionally had to dismount to move it around. While twisty mountain trails aren't this bike's bread and butter, the Ibex could be a secret weapon to ride around town all year long— rain or shine, snow or sleet, this bike can handle tough conditions with ease.
For backcountry adventurers that love to go off-piste, reach the highest peaks, the Ibex will elevate your next hunt and help haul gear. The high sticker price might be outside the reach of tighter budgets, but when it comes to fat tire ebikes, there isn't another one quite like the QuietKat Ibex with its incredible power and performance.
Related Articles: