The QuietKat Apex Pro E-Bike is perfect for hunters interested in covering ground quietly during your next hunt. Plus with the ability to attach a trailer, when you do find that perfect buck or mature bull you can tow it out with a QuietKat Trailer attached to the Apex Pro E-Bike.
About QuietKat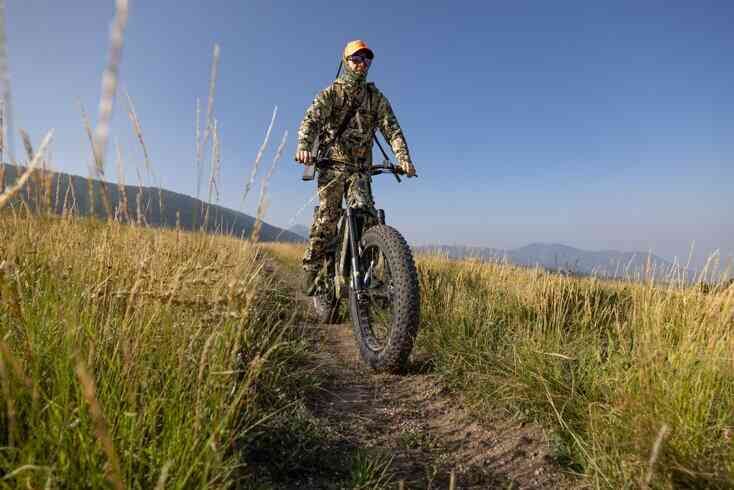 Back in 2012 QuietKat was founded by the Roach brothers in Eagle, Colorado. They were looking for a way to help anglers, hunter and even campers get farther into the backcountry without having to use atv's and motorcycles. Having lived near Eagle Colorado decades ago it was where my first taste of hunting came from, so when I found out the brand was based in one of the outdoor meccas of the west just outside the Vail Valley I figured the owners knew a thing or two about hunting.
This our second time working with QuietKat for a review and video and as avid hunters it really makes us proud to be working along side one of the premiere e-bike hunting brands.
VPO Technology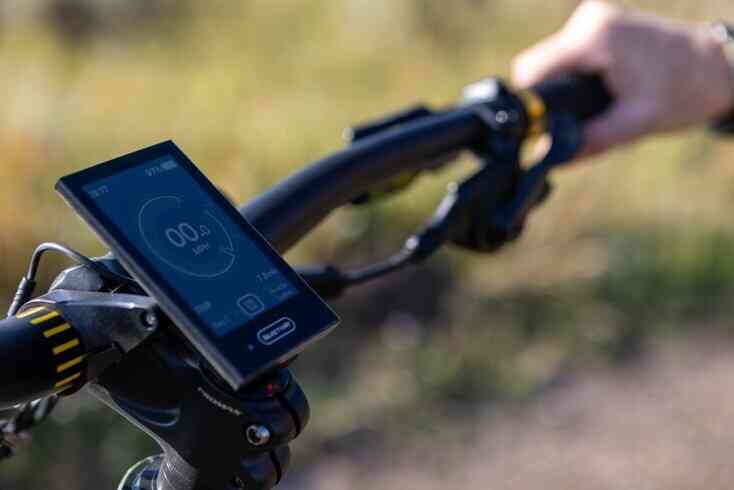 Depending on where you plan to ride your QuietKat E-bike especially in the National Forest you may encounter different ebike laws regarding classification. QuietKat saw an opportunity here to add new technology to the Apex Pro E-bike that allows you to toggle between class 1, class 2, class 3 or even unlimited.
What this means is you have a variety of top speeds and ability to turn on and off the throttle.
I have personally found on wide open roads using class 2, class 3 or unlimited worked best. Where when riding in more technical single track terrain, class 1 without the throttle off was the safest option for going uphill.
Where Can You Ride This E-Bike?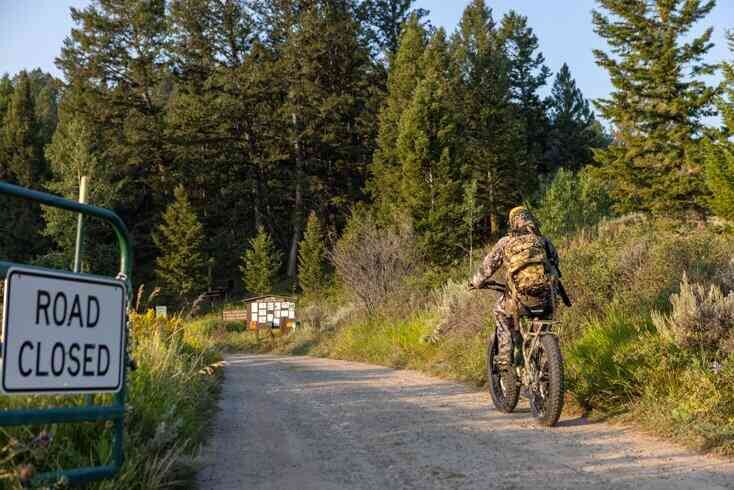 QuietKat's Apex Pro E-Bike worked best during our test on old forest service roads, logging roads and two track trails. Once the bike was spinning and you had momentum on your side you can really cover some serious ground thanks in part to the bike's powerful 1000W motor.
Where the bike get's a little trickery to ride is up steep slopes and technical single track, aka difficult terrain. So if you're thinking this bike is going to be able to handle going up game trails, horse trails or anything that more resembles something a mountain biker would ride you need to think again. The QuietKat Apex Pro is not a motorcycle or ATV and lacks the necessary torque to really superman you from point A to B.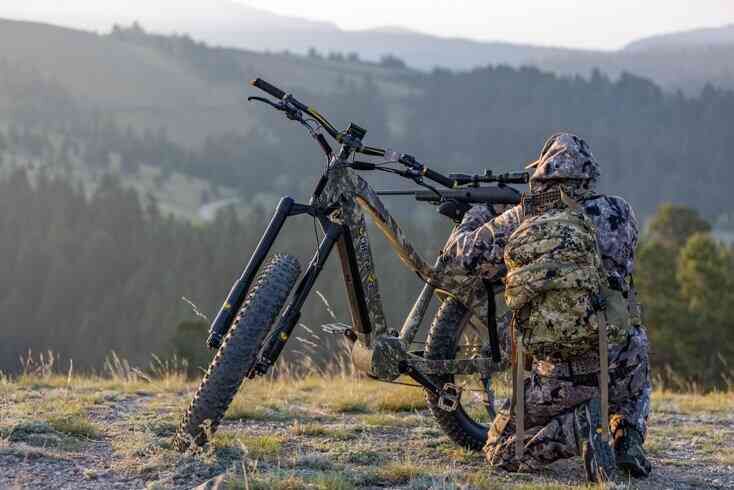 With that being said, where this bike excels is allowing you to cover ground where you would typically be walking on flatter terrain, like roads vs trails. And even better for riding down trails that have been closed to cars and trucks but are still open to atv's and motorcycles. The benefit here is you lack the loud noise of riding in on an ATV which sound really travels through the woods. Instead you can sneak in quietly on the aptly names QuietKat E-Bike giving you a better chance to get into the hunt zone without being detected.
This QuietKat E-bike comes with 9 gears to choose from thanks to 9-Speed SRAM Drivetrain, plus the 3 levels of pedal assist which means you have 27 different gearing configurations to toggle between. I found keeping the bike in the granny gears worked best if riding up and mountainous terrain.
How Comfortable Is the Apex Pro?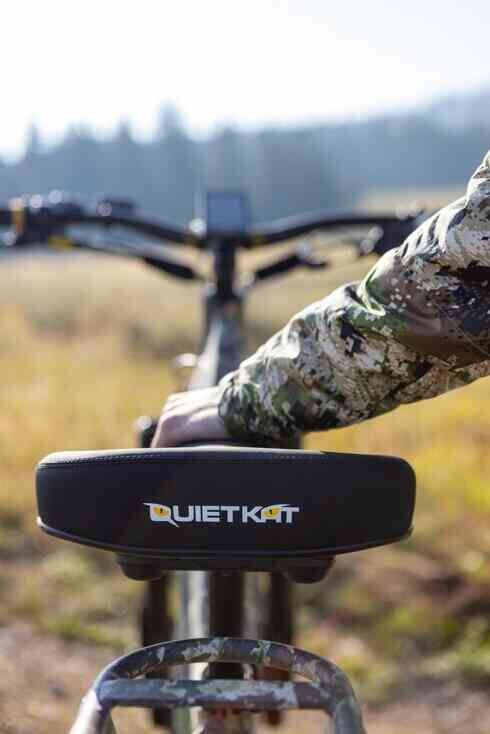 Thanks in part to 140mm Inverted Suspension Fork from KKE combined and super fat 26" x 4.5" Kenda All-Terrain Tires the QuietKat Apex Pro offers a nice comfortable ride. We also added the Premium Comfort Saddle which gave an even cushier feel when riding over rough terrain on this QuietKat Hunting Bike.
You might be wondering why this bike isn't full suspension? Well that would add some serious weight to the rear end and really might not be needed when you consider the places you're going to actually end up riding this bike. Think dirt roads vs mtb trails.
Weight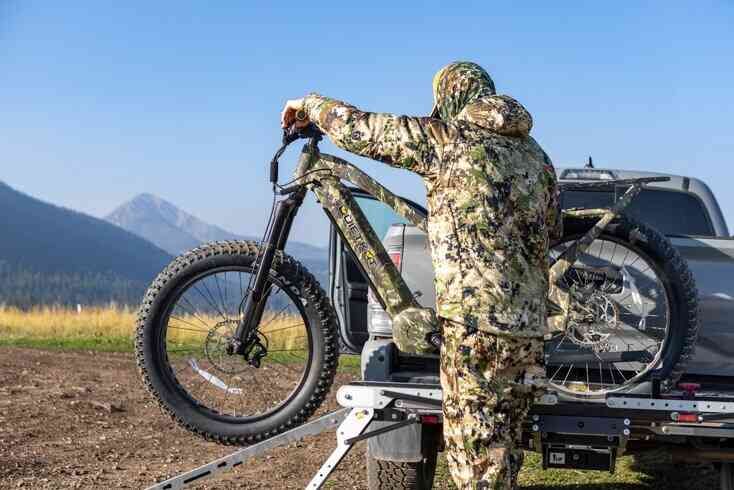 The QuietKat Apex Pro has a stock weight of 70 lb. Before we took it out to hunt I added Kolpin's Rhino Grips along with the Premium Seat from QuietKat mentioned above. I weigh about 155 lb. Plus either my rifle or bow and and a backpack full of hunting gear. When you consider the bikes combined weight plus your weight, plus that of any gear your carrying the total weight starts to add up quickly.
From a dead stop I had easily 250-300 lb. of weight to get moving with this QuietKat Hunting Bike. This is why you need to be very mindful of where you put this bicycle.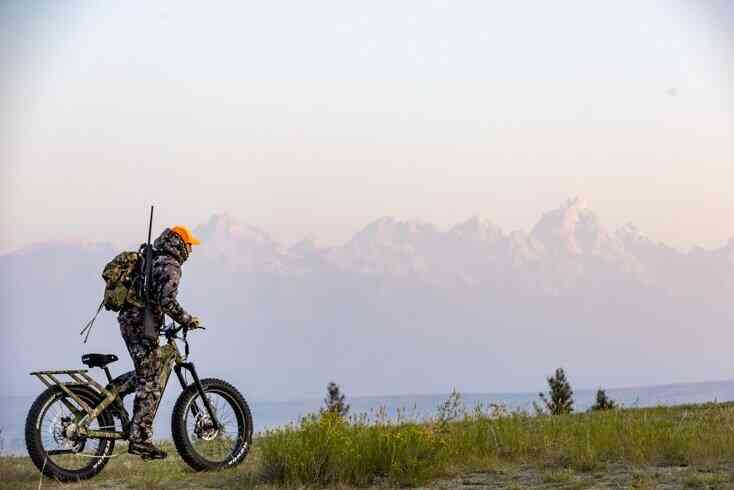 Thinking of riding down a steep drainage? You might want to think again, as you'll most likely be able to handle getting down easily, getting back up is a whole other beast. Same would be said for riding up a very steep slope, if its too steep and you don't have momentum on your side gravity will take over no matter how well you ride the QuietKat Apex Pro E-Bike.
Plus if your really lucky and and hunt hard and end up brining home some game, elk quarters can add another 50-100lbs per load.
1000W Mid Drive Motor
The 1000W VPO Mid Drive Motor works well for a bike with this much weight. Having the Mid Drive Motor under your feet allows for faster power transfer than with traditional rear hub drive ebike motors. When you press on the pedals, it takes less time for the motor to engage when using a Mid Drive Motor directly under foot.
All Terrain Game Trailer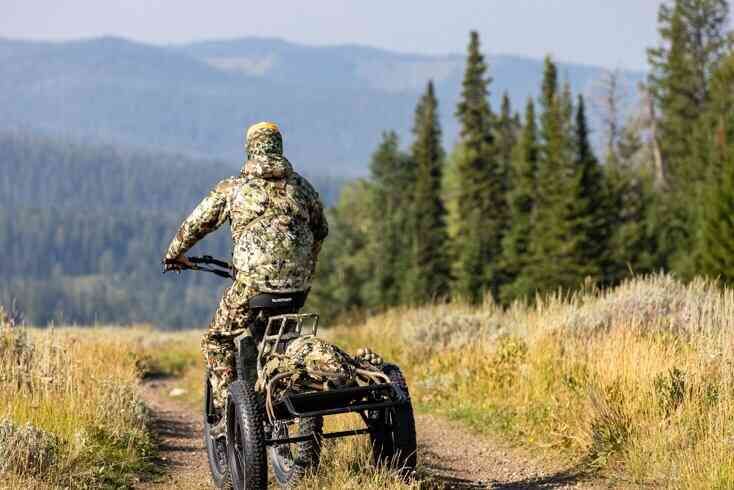 The QuietKat All Terrain Game Trailer ($369.00) doesn't come with the Apex Pro Hunting E-Bike but if you're being smart about where you ride this bike, I think it's a great accessory to consider. Instead of riding your bike back to camp or your truck with a quarter of meat in your backpack flopping around from side to side. QuietKat's All Terrain Trailer allows you to tow 100 lb. load capacity.
Hooking up the trailer is fairly straight forward, you will need some tools so keep that in mind but it only takes a few minutes to install or detach the system. When riding on dirt roads and two tracks you most likely won't even notice your towing anything behind you. Thanks in part to the smooth ride of the Apex Pro combined with the trailers Kenda Tires and even suspension make for an easy tow.
Battery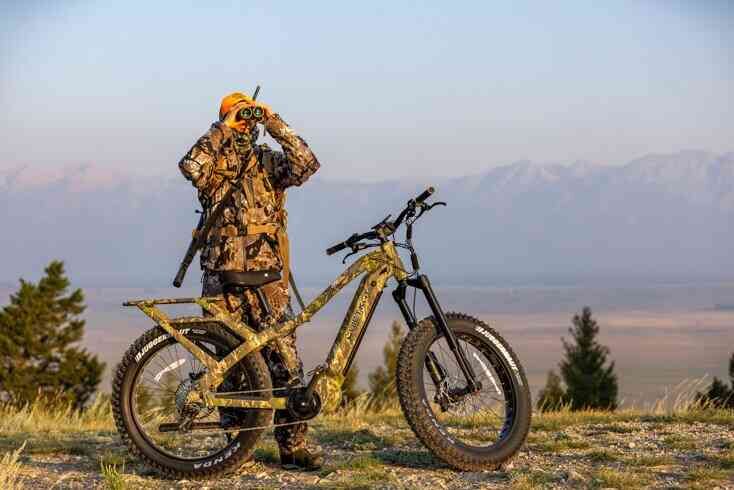 QuietKats 17.25AH/48V battery allows the bike to go for a maximum 25-52 Miles of range. With that being said your battery life will really change depending on what level of VPO you plan to use and even more so if you're actually pedaling the bike or not. For a heavier guy that wants to use the throttle the entire time to take you up steep slopes this battery won't give you 52 miles on a full charge, not even close.
But for someone that's athletic and plans to spin the pedals vs just hold the throttle pinned the entire time getting closer to 52 miles is possible. With e-bikes I always recommend going out with a full charge, regardless of what the battery level says. Plug it in overnight before you plan to ride. That way you know your getting the most out of the battery's advertised range.
When not using the QuietKat Apex Pro battery, especially anyone in the mountains or colder climates as we get near freezing temps it's always advised to store the battery indoors at room temperature vs leaving it in the garage or outside.
Frame Sizes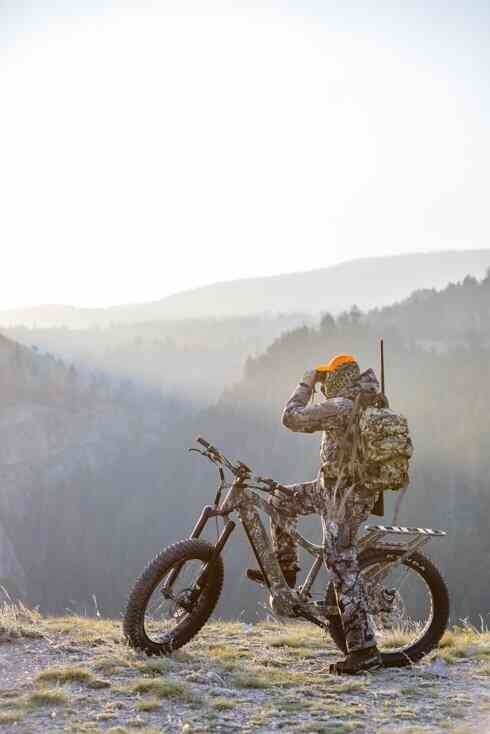 The QuietKat Apex Pro E-Bike is available in 3 frame sizes and 2 colorways.
Small Frame Size Recommended Rider Height – 5'6 and Under
Medium Frame Size Recommended Rider Height – 5'6 to 6′
Large Frame Size Recommended Rider Height – 6′ and Above
For the hunters, the Veil camo colorway really blends nicely into the terrain. Where the Gunmetal colorway would also work for hunting but would also be a bike that could easily be ridden around town without making too much noise screaming hey I'm riding on a hunting bike.
Overall Impression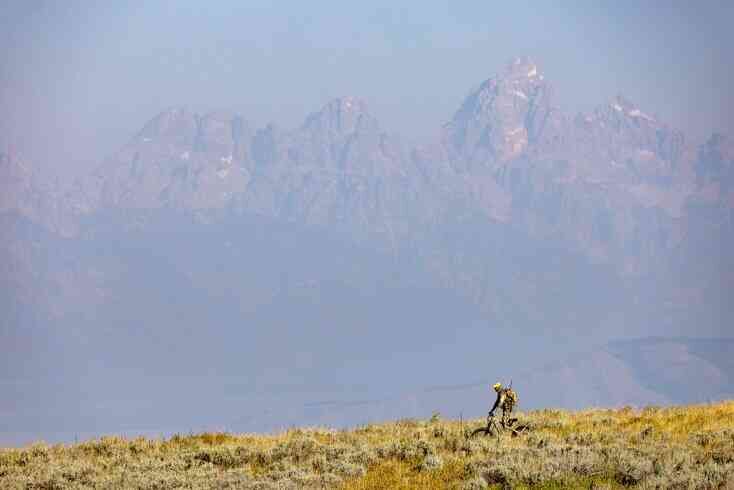 QuietKat is building e-bikes for hunters and outdoor enthusiast based on what the customers actually want and need. The QuietKat Apex Pro Hunting Bike ($4,999.99) is a powerful electric hunting bike with a total carrying capacity of a whopping 325 lbs. With tons of accessories and kits designed for hunters, anglers and outdoorsman their's truly a QuietKat Bike for everyone that appreciates spending time in the outdoors, especially those that like to get off the beaten path.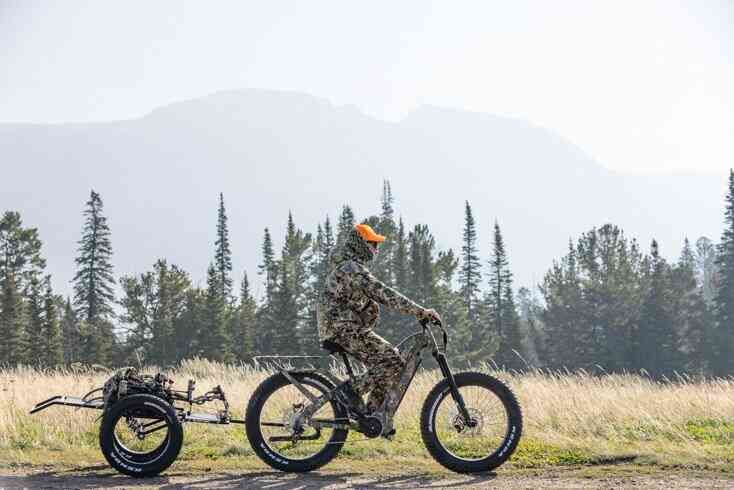 At the end of the day hunters that enjoy foot power will love the QuietKat Apex Pro, it allows you to get a workout when you want, stay silent when road hunting and might just allow you to access a whole new hunt zone thanks to being on 2 wheels.
Related Articles: