Popular ebike brand Ride1UP has made a big splash in the competitive market by offering a wide range of affordable electric bikes for urban use. One of their best sellers is the Roadster v2, a single-speed, small-motor commuter priced at $1,045. The beefier LMT'D is a perfect upgrade from the v2 for riders that want a mightier motor and more comfortable geometry. The extra features on this $1,895 bike go a long way and allow users to explore light off-road trails as well.
LMT'D Frame Sizing
Ride1UP doesn't put the LMT'D Electric Bicycle into a box, but I would categorize it as a commuter ebike built to conquer the city environment. There are two frame types available, the ST step-through version and the XR with standard geometry. The step-through model has worked well for riders of all sizes during our tests, including shorter users. The LMT'D ST hits the sweet spot for riders that want more performance than a beginners ebike, but still want an affordable package with great specs.
Height Range
Class 3 Ebike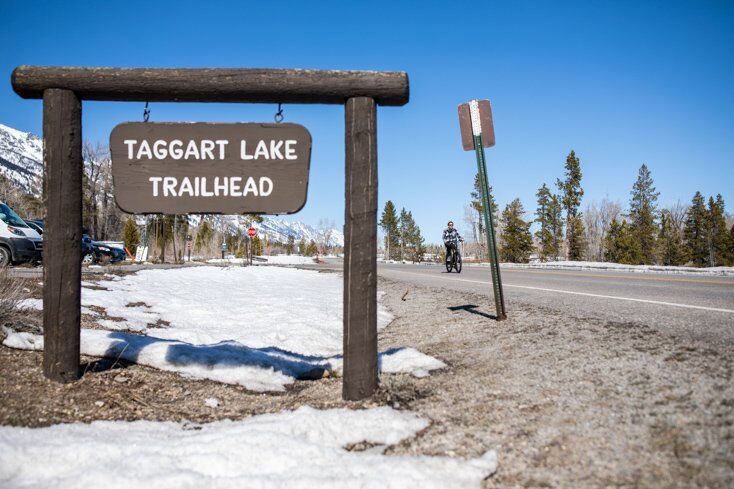 The new Ride1UP LMT'D ST is a rockstar Class 3 electric bike designed for comfortable commuting and having a blast on your local paths. This step-through model is in a class above your typical entry-level ebike— the powerful motor and quality componentry fully justify the slightly higher price tag. The LMT'D punches above its weight and its smooth, flowy handling reminding us of higher end, higher price tag bikes.
Keep reading to see what's new on the Ride1UP LMT'D and how all its technical specs stack up.
MXUS Hub Motor
The 750W MXUS rear hub motor makes the LMT'D one of the most powerful ebikes out there. Ride1UP claims the bike has a bit of a motorcycle feel and our tests confirm that thrilling sensation that's sure to hook ebike newcomers. The motor provides a whopping 100Nm of torque to handle steep gradients or being loaded up with cargo. As a Class 3 ebike, it can reach a top speed of 28 mph while pedaling and 20 mph on the throttle.
The thumb throttle is positioned on the left side, which took some getting used to, but we found it causes less fatigue that a twist motorcycle-style throttle. The LMT'D is incredibly quick off the line and gets up to speed easily. Previous generations of the LMT'D featured a torque sensor for smoother acceleration, but Ride1UP has recently downgraded to a cadence sensor that activates the motor.
LCD Display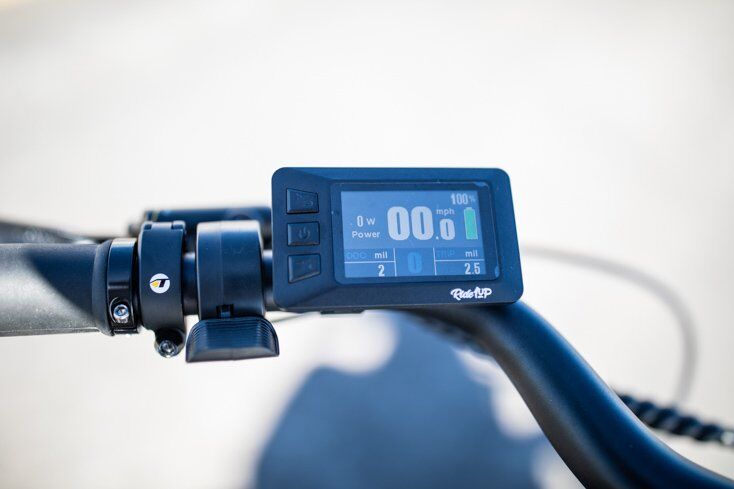 The 2.2" LCD display on the handlebar shows all standard metrics as well as average speed— we held around 24.3 mph during our test rides. That ride computer is fairly bright and a nudge above competing models. There are five levels of pedal assist to choose from the user-friendly controller on the handlebar.
A large-capacity 14Ah Reention Eel Pro Samsung battery gives life to all the electronics and has a 30 to 50 mile range. Like other batteries in this category, there is an integrated battery management system (BMS) to ensure long-lasting performance. At first glance, it's easy to forget that the bike is an electric model because of the clean look and battery integrated into the frame. The slanted duo-tone paintjob on the downtube is a clever way to achieve that sleek aesthetic and trick the eye a bit.
Shimano Altus Components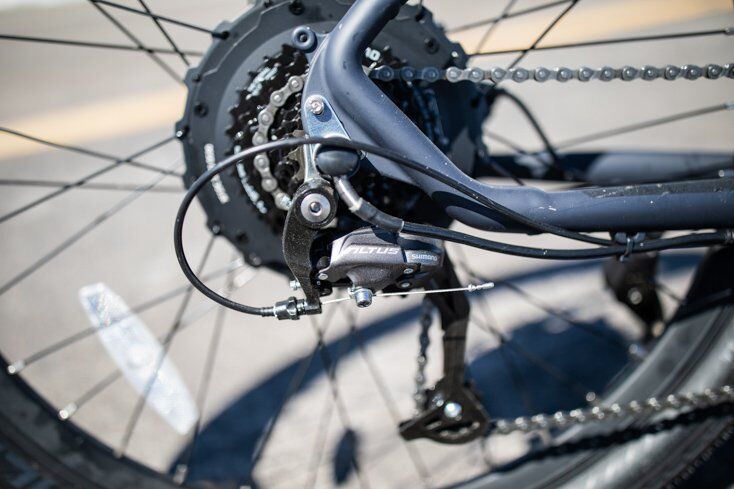 The componentry package performs well in the urban jungle and includes a few excellent pieces of tech. With such a mighty motor, top-spec gearing isn't super necessary and the Shimano Altus 8-speed groupset is a smart, straightforward option. The drivetrain features a 44t front chainring and medium-range 11-32t cassette. RST Asteria air suspension front fork provides 80mm of travel to absorb city potholes and provide an ultra-cushy ride.
Tektro Hydraulic Brakes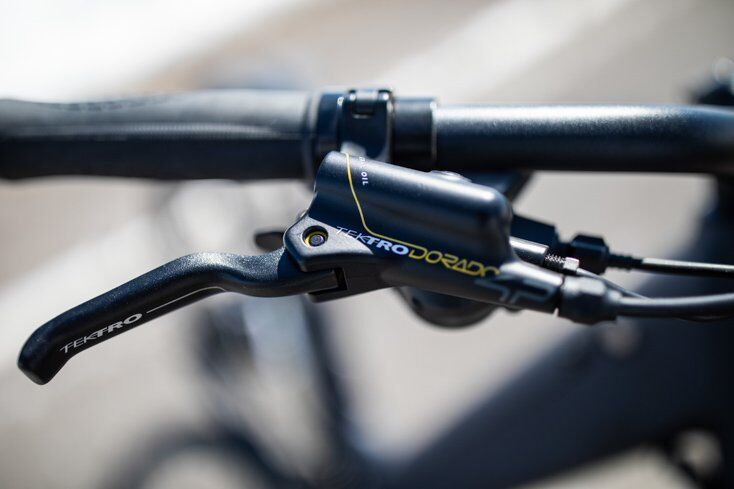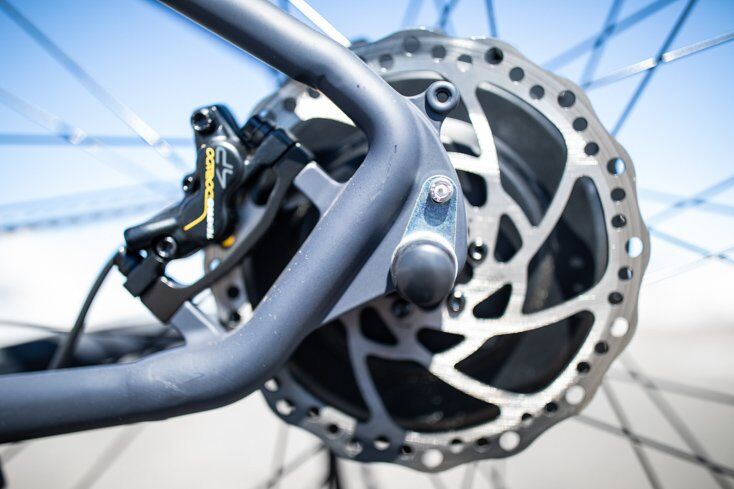 Ride1UP makes the worthwhile splurge on Tektro Hydraulic Disc Brakes for solid stopping power on a bike heavier than a traditional city commuter. For an ebike, though, the LMD'T comes in at an impressively slim 53 lbs., within the weight limits of most hitch bike racks. The Schwalbe Super Moto X tires' name sounds over-the-top, but they are actually the perfect moderate tire for year-round city riding. Somewhere near a slick, wide mountain bike tire, the slight tread rolls fast but can still channel water if needed.
The LMD'T is available in two attractive colorways: midnight grey or sand/brown. Other great finishing touches are the clean welds across the aluminum frame and the built-in kickstand for a stable resting position. One shortfall, however, is the lack of integrated front and rear lights wired to the large battery. Almost all rival models have some sort of lighting, but we think it's an easy modification— or you can go old-school and buy detachable lights.
Overall Impression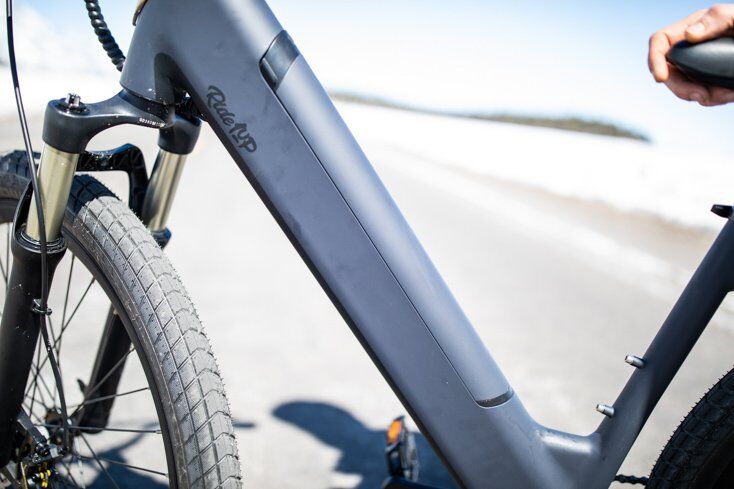 This electric bike handles amazingly and flows down bike paths with ease. Maneuvering the bike feels natural and making turns is a bit similar to smooth curves while skiing. The Ride1UP LMD'T E-Bike($1,895.99) floats over the pavement and is an overall fun, effortless way to ride. Just be careful— once you hop on this capable commuter, you may never want to get off.
Related Articles: