KBO's Breeze Step-Thru E-bike will sail through your commute in style with its sleek integrated battery— and a great price tag will always be in vogue. KBO Bikes understands not everyone needs serious horsepower or unnecessary tech on their ride around town. But don't let the discreet in-frame battery stop you from showing off this chic option at the office or school though, there's plenty to brag about.
Sizing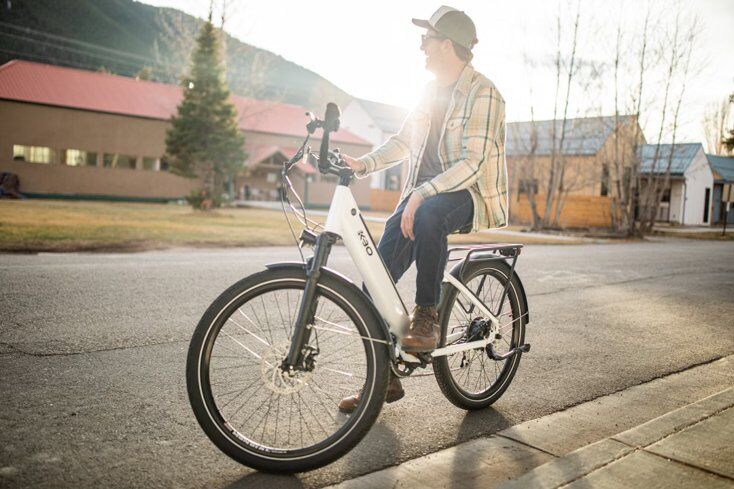 The triple threat of a step-through design, affordable price, and no bulky battery could convince many commuters to make the switch to ebikes. Previously assumed to be a feature only for women's bikes, the step-through frame has serious advantages for all riders. Riders that load up their rear rack with a lot of cargo can find it difficult to swing their leg over standard bikes. Shorter or heavier riders can mount the bike a bit easier too, as well as anyone with knee or balance issues.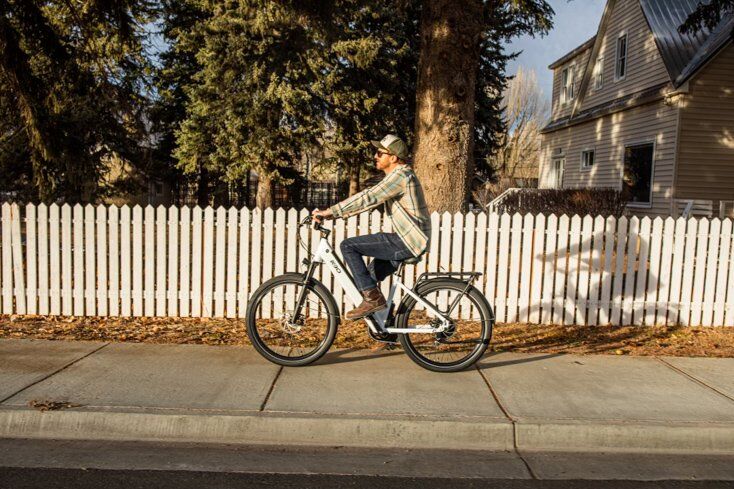 The KBO Step-Through E-Bike is a one-size-fits-most frame that accommodates riders between 5'2" and 6'3". Step-over models with a top-tube do make for a stiffer bike. But if stiffness is a dealbreaker, KBO offers the normal Breeze, which forgoes the in-frame battery placement. Gender neutral step-through geometry continues to rise in popularity and is put to good use on this KBO e-bike.
Samsung Battery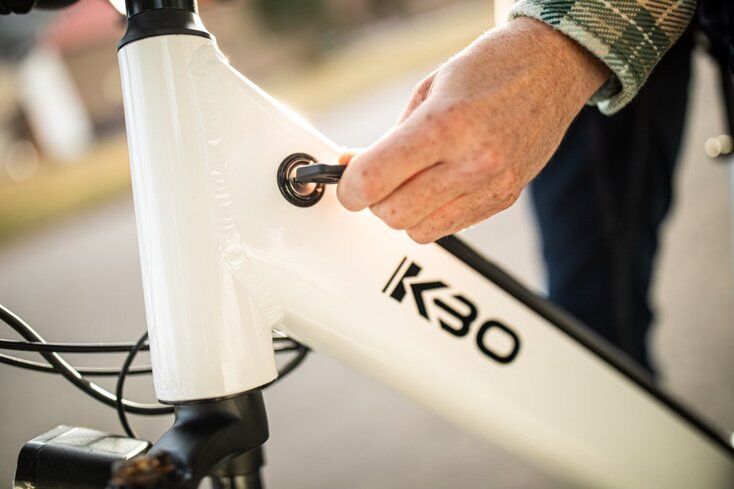 At first glance, you may not believe the KBO Breeze is an electric bicycle. That's mostly because of the well-integrated 768 watt hours battery, large in capacity but not in physical size. The step-through design calls for a beefier downtube anyway, so the in-frame battery doesn't look out of place. The clever white and black paint job contours the frame to create a slimming effect.
The name brand Samsung battery is rated for 900 full charge cycles and up to 55 miles on a single charge using pedal assist levels. The package also includes a quick charger that can fully charge in 5 hours which could be useful for an afternoon refill after your daily commute.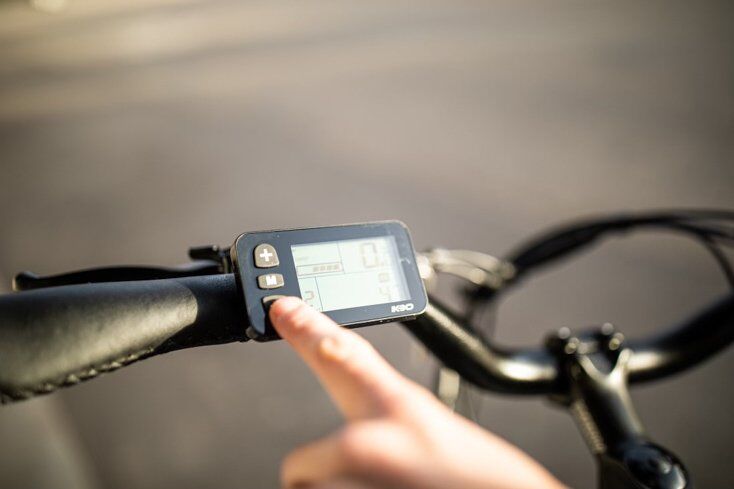 The superb price point is worth a mention on this KBO electric bike. Ebikes have already cemented their place in the garages of cycle fanatics but have been slower to catch on with casual riders. Riding between college classes or commuting to work a couple days a week may not justify dropping $3,000+ on a bike.
KBO bucks the luxury trends and offers a $1,499 commuting package that doesn't cut any corners. That price puts the KBO Breeze Step-Through at the more affordable end of ebikes. We've found that ebikes less than $1,500 may come with tradeoffs that can sacrifice reliability and comfort.
500W(Sustained), 750W(Peak) Motor
The 750 watt motor packs plenty of punch for daily commuting. You can toggle through the five levels of pedal assist mode or switch into throttle mode for a bit of motorbike-style fun. The twist throttle tops out around 22 mph which may be pushing the legal limits of a Class 2 ebike in some areas where 20 mph is the max, so check your local rules. The throttle utilizes a half twist design which is more comfortable than a trigger and less straining than a full twist model.
The motor engages with a cadence sensor and speed sensor so once you begin pedaling it jumps to full power at its current setting. A fancier torque sensor would smooth out the acceleration but a cadence sensor here makes sense for the price range and, honestly, is a bit fun. The Breeze is kept under control by 180mm Tektro mechanical disc brakes. Hydraulic brakes tend to provide better stopping power but the mechanical system works fine and keeps costs down.
Commuter Friendly Design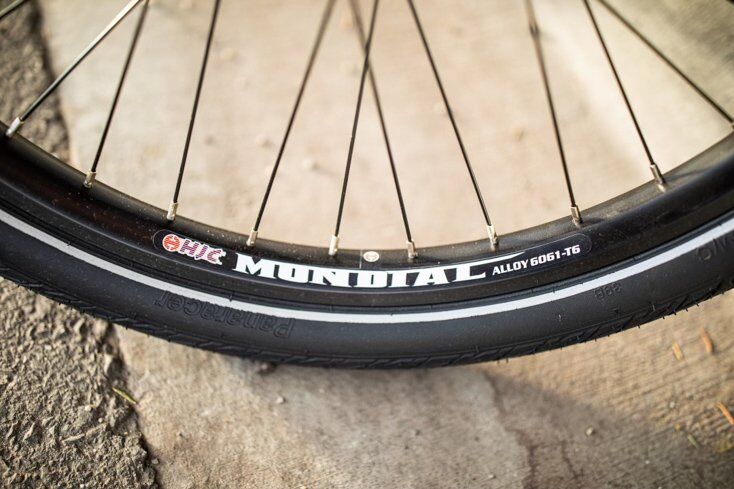 KBO made smart decisions about the included features and touches to make city commuting as enjoyable as possible. Branded tires are a surprise on such an affordable bike and the Panasonic 27.5" x 2.4" hard surface tires are a sensible option. They are slightly treaded for good traction when gravel or pavement gets wet, but mud and sand won't be conquered so easily.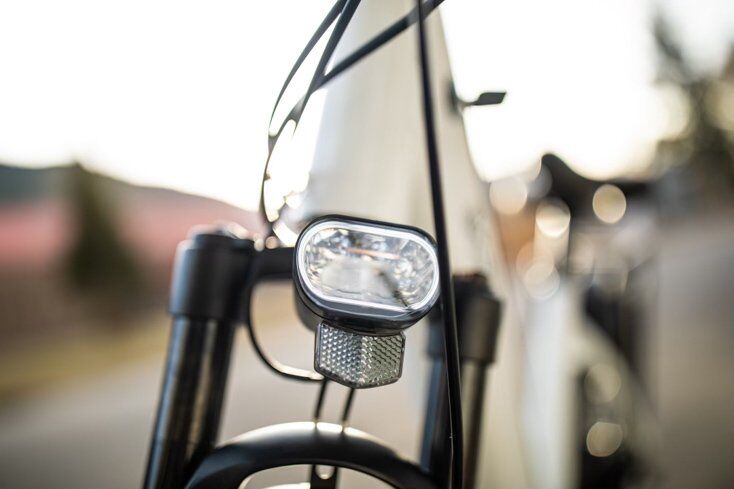 The front and tail lights are decently bright for built-in electronics but frequent night riders would want an additional front lamp. The 80mm of front suspension, with a lockout option, is an appropriate amount for traversing urban roads and trails. The rear rack is ready for panniers and KBO claims it's suitable for a child seat or pet carrier!
Aluminum fenders are a quality touch to protect your clothes from dirt and mud between meetings across town. A convenient handle at the end of the seat allows you to lift or pivot the rear end as this bike weighs a hefty 62 pounds. The KBO Breeze Electric Bike is a well thought out commuting solution that has all the bells and whistles— okay, no whistle but it does have a swanky, built-in bell.
Overall Impression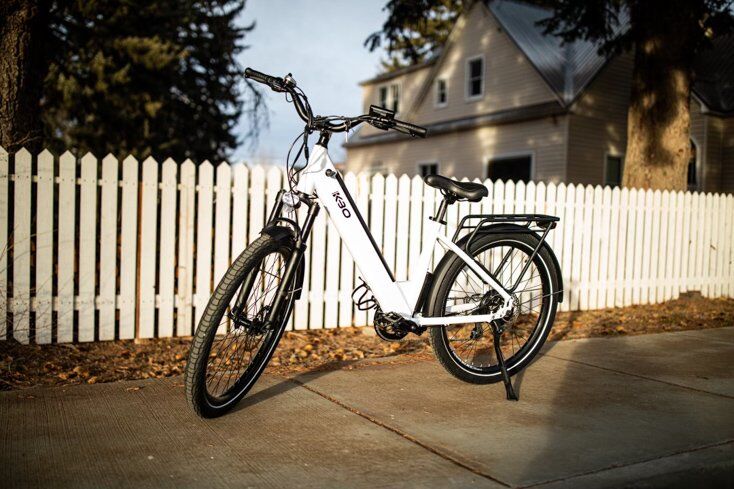 The KBO Breeze Step-Thru E-Bike ($1,399) does a good job hiding its brawny motor and long range battery, but don't let that fool you. This commuter solution is a great entry level ebike for people that are trying to avoid sweaty arrivals at work or when meeting up with friends.
And the elegant integrated battery design is a rare and lucky find for more aesthetic-minded cyclists.
Related Articles: