I tested the Vvolt Centauri on a variety of road types and angles as a daily driver for commuting, errand running, and getting myself to trailheads. The bike performed reliably and with no electronic or maintenance problems, and I found I much prefer a pedal assist over a throttle (who knew). V
volt's Centauri Ebike is built with quality products that require less maintenance, are more durable, and have systems that provide a wider range of options while riding. I dive into each of these specs below but the short of it is that for its price point ($2,999 but you can also find some online for cheaper), Vvolt has set the bar for power and versatility at a reasonable price.
About Vvolt
Vvolt was started with an intention of providing more sustainable and low-carbon transportation options by getting people out of their cars and onto electric bikes. The company was founded in 2019 by Kyle Ranson in Portland Oregon and even though it's still a new company, Vvolt is beginning to carve out a market by lowering the bar of entry to owning an ebike (cost/affordability) and improving accessibility to those new to cycling or who have been unable to ride without assistance.
Centauri Frame Sizes
The Centauri comes in two frame sizes: S/M and L/XL. The company recommends the S/M frame for riders between 5'3" – 5'10" with a standover height being 29.5" and the L/XL for riders 5'9" – 6'3" with a standover height of 31". I'm 5'8" with a 31" inseam and the S/M felt like the correct sizing.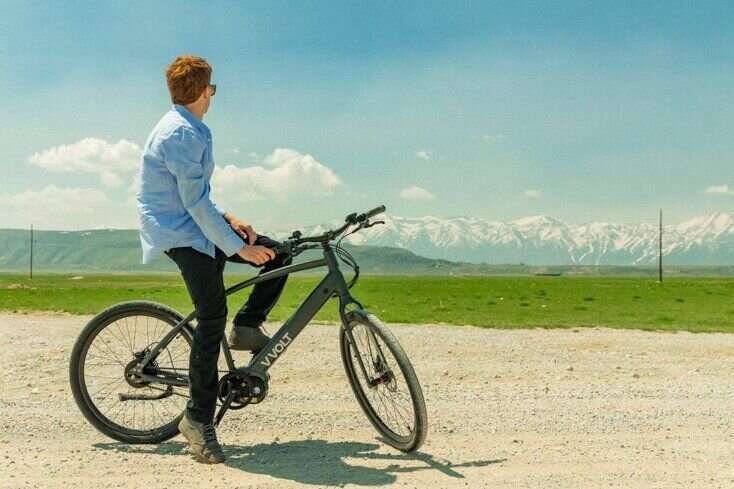 The geometry of the bike also makes for a comfortable sitting position that still allows for quick turns or navigating traffic. If you want some more specifications, Vvolt provides a full set of geometry numbers on their website for each frame size.
Bike Weight
A consistent gripe for me when it comes to e-bikes is always feeling like I'm about to totally yardsale when mounting, dismounting, or walking my ebike on sidewalks – especially if I have any sort of cargo. The Centauri weighs 51lbs (without any modifications), which is heavy enough to make it feel stable and handle well weaving through turns while not making it bulky and cumbersome to move around when dismounted.
If you don't mind a little more weight, the Centauri has mounts for front and rear racks, fenders and up to 3 water bottles, and rechargeable lights.
Motor Size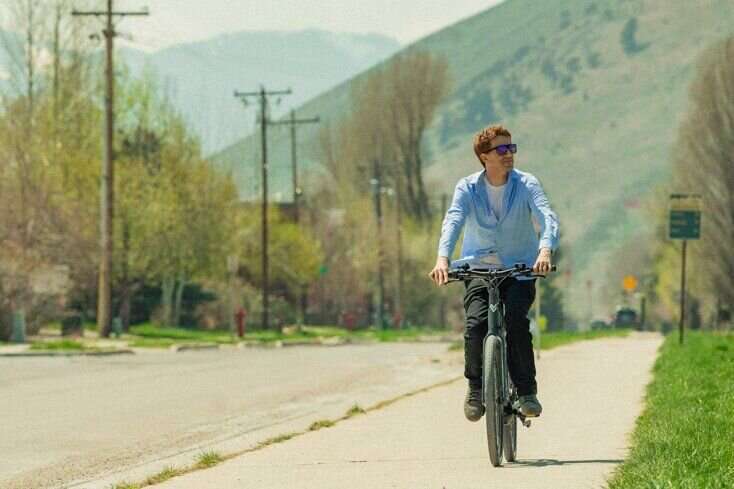 This Vvolt Bike is equipped the Centauri with an MPF mid-drive motor with all metal gearing that produces 350-watt nominal power and 650-watt peak output. Okay, so what does that mean in layman's terms? The motor is both strong and completely silent. No louder than pedaling a non-ebike (which I just learned is referred to as an analog bike), the electric motor also responds to input seamlessly and proportionately. For example, it allows for riding with a coffee in one hand and not spilling hot liquid all over yourself when it surprises you with speed.
The company lists on its site that the Centauri can come with a Class 1 or 3 controller. What does that mean to you? A Class 1 controller is a pedal assist that helps you get up to 20 mph, while a Class 3 can help you get cruising at a speedy 26 mph. Reaching 26 mph, and holding it, was pretty easy to do and for me there is just something a bit more fun about rotating pedals as you hit top speed instead of just pinning a throttle. If you're not familiar with the various classes of ebikes, I've done a bit of research for you. If you're already versed, feel free to skip ahead.
What Class E-Bike?
The Vvolt Centauri E-Bike as a Class 1 or Class 3 e-bike, ensuring, though, that all of their models come out of the box as Class 1 but can be easily upgraded at no upcharge. An ebike regulatory system and framework was designed and adopted into law by most US states to help manage ebikes and create rules for use on local, state, and federal land. Depending on what class your ebike falls in determines where and how you can ride it. There are three classes:
Class 1: Bicycle equipped with a motor that provides assistance only when the rider is pedaling, and that ceases to provide assistance when the ebike reaches 20 mph.
Class 2: Bicycle equipped with a throttle-actuated motor, that ceases to provide assistance when the ebike reaches 20mph.
Class 3: Bicycle equipped with a motor that provides assistance only when the rider is pedaling, and that ceases to provide assistance when the ebike reaches 28 mph.
Because Class 2 ebikes have a throttle, they often are subjected to greater restrictions in many areas. Vvolt manufactures Class 1 and Class 3 ebikes specifically, explaining "we opt to design electric bikes that reduce transportation emissions while providing added benefit from increased physical mobility." But regardless of which class of ebike you choose, it's important to familiarize yourself with the local regulations.
Compare Prices
Last updated: 2023-10-02 16:36:23
Suspension & Tires
The Centauri has sportier tires than typical commuter and cruiser e-bikes, but I wouldn't go so far as to call it a gravel bike. A 27.5" x 45mm tire on 650b wheels comes standard on the Centauri, with a smooth center tread to allow for better rolling on payment while the wider width makes it handle better on gravel or dirt.
That being said, after testing it on some well-packed gravel roads, I wasn't fully confident in its ability to handle quick movements without slipping out. I think this bike would be best kept on pavement but with the confidence that bumps, rocks, and some side-of-road gravel won't be cause for worry.
The suspension…or lack thereof…also provides a good reason to stick to the pavement. Understanding that it is a hardtail bike, the ride is still quite rough. A front fork suspension system with an inch or two of travel would be a nice addition in the future.
One feature I do really appreciate is the hydraulic brake system alongside 160mm rotors. If you're reaching speeds of 26mph, you want to make sure you have plenty of stopping power, and these brakes definitely provide it.
Battery
Vvolt equips this bike with a 375wh battery, giving it a 15 – 40 mile riding range. The variance in riding range really comes from the amount of pedal assist you are using and the number of hills you are climbing. I found that just riding around a fairly flat town with the pedal assist always on the highest level (5 out of 5), I was able to hit around 27 miles of range before needing a charge. The battery display shows a full battery with portions of the battery disappearing as you lose charge. I appreciate the simplicity, but it makes it difficult to know just how close you are to 0%.
The Vvolt Centauri Electric Bike battery is removable with a key, allowing you to charge the battery on or off the bike. The charging system is difficult to understand at first glance, with only three lights (red, green, blue), and no indication on the handlebar computer as to the percentage that it has achieved, or if it is charging. The male end of the charging system also doesn't click audibly into the port, so I feel that a bit of wear would potentially create a situation when it just falls out because of the weight of the cord.
If you want a larger range and battery life, you can swap the battery out with a 500wh option, which is a 30% increase to the standard model.
LCD Screen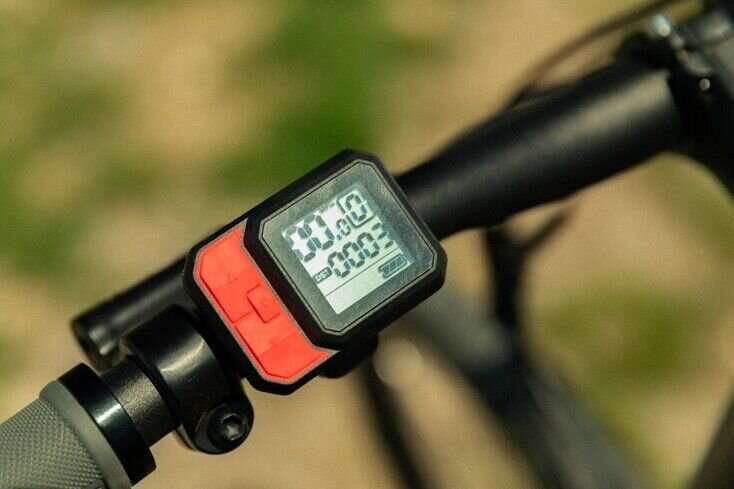 On the left side of the handlebars is a small (around 1 inch x 1 inch) display that allows you to adjust between the 5 levels of pedal assist (plus walk mode), track trip distance, total mileage on the bike, mph, and motor watt usage. On your right, you have your gear shifter, which I hesitate to even call it that because it operates like anything but.
Vvolt uses an "Enviolo internal gear hub," which is basically a step-less shifting system that allows you to just twist the handle until you find the gear you want to be in. A kitchy display on the handlebars shows a stick figure riding a bike – as you downshift to a lower gear to take on hills, the reactive display changes to show the biker going up a hill.
When you twist the handle to upshift, the hill on the display levels out. What's awesome about this system is that it provides a much wider gearing range without any clucky gear changes and you can shift at any time – while pedaling, coasting, uphill, downhill, or even stopped. It's like riding a friction spin bike, but without being stationary, where you can feather the shifter to match your ideal resistance.
What makes this shifting system possible are the carbon reinforced Gates® belt drive. This is the first time I've ridden a bike with this style of non-chain chains aka belt drives and the difference is pretty noticeable: no chance of derailing, significantly quieter, no grease required, and burlier. Vvolt has this system of all of their ebikes and I'm sold on it.
And, of course, the handlebars come complete with a little bell to save you from screaming "on your left!"
Who's The Bike For?
The Centauri would be a great commuter bike for people who need a bit more stability and maneuverability while being throttle-free. The company is encouraging more people to get into cycling, get out of their cars, and to be more active in their daily lives. I personally love the pedal assist, and the ability to adjust the resistance two different ways (gear shifter and level of pedal assist). So even if I don't feel like getting a sweat on, getting the legs turning feels even better as I whip past cars stuck in traffic.
With the option to have a top speed of 26mph, the Centauri makes a great transportation option if you're weaving through city streets and neighborhoods alongside cars topping out around the same mph. Vvolt kept the bike's build pretty simple, so if you are commuting, you'll need to plan to wear a backpack. Unlike many of the other commuter ebikes I've seen, the Centauri lacks a rear rack option.
Vvolt also launched their Centauri S this year, which addresses one gripe I have about the bike. With the high crossbar, the bike requires a confident roundhouse – which isn't always conducive to wearing a skirt or a dress. And although the bike is only 50lbs (much lighter than most ebikes), leaning the bike over enough to toss a leg while wearing non-pant options requires some expert navigation. The Centauri S (S is for Stepthrough) is designed with a lower crossbar and more relaxed riding position.
Overall Impression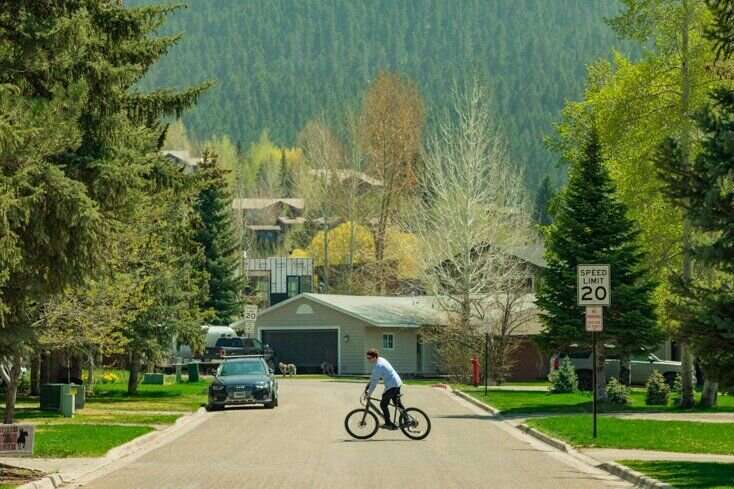 Overall, the look of the Vvolt Centauri ($2,199) is sleek for a commuter, and bridges the gap between a straight up cruiser and a true crossover or gravel bike. Vvolt boasts "the easiest assembly ever," (big statement, I know, but they're not wrong) and with a three year warranty plus free shipping, Vvolt is committed to making ebikes, and overall e-mobility, more accessible and appealing to more people.
Related Articles: