The Vvolt Alpha is a Class 1 ebike that stands out with its belt-drive system and ultra-sleek look. This entry-level model is perfect for a weekend joyride or pedal-assisted commuting, all without sacrificing on style. Dive into the details of this ebike from Vvolt and see if the Alpha is right for you.
Vvolt is a young ebike brand that has burst onto the scene with their simple and straightforward design philosophy. The brand was founded in 2019 by Kyle Ranson, the owner of cycling apparel brand Showers Pass based out of Portland, Oregon. Vvolt currently offers four distinct ebikes and they all run belt-drive systems rather that standard chains. The Alpha is the Vvolt Electric Bikes flagship entry-level ebike, but riders can also choose between two higher-end models with mid-drive motors.
Lightweight Alloy Frame
The Vvolt Alpha is built around a lightweight alloy frame that's much more streamlined than rival ebikes, neatly housing the battery in the downtube. The frame has a relaxed geometry that's comfortable and still looks sporty. It's available in two sizes and colorways— I especially like the chalk white paint job as a chic alternative to the standard gray/black look of so many ebikes today. The Alpha is also available as a step-through model. Another plus are the various mounting bolts on the front fork and rear triangle if you want to install extra bottle cages or a rack.
350W Motor
Riders get their boost from a 350W Acer rear hub motor connected to a quiet Gates belt drive. That's a moderate amount of power that's perfect for city and recreational riding. Vvolt boasts that opting out of overpowered 500W or 750W motor is an advantage, and I would agree— it keeps weight down to preserve a natural bike feel and is still plenty powerful.
Compare Prices
Last updated: 2023-12-04 15:51:20
Speed
Riders can toggle between five pedal assist levels, but— and again, simplicity is the goal here— there isn't a throttle mode. With a top speed of 20 mph with pedal assist, this bike falls into the Class 1 ebike category. That said, speed demons or riders looking for a Class 2/3 bike that packs more of a punch are best off looking at the more powerful models from Vvolt.
There's a 375Wh Celxpert battery tucked away in the downtube that'll last 20-40 miles on a single charge. I takes 5.5 hours to fully charge, which is a decent but not outstanding stat, and the slim downtube leaves room for a water bottle mount, too. The relatively lightweight battery helps keep the total heft of the bike down to a minimum. The S/M model weighs a total of 44 lbs. and the L/XL bike comes in at 46 lbs.
Belt Drive
One of the main features of this ebike is the maintenance-free belt-drive system. You won't have to worry about a dirty, gunked up chain or drivetrain strain due to the motor. It's a single-speed setup so there's only one gear, but in my book, that's another good less-is-more design choice from Vvolt. Riders will probably be using the pedal assist almost the entire time, so there's no need for a wide range of gears. If you live in a very hilly area, though, this bike might not be an ideal choice.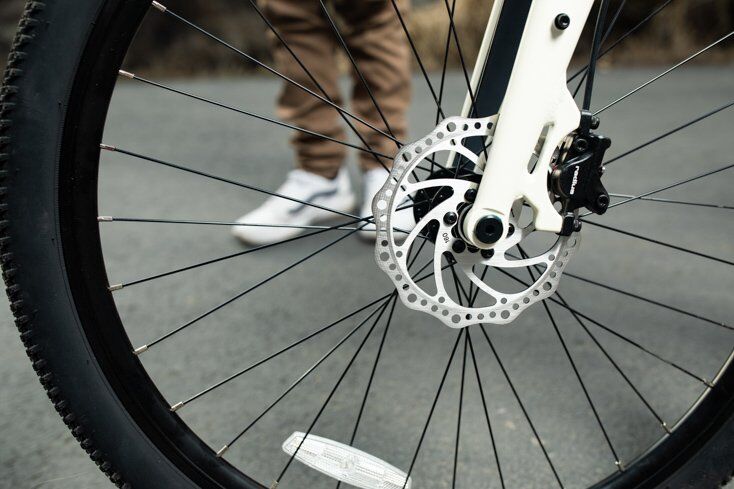 The rest of the componentry goes along with Vvolt's simple but effective design philosophy. There are reliable Radius hydraulic brakes mounted to strong 27.5" wheels. The bike comes with 2" Chaoyang tires and, if you pass on installing fenders, there is enough tire clearance for 2.4" rubber. The onboard computer features five levels of pedal assist plus walk mode, bluetooth pairing, and a USB outlet to keep your devices topped up.
How's it Ride?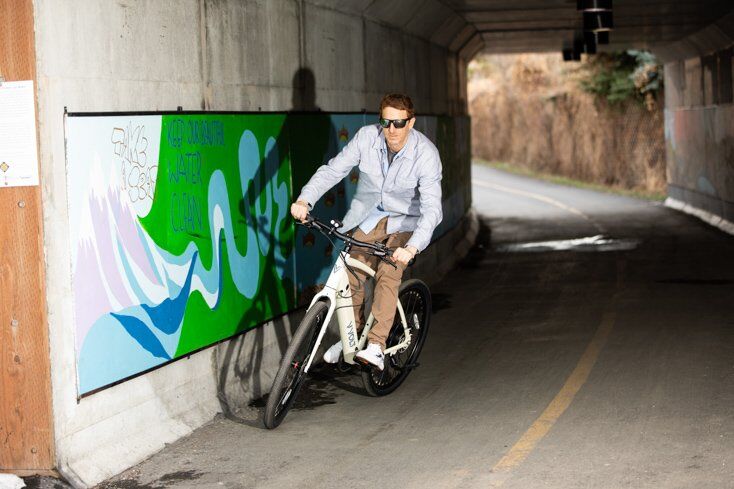 The ride feel is surprisingly natural for an ebike which I chalk up to the weight savings from the frame and simpler drivetrain. It's a rear hub-drive model so you'll have a bit of that 'pushed' sensation, but that's part of the thrill of an ebike. The moderate tire tread and rigid frame make the Alpha perfectly suited to speeding along the concrete jungle and other smooth terrains while still being comfortable.
In terms of accessories and finishing kit, this Vvolt E-Bike has a comfortable seat, sturdy kickstand, and rechargeable lights. The included front and rear lights are not built-in like on many other ebikes. There's none of the extra cabling you get from integrated lights and I appreciate the fact you can remove them if, for example, you only ride during the daytime—a way to save some weight and preserve the frame's sleek look. The bike arrives 97% assembled in its box with eco-friendly packaging that uses less plastic and no Styrofoam.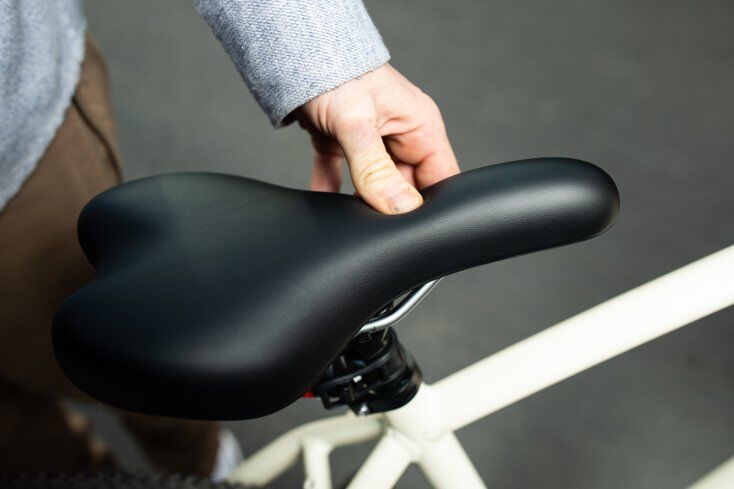 Overall Impression
The Vvolt Alpha was created with a no-nonsense design philosophy in mind and performs excellently around the city and on bike paths. It isn't an all-terrain ebike nor does it try to be; riders will enjoy the belt-drive and lightweight frame built to conquer the urban environment. Priced competitively at $1,399, the Volt is an accessible way to get into ebiking and the impressive 3-year warranty ensures it's a great investment further down the road. Mount the Vvolt Alpha and hop on the exciting trend of belt-drive ebikes.