The Priority Current is a Class 3 ebike that shows its love to commuters by fitting lots of city-oriented features into a neat and stylish setup. Simplicity reigns supreme thanks to the maintenance-free belt drive and internal hub gears protected from the elements. The Current is built for daily riders on the hunt for a premium ebike at a mid-level price.
Keep reading to discover what we thought of the Current and how it fares in the urban environment.
Gates Belt Drive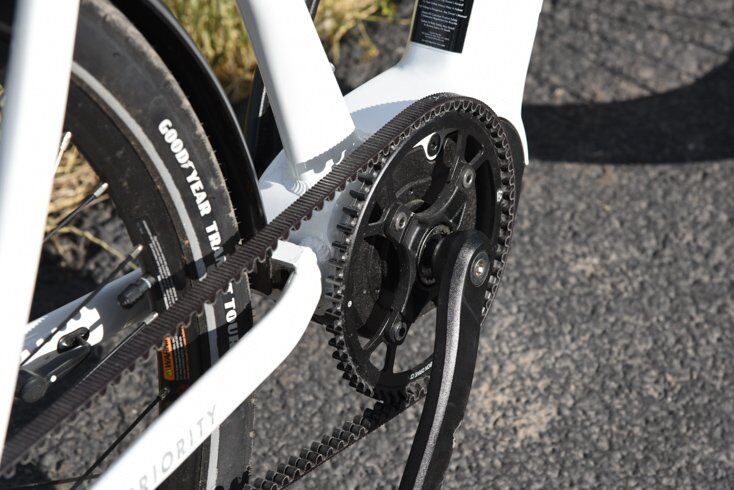 The Current is Priority Bicycle's flagship ebike and comes with a Gates belt drive, just like the rest of the brand's fleet of bikes. The young company got it's start around 2014 after a few successful Kickstarter campaigns and has made a name for itself within the urban cycling market focusing on simplicity and maintenance-free belt drive systems. They've expanded their range significantly and now offer 16 city-oriented bikes for kids and adults.
Priority's popularity and recent boom in the industry have caused most of their bikes to sell out before they are produced, so if you are interested in the Current, I recommend you hop aboard quickly.
Hybrid Design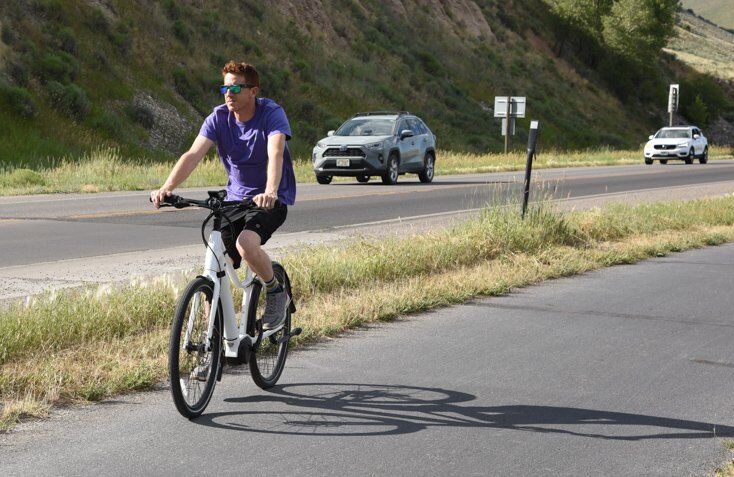 The Priority Current Bike is built around a mid-step 6061 aluminum frame that has a cleaner look than most other ebikes. Onlookers would be forgiven for thinking this was a standard hybrid thanks to the sleek details that simplify the bike's profile including the rigid fork, slim downtube that houses the battery, and integrated cables.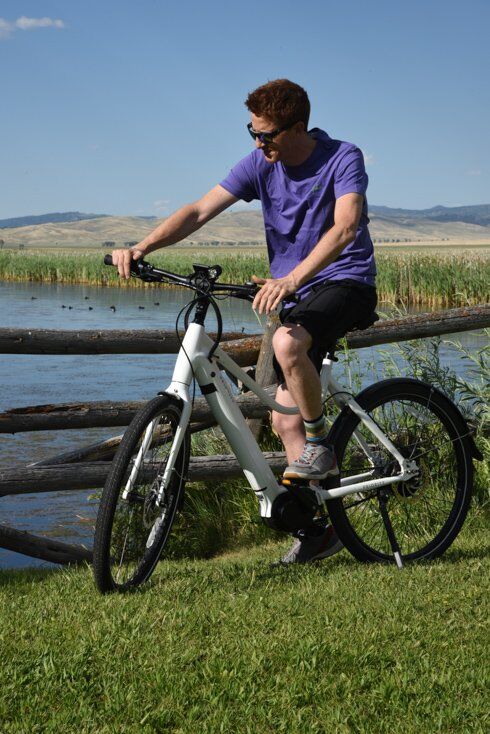 The relaxed frame geometry makes getting on and off the bike easy amid city traffic, even for rider's that aren't the most agile. The frame is available in three sizes and two colors (white or charcoal).
500W Mid Drive Motor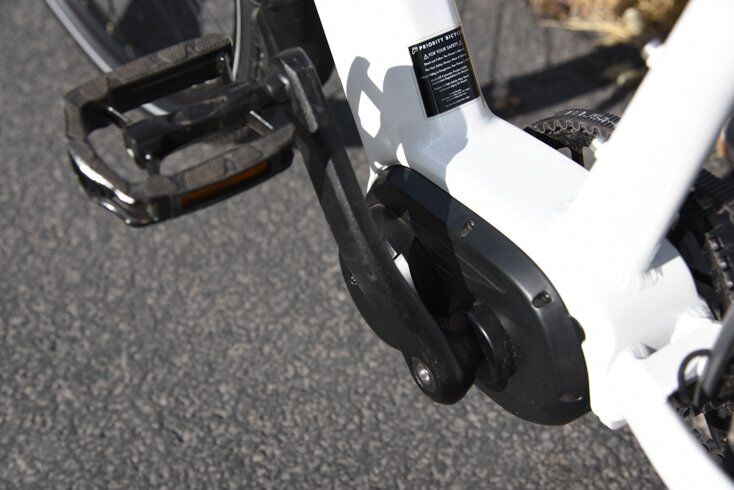 A big step up from entry-level ebikes with hub motors, the Current features a 500W mid-drive motor. The motor provides a whopping 140 Nm of torque to get you up even the steepest of hills and prevents motor strain. The five pedal-assist modes top out at 28 mph, but we clocked an impressive 31 mph during our testing.
There's no throttle mode, but that's fairly typically among higher-end ebikes— but it's up to you to decide whether that'll be a dealbreaker. The Priority Current E-Bike ships as a Class 1 but can be easily switched into Class 3 for more power from the 500W mid-drive motor.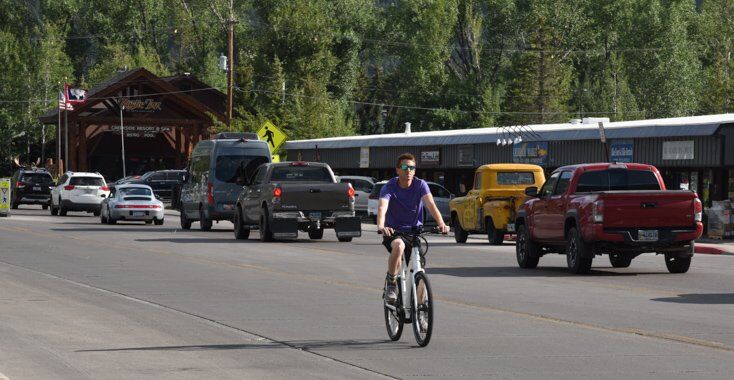 Priority claim there's a 'torque sensing motor', but the acceleration wasn't as quick as we would expect from a model outfitted with a torque sensor. The Current doesn't jolt or jerk when the motor kicks in; it's just a bit slow off the line.
Out on the open roads and bike paths, the Current felt super smooth and efficient with plenty of power behind it, but wasn't as fun in stop-and-go city traffic. If you have a longer commute or want to extend the length of your rides, this is the perfect companion.
Battery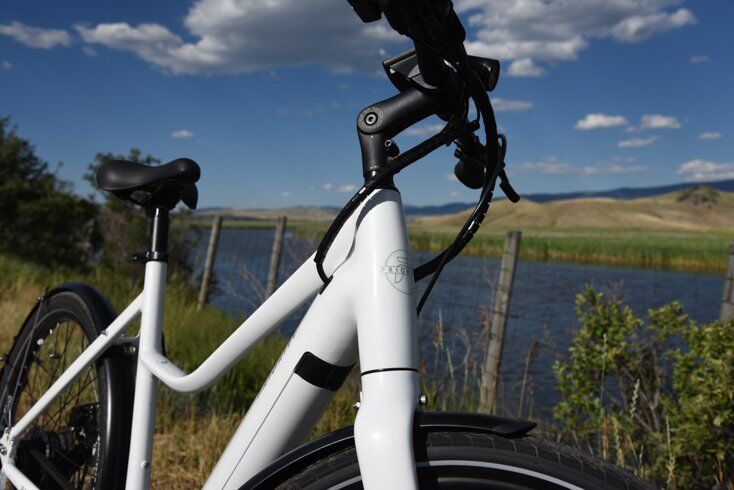 The 10.4Ah battery is neatly integrated into a downtube that's slimmer than rival ebikes. I expected a longer-range battery for the price, but if you plan to use the lower levels of pedal-assist you should have a range of around 20-40 miles. Priority does sell their $799 battery extender (extra battery that mounts on top of a rear rack) that would convert this ebike into a real commuting beast with up to 100 mile battery range available on a full charge.
But considering the bike's already upper-mid-level price tag, I wouldn't want to drop more money on another battery. It's a proprietary battery only sold by Priority, so if there are any problems or you want a new one years down the line, you'll have to go through them— but fret not, user reviews say the brand's customer service is pretty good.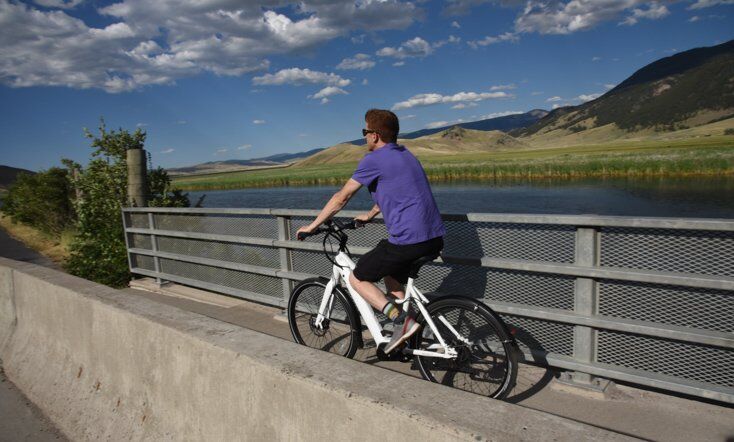 The Current's real competitive advantage is its super low maintenance. The Gates Carbon Belt Drive, internal hub gears, dual-piston hydraulic disk brakes, and automatic lights are long-lasting parts that keep their important bits protected from the elements. If you live in a city with poor weather or just want a drama-free daily commuter, the Current surely fits the bill.
Shimano or Enviolo?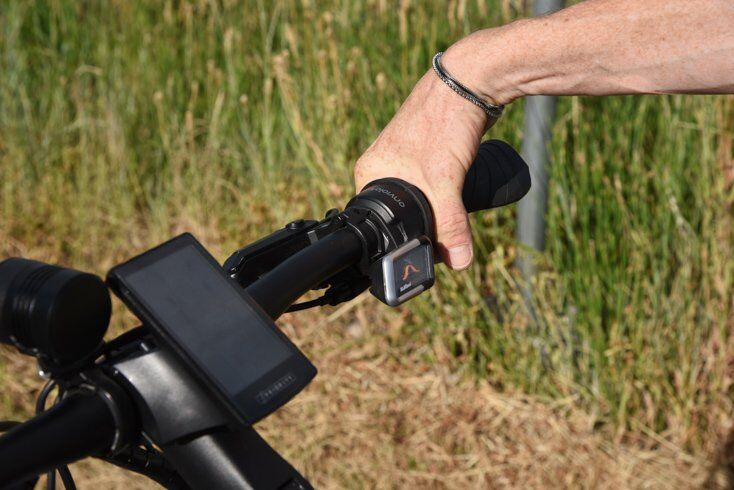 The Current is available with two rear hub options: Shimano or Enviolo. The Shimano internal gearing has five distinct gears whereas the Enviolo hub features a continuously variable transmission (CVT) with a wider gear range, but weighs 2 lbs. more. We were sent the Enviolo-equipped Current for testing.
Priority recommends the Shimano hub for people who want a lighter setup where they know the exact gear they're in (gears numbered 1-5) and the Enviolo option if you prefer a wider range of gears with an intuitive twist grip shifter. The Enviolo hub lacks the big gears to prevent you from spinning out on the pedals while in the fastest assist modes, but I wasn't in those higher assistance levels for too long.
Wheels and Tires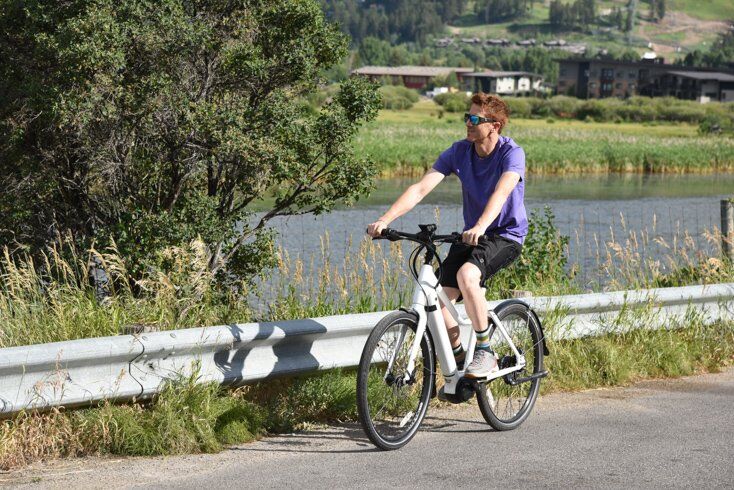 The 27.5" wheelset is a smart choice for this type of urban daily rider and there are relatively wide Goodyear Transit Tour tires for plenty of traction in the city. The larger tires aren't my first choice if you are riding mostly on pavement, but their bigger air volume adds a bit more cushion back into the bike— after all, there isn't a front suspension fork. The plastic fenders are secure and perfect for mixed-weather urban riding. I found the Selle Royal saddle is plenty comfortable and you can install a suspension seat post if you really wanted more comfort.
Resting squarely within the upper-middle price range of electric bikes, I'd expect the accessories and other gadgets to be top-notch and the Current does a decent job here, but doesn't wow me. The color display is large and very user-friendly, but there isn't an integrated GPS or app, so many of us will have to use our smartphones for maps. Having both the large display and phone on the handlebars would simply be too cluttered. That said, there is a useful USB port to keep your extra devices charged.
Overall Impression
As attractive as this urban ebike looks, the real thrill comes when you hop on and cruise through the city. The mid-drive motor preserves the natural balance of the bike (and probably helps offset the added weight of the internal gear hub) and delivers smooth assistance. The ride experience rivals that of higher-end ebikes and I appreciate the zippy feel due to the rigid frame. Forgoing suspension keeps the Priorty Current weight down to 53 lbs., much lighter than other all-rounder ebikes on the market.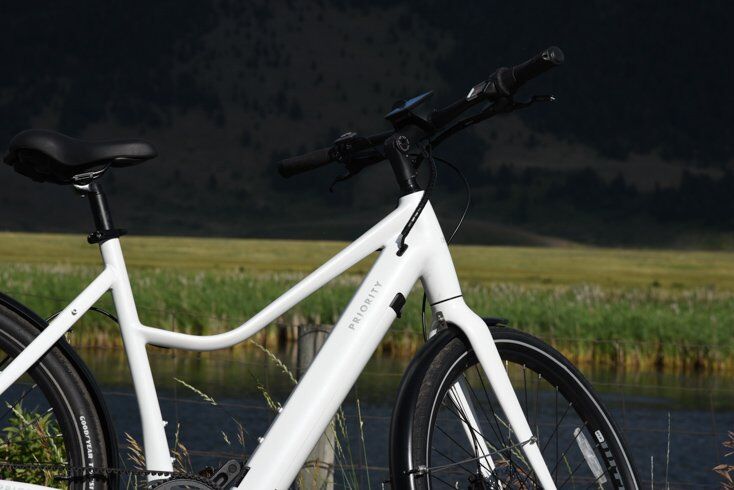 The Priority Current is an exciting option for dedicated commuters looking for something beyond entry-level that's still not a wallet-emptying $4,000+ model. The Current's superb quality matches its $3,499 price tag for Enviolo or $3,299 for Shimano while the componentry and relatively small battery doesn't blow me away.
However, there seem to be frequent discounts on Priority's website that can knock off a few hundred dollars, making it a much sweeter deal in a market that is saturated with entry-point ebikes and top-tier models with few choices like this one in the middle.
Priority Coupon Code
$300-off coupon using the code: MWNEWS
Related Articles: