The Heybike Explore E-Bike has plenty of get-up-and-go. It's a class 3 E-Bike with a 750w hub motor and throttle that's typical among comparable class three bikes.
This fat tire electric bike is your grocery getter, gear hauler, everyday cruiser. With its 26"x4 inch tires, you can ride it all year long in the wet and snow.
Frame
This Heybike Electric bike has everything you need and nothing of what you don't. The battery is neatly tucked behind the seat tube and can be easily removed after turning the saddle out of the way. The frame features a step through design, allowing rider heights from 5'5"-6'6".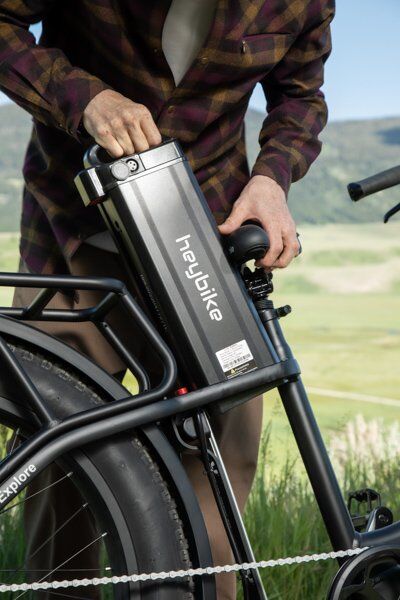 The bike comes with a rear-rack, front and rear fenders, and mounts for a front basket. The watter bottle cage sits on the downtube directly in front of the rider. As aesthesis of bikes continue to change, I hope to see more step-through designs. The step-though fat tire design is easy to mount and accommodates for a huge range of rider heights.
Cockpit
The cockpit of the bike is easy to navigate. On the right the rider finds seven standard gears on a Shimano drivetrain that's all thumb actuated. The rubberized twist grip throttle is easy to grip and very responsive. This bike has a lot of torque when in higher speed modes.
On the left there is one module for lights and a uniquely loud horn. A second module controls your on/off power and +/- dials for the speed settings.
At the center of it all is a high contrast screen that shows MPH, speed level, total mileage, and headlight settings. You may run into visibility issues with polarized sunglasses, but otherwise it's an easy to read screen.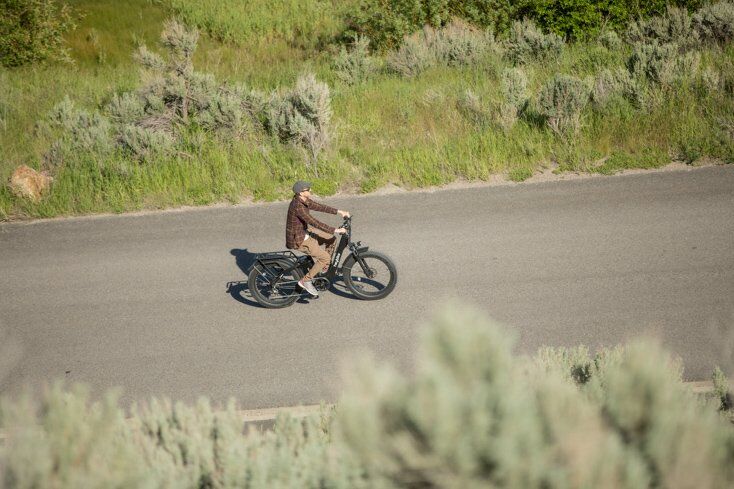 The handle bar grips are flatter and ergonomic for a more comfortable ride. As a mountain biker who has struggled with carpel tunnel and wrist problems, these grips are a huge plus.
Suspension
The four inch tires handle any pathway chatter you may encounter. The front suspension fork is the icing on the comfort cake. If you need to drop a curb or run into especially unkept roads, the tire and suspension combo make for a very smooth stable ride, especially when weighted down with saddle bags or baskets.
Drivetrain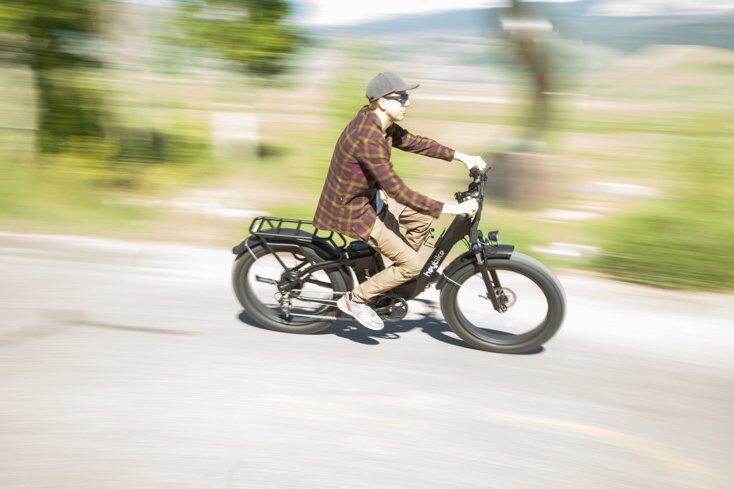 The seven speed Shimano drivetrain gives you more gearing options as the rider starts and stops pedaling through intersections. At 77lbs, a high gear and the twist throttle help you get the bike going from a complete stop. While the options are nice, the pedal assist makes stopping and starting this bike a breeze.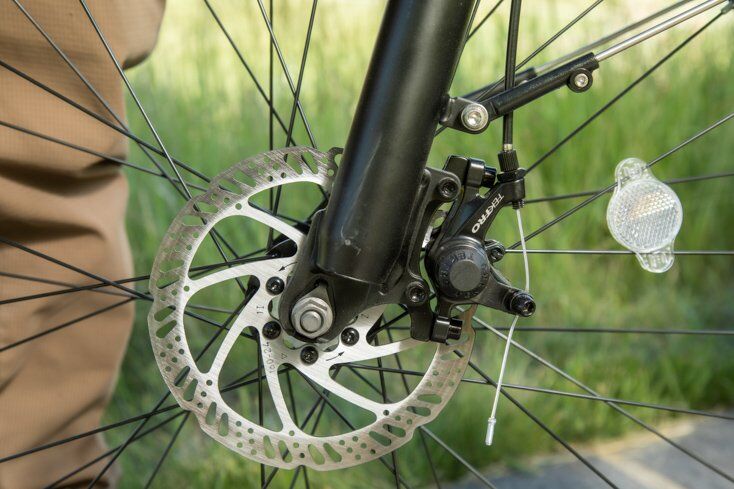 A surprising, cost-saving feature on this electric bicycle was the use of the mechanical Tektro brakes. I was skeptical at first. With such a heavy bike capable of speeds over 25 mph, I expected more brake. However, as I lay on the gas and squeeze the levers, the Tektro's provide responsive control. I was pleasantly surprised at the power and effectiveness of the brakes. If you're worried about the more cost effective mechanical brake, don't be.
Some quick numbers:
48V 20AH battery capacity
6-7 hour charge time
55 miles to 70 miles of range
750W motor
Overall Impression
At $1,899 the fat tire Heybike Explore E-bike will pay for itself in gas. The two most noticeable things would be the torque, and braking power (considering the model of brake.) There isn't room for a passenger unless you rig your own seat and footrest. The bike can handle up to 330lbs of capacity so if you're a DIY kind of rider, you could make room for two.
The fat tires are literally and figuratively a plus. I felt confident and planted when the bike lane became crunchy and road conditions changed. The tire size also made cornering at speed comfortable.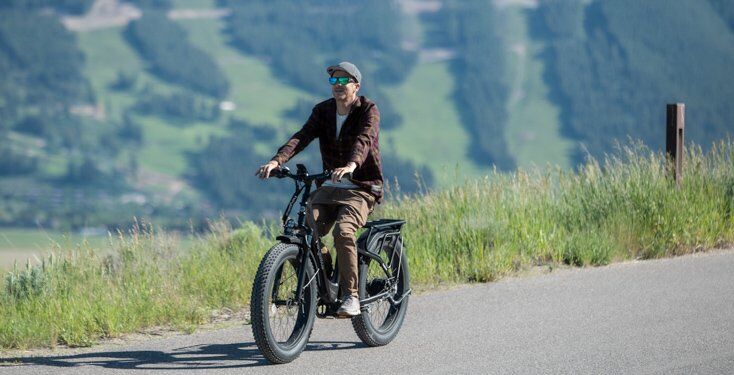 If this is your first e-bike or your family's 5th, you won't be disappointed. I wish it had more space for passengers, but that is really the only design feature I'd change on this particular Heybike e-bike.
Related Articles: