The Velotric Discover 1 is a Class 2 ebike that strikes the perfect balance between commuter and cruiser categories. The mighty 500W motor zips through the city and the comfortable step-through frame feels like riding on a cloud. All that performance doesn't crowd out eye-catching aesthetics either— check out our complete review of the Discover 1 below.
Velotric is one of the newest ebike brands on the market, coming fresh off of their successful IndieGogo campaign to launch the Discover 1. That campaign kicked off in the fall of 2021 and quickly exceeded its funding goals. The brand has extra credibility since they're led by e-mobility expert Adam Zhang, the co-founder of electric scooter giant Lime. Velotric recently finished shipping out all of the reserved IndieGogo ebikes and now operates via direct sales on their own website.
Sizes
The Velotric Discover 1 E-bike is a clever cross between a commuter and cruiser ebike. The relaxed geometry provides a comfortable straight-back riding posture, but still feels sporty. The step-through frame design is made out of 6061 aluminum alloy and fits all riders up to 6'4". Pick between five stylish color options for a nice alternative to the multitude of black/gray ebike frames on the market.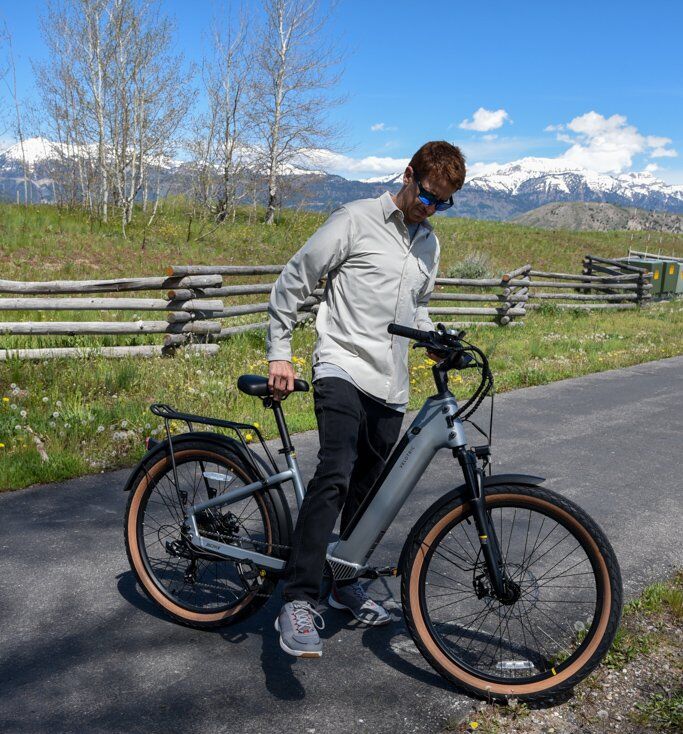 Recommended Rider Height
5'1 – 6″4 – Velotric Discover 1 Urban Commuter
Weight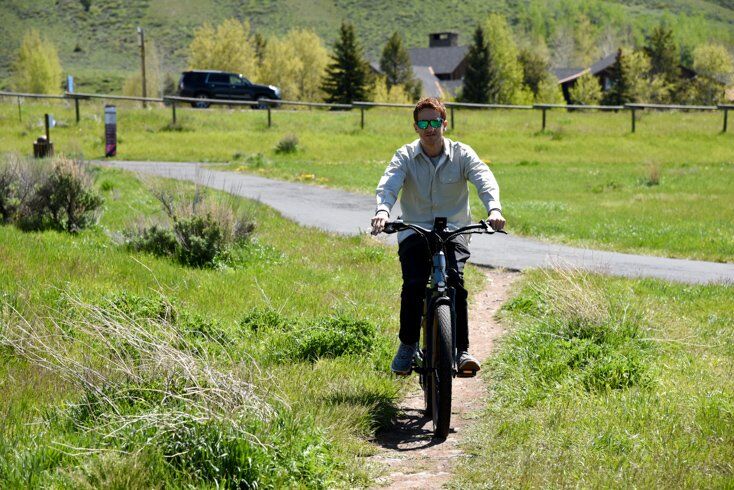 The entire setup weighs in at a hefty 64 lbs. which is fairly standard for this type of ebike. I noticed a few safety labels around the bike showing there were extra quality checks at the factory— that's a plus in my book. There is also 65mm of front fork travel to absorb small bumps and take the edge off rough roads. The overall ride feel is ultra-comfy and makes for an incredibly fun ride experience.
500 Watt Read Hub Motor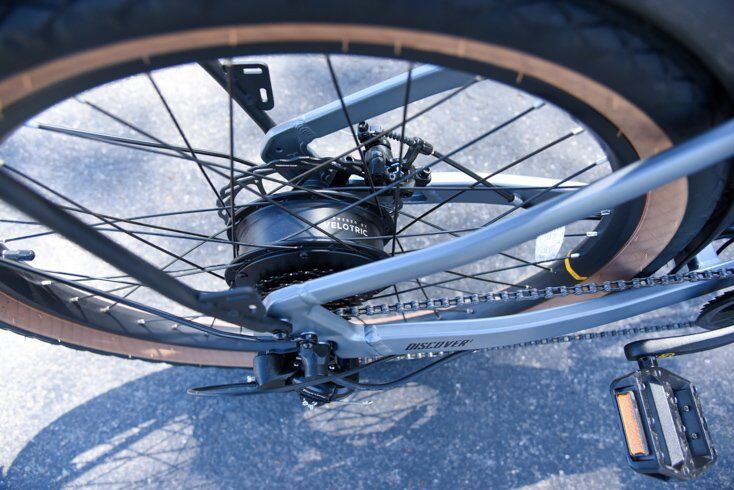 The Discover 1 gets its boost from a 500W rear hub motor that'll take the bite out of pesky hills and includes a throttle mode for pedal-free cruising. There's 65 Nm of torque— a more-than-decent stat— to handle steep climbs and heavy cargo if you've got the rear rack loaded up. It's a fast bike for sure, but doesn't have as quick acceleration as I was expecting.
3 Pedal Assist Modes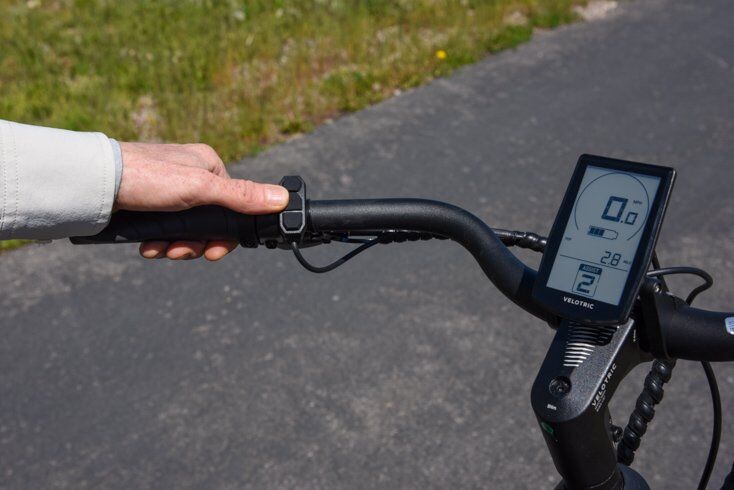 There are three levels of pedal assist and a walk mode to help roll the hefty bike up ramps or through crosswalks. Many rival ebikes come with five levels of assist, but I've found that three is sufficient, especially since this model has a throttle. The throttle thumb lever is on the right side of the handlebars. Both the pedal assist and throttle modes top out at a zippy 20 mph, plenty of pace for city riding that stays within the legal limit on most bike paths.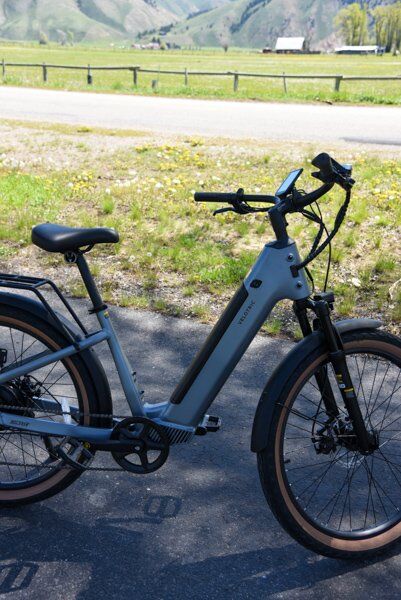 The high-capacity 14.4Ah battery is neatly integrated into the downtube to preserve the step-through frame's overall sleek look. The sizeable battery can provide over 50 miles on a single charge riding in the lowest pedal assist mode. The fastest pedal assist and throttle mode lower the range to 30-40 miles which is still an impressive performance on this Velotric E-Bike.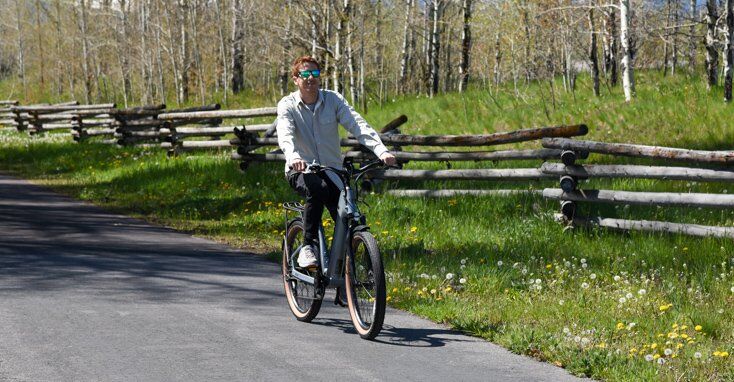 The battery fully charges in about 6 hours and is easily removable and lockable. Potential buyers should look past the dubious "Tesla grade" rating that Velotric gives its battery, but can trust its a competitive unit that's similar to rival bikes.
Components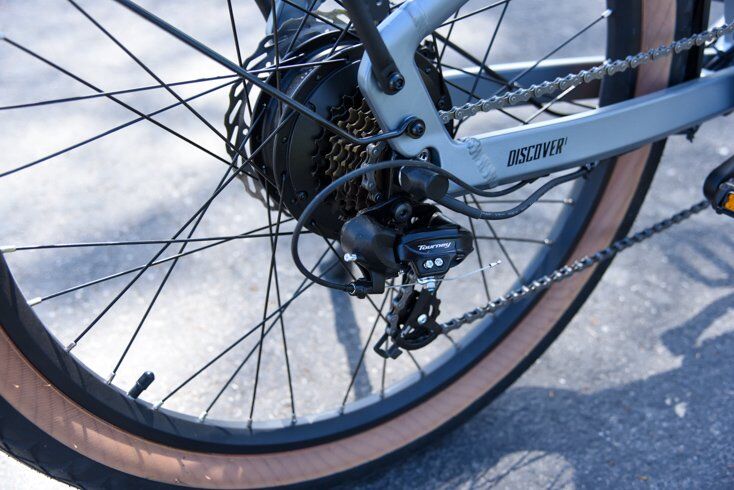 The quality componentry throughout the Discover 1 make it a great deal and reliable ebike for the price. There's a Shimano Tourney 7-speed drivetrain and strong Tourney mechanical disc brakes to match. The 42t chainring and 170mm aluminum alloy forged cranks are designed by Velotric.
One shortfall, however, is the outdated Shimano SIS Index thumb shifter— it's on a lot of entry-level ebikes, but I'd like to see some more recent tech. The choice of mechanical disc brakes over more expensive hydraulic brakes is expected as it keeps the bike affordable.
The 26" double-wall aluminum alloy rims are paired with 2.5" tires with appropriate tread for city riding. A stand-out feature is the beige sidewalls on the tires, giving them a fun and chic look. I'm a sucker for tan sidewalls as they really do catch the eye and make an aesthetic difference. The rear spokes have an interesting lace pattern which I can only assume is designed to add strength to the rear wheel to handle the hub motor and any cargo on the back rack. Maybe its just my inner bike geek talking, but that spoke pattern injects some serious flair.
Large LCD Display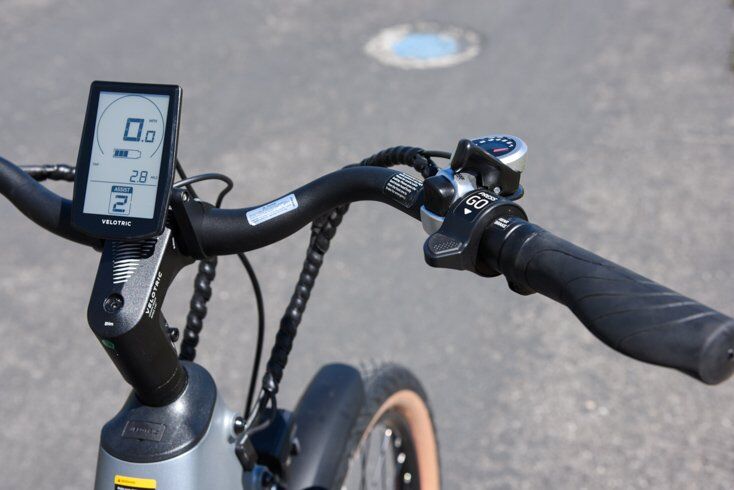 As with many modern electric bikes, the Discover 1 has plenty of smaller details that make the ride more enjoyable and user-friendly. There's a large LCD display to view all your ride stats and ebike metrics as well as integrated front and rear lights— the taillight stays switched on.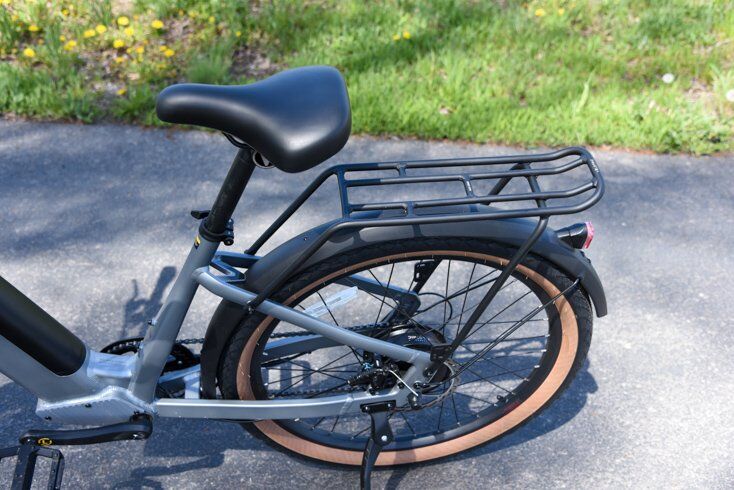 The bike ships with a rear rack and riders can add a front rack if they want. There's a small, dinky bell on the handlebars that I don't care for much, but the pre-installed fenders and kickstand add a lot of usability. Comfort runs through this bike's DNA with ergonomic grips and soft saddle. The seat has a lifting handle which is very convenient when moving or pivoting the bike with assistance from the motor's walk mode if needed.
Overall Impression
The Velotric Discover 1 ($1,399) is a similar setup to the popular Ride1Up LMT'D ($1,795) ebike, but costs a lot less. Each of their MSRPs are around the $1,899 mark, but Velotric has a pretty impressive sale going on that significantly drops the price, making the Discover 1 a fantastic deal for someone looking for their first electric bicycle. This ultimate urban commuter gets you from point A to point B in style. Don't forget that the Discover 1 also doubles as a fantastic bike for weekend joyrides when it's all about the fun journey rather than the destination.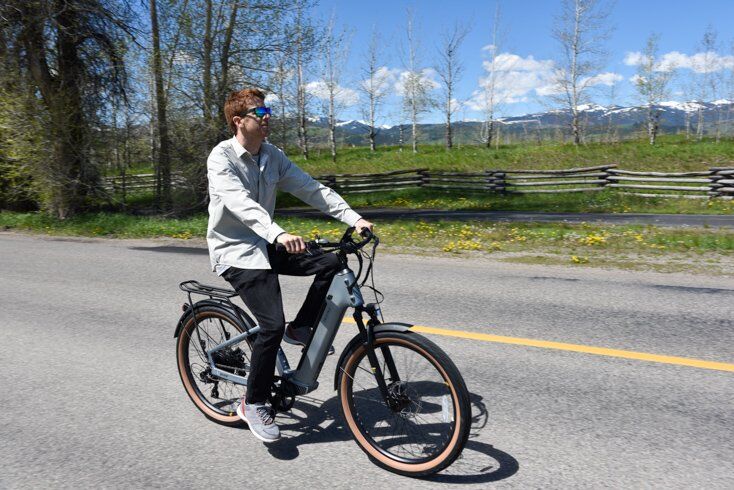 Related Articles: