Since its inception in 2012, the Scarpa Maestrale RS has been lauded as the second coming of the Messiah by many big names in the ski industry (I'm looking at you, Lou Dawson). Praised for its relatively low weight, and widely used by guides and patrollers due to its great walking mode paired with the power of a 120 flex rating, the Maestrale is among the most liked boots by professionals in the ski industry.
I personally have been a loyal fan of Scarpa boots since I used a beat up pair of Skookums on a trip to Denali in 2012. I summited on those boots, without any kind of overboots I might add, and found the Skookums warm enough through the climb. They also had enough power in those light four buckles to help me wrangle my skis out of an avalanche on the Messner couloir at 17k ft. After that trip, I realized what they mean by brand loyalty.
Some days later, in a desperate dash to catch the train from Talkeetna to Anchorage I left those boots drying in the back of a hostel, never to be seen again; a lonely tear was shed upon the realization of this. I eventually replaced those boots with a lighter pair of Scarpa boots, The Rush, which was the light three-buckle version of the original Maestrale. But it was never meant to be. The Rush is a nice boot, don't get me wrong, nimble and fast, but a 6ft3in skier on the Rush has to work a lot on form and balance to keep those boots upright. They barely lasted three seasons, one of which included my knee surgery. So when it became time to replace them, I decided to look at Scarpa's MRS.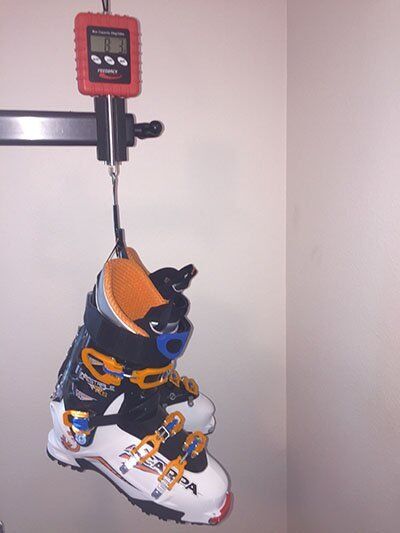 Scarpa Maestale Weight
My pair (size 29.5) weighed in at 8lbs 3oz and believe it or not, this is pretty light on boots this size, especially on a four-buckle boot. The power strap is as wide as they come, and the walk mode has to be one of the easiest to use of any AT boots. The uphill is without a question Scarpa's strength, despite four-buckles, the boot has a natural gait and flex to them, mimicking the natural trajectory of the feet. As opposed to other boots in this category, which basically just release the ankle to allow the foot to wiggle in the shell.
I used a pair of 187 Manaslu skis with Radical bindings to test the MRS on Berthoud Pass; snow was powder and crust over powder. I would've liked to test these boots on a fatter set of boards because at 99mm girth the Manaslu was thrown around like a pair of flimsy chopsticks, and all I could think of was "I need fatter skis". Hard to imagine, but the MRS is even better on the descent than the ascent; they are precise and strong. At 190lbs, getting off the ground requires faith in your landing gear, but unlike the lighter three buckle Rush, landing in the MRS requires considerably less balance; it's a noticeably more forgiving boot. It seems that the MRS is all it's claimed to be…. almost.
The only reason I'm not giving this boot a 5-star rating, and giving it instead a 4.5 is the ever so slight drop in the craftsmanship I've noticed in my Scarpa's top end AT boots.
How Durable Are Scarpa Boots?
My original Skookum boots were bomb proof. I wore the Vibram sole down to the shell in places and never had to even as much as tighten a screw on them. In my old pair of Rush boots, I blew several buckles, broke a hinge, and had to replace a couple of screws in the walk mode mechanism. I had always assumed that this was due to their lighter weight. So after walking comfortably back to the parking lot in Berthoud Pass, having bombed up and down in my new MRS boots, as I sat down to remove my boots, it felt like butterflies in my stomach all over again. That is until I pulled on the bottom tongue strap in the Intuition liners and the strap ripped a hole below the tongue. Intuitively, (pun intended) I looked at the sky and let out a loud: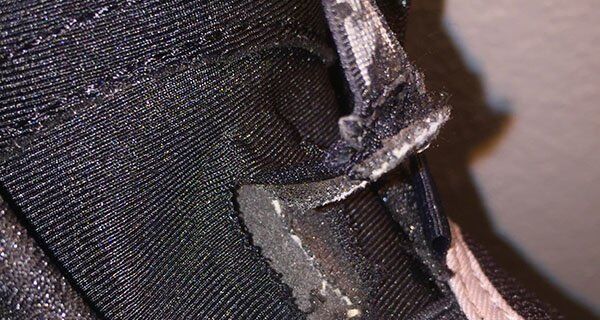 "Nooooo!" I used some duck tape, and they're OK now (thanks for asking), but it would be dishonest not to say that my heart got a little broken when that liner ripped. I have compared visually this year's MRS and previous models and initially, there does appear to be a small drop in the quality of finishing touches, such as graphics or the slightly wider stitches in the liners. It's hard to tell, but I guess only time will tell if this impacts long-term durability.
Other than that, the Scarpa Maesrtrale RS ($849.99) is the one boot to rule them all. Heavier and sturdier boots are unnecessary 99% of the time in the backcountry. If you're overpowering this boot, you're either throwing 20ft backflips, you're skiing moguls or park all day in a resort, or you need to get on a diet. Even Chris Davenport doesn't always use his signature and much heavier and beefier Scarpa model for multi-day tours. He's been known to use the MRS for those. So there, what more do you need than the seal of approval of Mr. Steeps himself?
Related Articles: