Cool summer nights , crisp fall days , frigid winters … it gets cold here in the Tetons at all times of year. We are outside alot- we love to camp, hike, ski , sled , skate .. you name it! We love gear that helps us stay outside longer. More than that, we love gear that holds up! My kids are three years apart so when my daughter (age 8)  grows out of gear, it eventually moves on to her brother (age 5).…and then on to cousins. We choose colors that both my daughter and son will wear. The bright colors that Shred Dog offers are an added bonus … because who doesn't love to be able to spot their kid easily at the mountain?!
Best Shred Dog Clothes for Kids
This is a warm and lightweight jacket that's perfect for all seasons. In spring , summer , and fall here in Wyoming it works great on its own. During the coldest months…. it's the perfect mid-layer. ( with a thin base layer underneath). It's compact, adjustable and comes in great color options. The best part … it zips right into the "Elevated Hard Shell".
Price: $66.00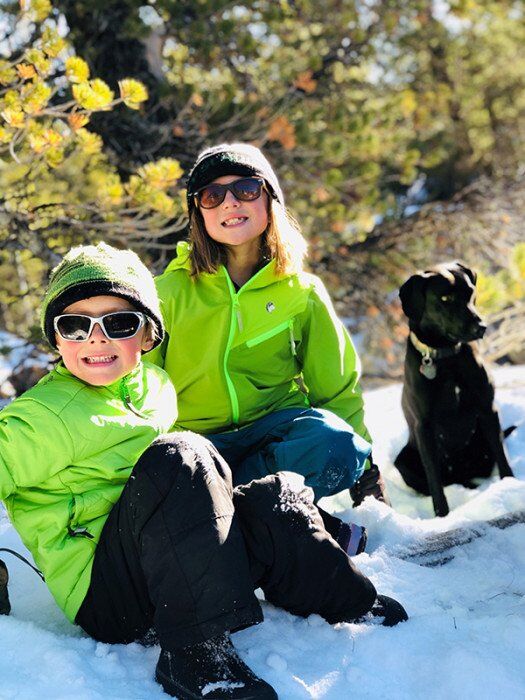 It's great as a raincoat for cooler climates, and it serves as the perfect outer layer for winter. I love that it's both waterproof, breathable, and has arm vents for air flow! It keeps my kids dry after hours of playing in the snow. Perhaps the best thing of all according to my daughter …the pockets! She LOVES all the pockets, and it makes her excited to wear this coat.
Price: $180.00
They are warm, waterproof and have reinforced knees… let me repeat that : REINFORCED KNEES! That means these snow pants will hold up, even when my kids play hard. We love them as bibs, but it is nice to have the option to zip off the top and wear them as pants.The adjustable velcro waist is perfect for the tiny waisted kid! Again .. lots of pockets!
Price: $180.00
Shred Dog Adjust -A-Fit Sizing
Now,  can we talk about a feature I haven't seen anywhere else…Shred Dog"s "Adjust -A-Fit " is genius! This feature allows you to change the length of sleeves and pant legs with an easy to use elastic and button system on the inseam. When your kid is between sizes, or rocking a hand-me-down ….  you can adjust the length on the  Element Insulator, Elevated Hardshell and Convertable Bibs . We just took a size 10 jacket and converted it to an 8.5/9 for the perfect fit! Game changer!
Price: $300.00
Overall Impression
Overall, Shred Dog for the win. This gear fits true to size. It's comfortable, versatile and durable. This company really thought about function and quality … and it shows.