The Possway V4 Pro Electric Skateboard: Guaranteed fun for any kid who likes boardsports
I never thought I could have so much fun going to my friend's house till I got the Possway V4 Pro Electric Skateboard. It felt like I was flying down the street. It was an amazing feeling. I felt super free. It also helped me in the park with my skills, going fast in control. But really how is it having a E-board in Idaho? In a word, game-changing.
Possway V4 Pro Tech Specs
Written by Dad
"After my 8-year-old son tried out my electric skateboard, he immediately wanted one even if he was a little shaky on it. When he got his own chance, Jackson jumped right on. First I wanted to know the details. At 12.5 pounds, the Possway V4 Pro E-Skateboard is almost a quarter of his weight and so I figured it would be stable enough to carry him.
With a 10-mile range, I knew he would be able to take it wherever around town we needed to head. The 350 WX2 geared rear-wheel motor would have enough power to really give him a rush, as would the top speed of 15-miles-per-hour. It also worried me a little, but the other side of all that power is that it could safely carry him over the hard-packed dirt roads and knobby new blacktop of our bike path. The trucks are beefy, and while some reports question the safety of these vehicles, the Possway V4 Pro is perfect to carry my little guy even at the top speed. Though of course I insisted he wear a helmet.
He did take a spill, when he had it in Pro speed (it has 4 speed levels, clearly shown on the screen of the remote control) and hit some gravel. While it did teach him a lesson about control and road rash, it didn't stop him from getting back on the next day. And it encouraged him to skate more. As Jackson will explain to you in his review."
Riding my Possway V4 Pro Electric Skateboard
The first time I rode the Possway V4 Pro Electric Skateboard I was on the bike path. At first it was scary so I started slow but over time I got faster. The power modes were fun but some of them you needed a little experience to use.
It was surprisingly easy to control with the remote, it even showed my speed.
Overall Impression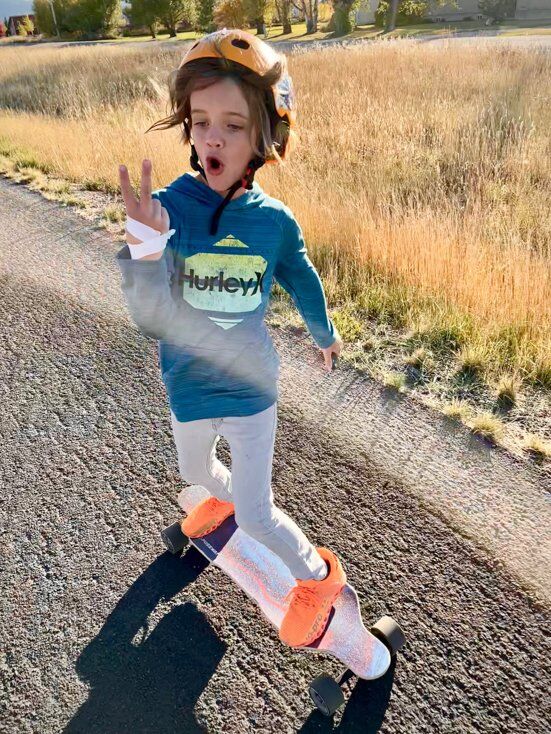 The Possway V4 Pro Electric Skateboard ($449.99) does well on gravel however you should be careful. For instance, I got a little too cocky and fell when I hit some loose gravel. Even though it hurt I still enjoyed riding it two miles the next day over to my friends house. I recommend it for any kid who likes boardsports.
And especially if they like going fast.
Possway Coupon Code for $15 Off: MWN
Related Articles: