Board sports are pretty similar when it comes down to the mechanics.  Your stance, the way you bend your knees and even balance can easily be transferred from skate, to snow and if you put enough time in, surf.
With surfing you use the energy of the waves to propel you, in snowboarding its the energy of falling gravity.  With skateboarding it takes a bit more work to get that sort of energy, or it did in the past.  Now, thanks to electric skateboards like the Outdoor Master Booster Electric Skateboard you can use the motor of these boards to replicate the feeling of surfing and snowboarding.
Perhaps you live in the mountains and are looking for a long board to ride around town, or maybe you live at the beach or in the city.  Regardless of where you call home the Outdoor Master Booster Skateboard is something you're going to have a hell of a time riding.
First off this is an electric skateboard with a Bluetooth remote control. The skateboard is easy to turn on, there's a button on the board, and a button on the hand held remote control. When powered they will pair and you're ready to ride.
Bluetooth Remote
There are a total of 4 speed settings.  Honestly level 1 and 2 were plenty, when I got into level 3 and 4 it was super powerful.  Like powerful enough to easily ride me up a paved road.
Speed
Level 1: Can go up to 9 Mph
Level 2: Can go up to 15 Mph
Level 3: Can go up to  21 Mph
Level 4: Can go up to 24 Mph (Turbo Mode)
Typically in surfing you are riding around 20 Mph on a wave, with snowboarding it's closer to 25-30 Mph.  That being said both of those riding surfaces (water and snow) are a little more forgiving then pavement, so be sure to keep yourself in check if you start getting a big ego and running the higher levels on this board.
Range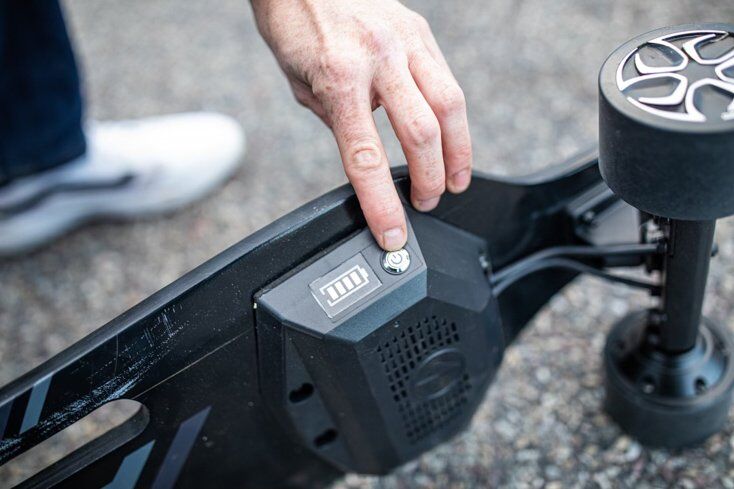 With a fully charged battery the Outdoor Master Electric Booster Skateboard has a range of a whopping 27 miles. People might use this to commute to and from work, but honestly the best value would be to have this board for fun, for running errands around town, for getting your dog out for a walk or even just to go street surf and clear your head.
The lithium battery on the skateboard takes a while to charge, so be mindful of that.  However if you have had an e-bike before you know the deal that these batteries take longer to charge than any other stuff you may own, computers, phones etc.
What I liked about this board was how smooth the 450w hub motor operates. This isn't a jerky skateboard with too much or too little power.  When you roll the remote control knob forward the board gently starts to take off.  Getting it to speed and feeling comfortable happens really quickly with this setup.
From here you can go into the different power modes.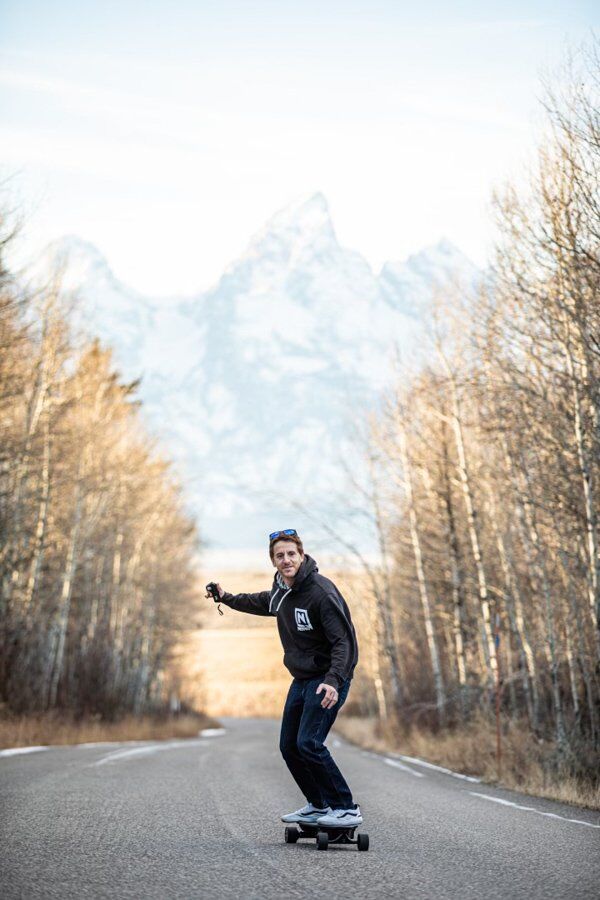 Hill climbing on this thing was a breeze, it actually shocked the entire team of testers, some of whom have backgrounds in professional board sports.
The only thing I found sketchy was slowing the board down.  To slow the board down you roll the knob on the remote control backwards. It's easy to do, however not the easiest to time.  It's one thing to manage forward acceleration, again think snowboarding and surfing. Your down low and pumping.
But when it comes time to stop the movement takes some getting used to.  I found myself jumping off the board instead of trying to get the timing of slowing the board down from too fast to too slow.
If you hit the break on the remote as hard as you can, the board is going to come to stop rapidly. So play around with this before you find yourself needing to make a quick stop, like at a busy intersection.
Overall Impression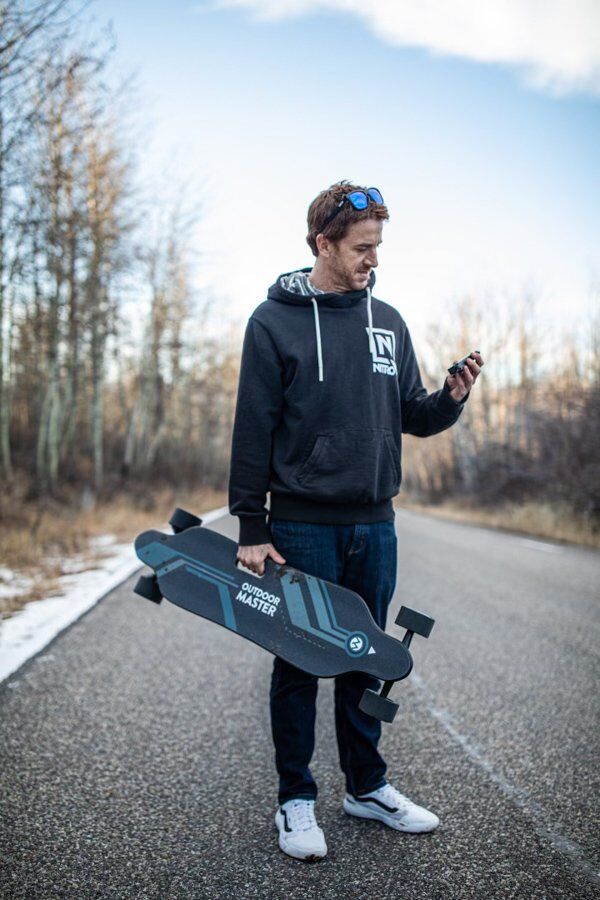 Just buy one.  The Outdoor Master E-Skateboard sat around our office for a while.  We have tested other electric longboards and weren't as impressed.  With an easy to carry handle built into the board, plenty of power a long battery range and the ability to adjust your trucks the Outdoor Master Electric Skateboard ($559.00) really allows you to get the feeling of surfing or snowboarding while on pavement.
If you're looking for a rad gift for the holidays, you found it. The board comes fully assembled, has grip tape on the top sheet and they even include a tool to adjust your trucks.  Lighter trucks are going to be more surfy, tighter trucks will have more stability. Have fun!
Related Articles: