As I was cruising down the mountain pass with the Hiboy S22 Electric Skateboard rolling at top speed, one thought came through my mind: this is way too much fun to be legal. Because there is no vehicle on asphalt or snow that gives you as much control or speed as an electric board. And Hiboy delivers this fun toy and commuter vehicle for less than the cost of a couple tanks of gas.
Don't get it wrong, this is a complex bit of machinery. It's exhilarating and cutting edge, fun and, as a transport, strikingly practical. But most of all, let me extol the virtues of my adventures on Hiboy's "The Bull" Flying Fish.
250W Hub Motor

To start off, the S22 Flying Fish is a short-distance commuter. The 250W dual hub motor has a max range of 12.5 miles on a single charge. There's no way to replace the battery so you have to plug it in to recharge the board, though extra batteries just weigh down your jacket anyway.
The "Fat Boy" Flying Fish is the shape of the board, made to slip back and forth as good as or better than any other longboard, any other cruiser I've played on. Which makes it easy and comfortable to carve up the sidewalk, flat, downhill, or rising.
4 Speed Settings
Of course pushing 20 mph is pretty fast so the Hiboy S22 has 4 different speed ride modes you can switch between on the wireless remote control. Plus of course a braking mode, which you need to be careful about when flying at top speed, for sure. Yet unlike other electric wheeled board vehicles, even if the board runs out of juice you won't get thrown off through the air.
There's a max speed of 18.5 miles an hour and when I've got the dial all the way up, the world feels like it's flying by at warp speed.
How's It Ride?
A lot of people in the Tetons say they moved here for the winter but stay for the summer. Not me; I stay for the winter, for the feeling of flying downhill sideways as the beauty of this magic corner of the world passes me. Which is why I was so excited to try out this Hiboy E-Skateboard. Having ridden a few E-boards in my day, I was blown away by the smoothness of this Hiboy Electric Skateboard. On the first ride I walked it up to the local bike path and just did a few little laps.
Next I decided to really test the Hiboy S22 E-Skateboard out. I drove up Targhee Pass to check out how it cruised for real. It turns with a precision of a board considerably smaller. The ability to speed up and slow down on the Hiboy S22 Electric Skateboard is unrivaled compared to all the other I tried. Then I took it for some laps down – and back up – the pass. The climbing ability of this board is simply ridiculous. It's an amazing feeling to not have to push when resetting for the next descent. Or when heading to and fro over hilly terrain.
Speaking of which, my great test for the Hiboy S22 Flying Fish was a cruise to the town square concert along the bike path. I started off "slowly," rocketing up my dirt road. The board ate that loam up like it was concrete.
Carving Turns
Then, on the freshly-poured asphalt of the bike path, I finally opened it up. Carving back and forth at top speed on a trail I'd formerly thought flat is a pleasure all should experience. Ramping it up to full throttle, I was suddenly reminded of my favorite Hunter S. Thompson quote: "Faster, faster until the thrill of speed overcomes the fear of death."
It's the closest I can get to snowboarding on flat ground in the hot, dry summer days and nights.
Overall Impression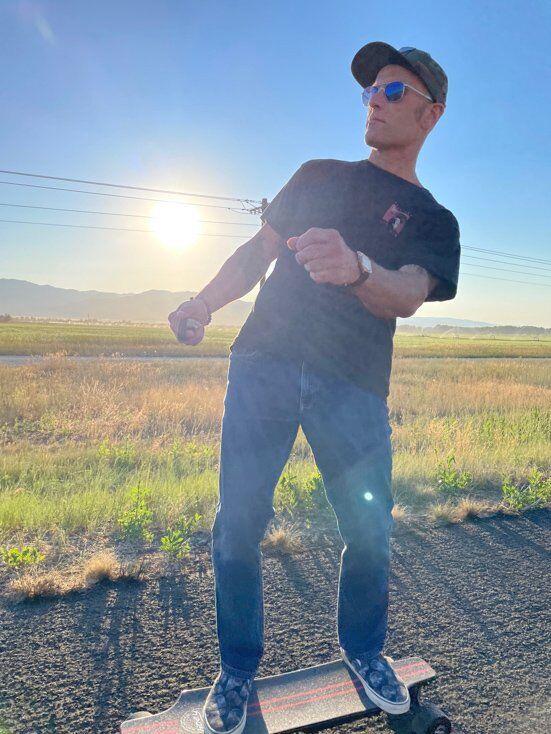 A Flying Fish swims through the air, while the Hiboy S22 Electric Skateboard seems to snowboard on concrete, or at least glide on flat like we revel in gliding downhill. There's a beauty to traveling on a board through the world, to exploring with 4 wheels, 2 trucks, and 1 plank as your ship. This has been true for us sideways sliders since electric boards first appeared, but true only for those with a ton of dough to plunk down on something that many view as a commuter toy.
Hiboy has managed to create a way for all to enjoy the exhilaration and freedom such an amazing innovation presents by delivering it a price that makes it a no-brainer given the prices of fuel in this day and age. Not to mention that this is Hiboy Electric Skateboard is considerably less expensive and more fun than a Tesla.
So do yourself a favor: pick up a Hiboy S22 Electric Skateboard ($389.99), get out on your day, and open yourself up to the freedom of shredding the flat in the middle of summer.
Related Articles: