When Gigi Ruf first envisioned the Slash Linehiker Splitboard, he probably said something like "Okay, big air, adaptability, power, and pop." But, you know, in Austro-Bavarian accented German. Because Gigi is a Tyrol powerhouse who always looks like he's having the most fun while laying down massive hammers, and linking together every crazy drop, ramp, angle and spine at more crazy angles than a cubist Picasso. So it makes sense this would be his brainchild split.
Slash Linehiker Material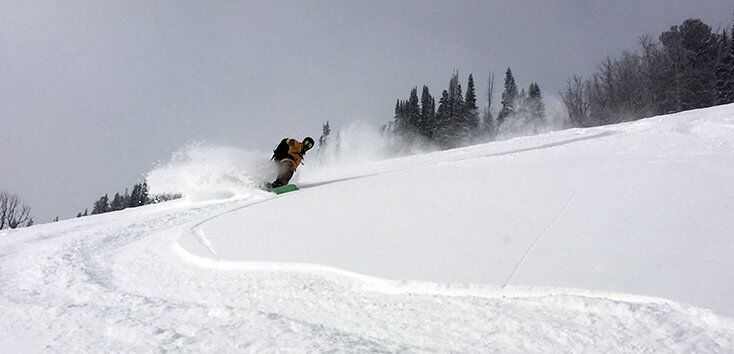 The Slash Linehiker Splitboard offers the perfect blend of materials and tech, this board is a big mountain freestyler's dream, just like Gigi. And having tested it across seemingly every type of condition inbounds and out, I can say without a doubt this board is a pow-devouring, ice-slicing, big air machine.
It seems like every board company has rolled out so many different splitboards that I can't imagine they had enough time to actually test them all. Which, given how many non-functioning splits there are out there, might be true. Gigi's company Slash, meanwhile, just took their bomber flagship Brainstorm and tweaked it into a masterful split in 2 sizes: The Slash Linehiker.
The Bi-Ax and Tri-Ax fiberglass makes the Linehiker about as durable as a board gets, able to keep its pop after countless olleys and big landings. Its Forever Woodcore doubles down on the durability by making it super responsive. And its got carbon and kevlar stringers not only for the board when solid but also down each ski so, surprise surprise, you can power through skintracks and splitski like a champ. The Linehiker's Backseat Camrock ensures your tail can handle even the rowdiest drops, and it's set slightly back so you don't have to kill your back leg in pow. But where you'll really be blown away? The Ultimate Traction that ensures this big mountain machine can dig into that icey hardpack just as well as it moves waves of pow.
Touring on the Slash Linehiker Splitboard
This has so far been a slow, but wet and warm early season in the Tetons. To put the Slash Linehiker through its paces, I tried it in every condition I could find. In an early season splitski, I actually for once made it down the approach slope without looking like a complete kook — or at the least without diving face first. Then the skin up, on a hardpack skintrack with pow running alongside, it gripped the road like 4WD snow tires. The board stayed flat for traction the whole way up, turning nimbly on the switchbacks.
Then pointing the notched nose down, flying through a foot of early-season variable and endless tracks, I caught some awkward airs landing at weird angles and both the tail and even the nose (not sure how that happened) somehow managed to hold on.
Riding down a 3500-foot backcountry run a few weeks (and storms) later, the board proved nimble and responsive in all conditions, from soft deep fluffy to southeast facing crust, and it even landed a few drops without giving a hint of buckling while letting me lay in big steezy-ish butters. The skin up it also never lost the grip like other boards with more dramatic rockers that weren't really made by splitters.
I then took it to a resort day, laying in sharp turns on corduroy-cum-boiler plate. It held speed better than Walter White, but was also as nimble as Simone Biles in tight buffed tree runs. Definitely handled better than any other split I've ever ventured to take inbounds.
And finally, I got to test it in snorkel-deep pow. It devoured everything in its path, floating and slashing like a much bigger plank. I even managed to move half the mountain with one well-timed deep gouge into the surface of the universe.
The Slash Linehiker is the board for those who hate compromising
One of the things that sucks about splitboarding is that everybody thinks you should have to compromise. A pow board that can't really do much on hardpack. A hardpack board that can't help but catch an edge in variable. Downhill performance at the expense of uphill. And none of them really made for crazy off-axis techy tricks. Slash's Linehiker turns all of this on its head, just like Gigi's riding's done for the better part of two decades. Ride it on and off everything, in every type of frozen water, forwards and backwards and at weird angles.
And its sick simple design on the topsheet stands out. The white lines look like they have snow in it. And that lime green base is sure to stand out.
Overall Impression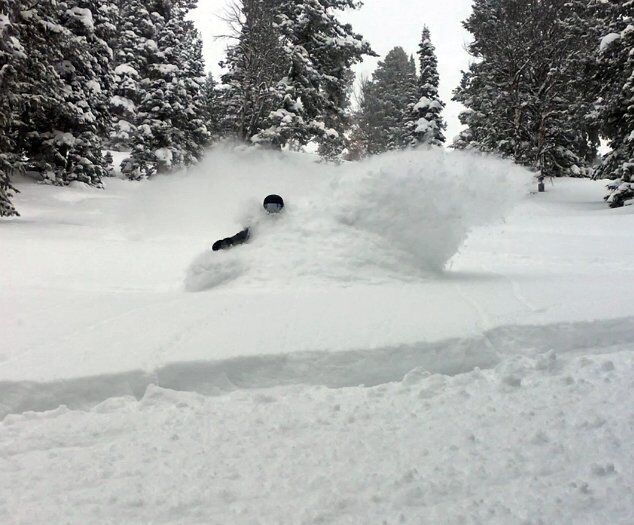 If you want a split that ensures you can kill it in every condition, and that lets you make your riding stand out — or if your riding doesn't stand out, at least your board will – you need the Slash Linehiker Splitboard ($789.95).
Because GiGi puts his name on every board, you know his split Slash Linehiker is going to be about the best freestyle high-flying split you can get your hands on.
Related Articles: