The Slide Belt Survival Belt is one of the few accessories you can wear that has the potential to express who you are since everybody wears the same jeans and checkered shirts these days. And sometimes a belt comes along that's unique and powerful and feels just good putting on — and it holds a badass knife inside too, just for fun. That's SlideBelts' Survival Belt. And man is it nice.
Heat Resistant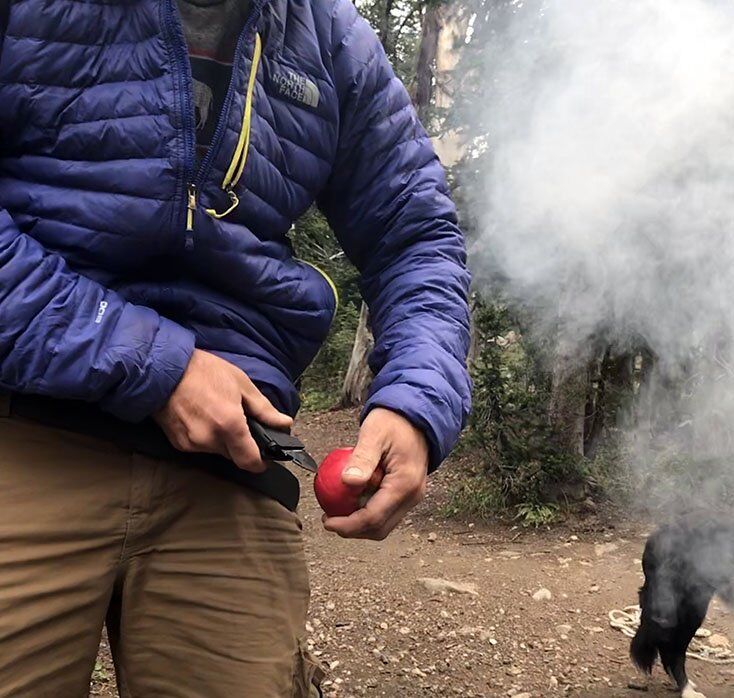 SlideBelt has come up with a pretty awesome system to lock your pant-lifter in. It starts when you custom-cut the belt to fit your waist. Then you can just whip it on because with the ratchet tech that Slide Belt Buckle is renowned for, it literally just slides in and locks tight. But the Survival Belt is different from every other belt for so many other reasons. It's heat resistant to 214 degrees and has an internal webbing core with a strength of about 1500 PSI so you could do anything just short of pulling a truck out of a ditch. Maybe you could pull a small car…
But the fact that it's practically built to endure a nuclear apocalypse is just the beginning. Because the real kicker is all the toys hidden inside.
The first thing I noticed about the Slide Belts Survival Belt Buckle: the short but strong lock back blade concealed in the buckle. I've used it for cutting apples and meat on camping trips; cutting rope, cutting into cans, breaking down boxes on a trip to the recycling bin when I forgot my box cutter. It's sharp, sturdy and ideally come with you at all times (except on flights. Sorry fellas but this will get confiscated at TSA and it's way too nice to be sacrificed to the air cops).
Slide Belt Flashlight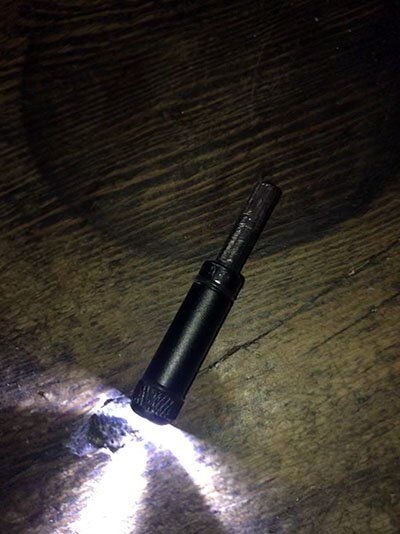 The next thing I noticed: a freakishly bright flashlight a little smaller than my pinky that fits into a small tube in the buckle. I've navigated from the campsite a couple of hundred yards down to a lake on a moonless night for water refills using just this small tool. I'm sure its battery life would preclude everyday use but given the fact that this would be an emergency tool, it's pretty perfect. And the other end of the light is a flint, which I smacked enough times with the back of the knife to start a spark.
And finally, it has a bottle opener. Really, knife, fire, light, beer, what else would you need in a catastrophe?
Overall Impression
You can wear SlideBelts's Survival Belt on a multi-month backpack or to a black-tie event and it looks just as good for either. The belt is all-but indestructible, the ratchet design just feels cool as you lock it in, and the survival gear incorporated into it is indispensable. How many times have you needed a knife but not had one? No worries, it's in your buckle. What would you do if you got lost in the wilderness with just your daypack and need to start a fire to keep warm? How about if you're in the basement at work and the power goes out and you have to find your way out of the dark? Yeah, this belt is perfect for all that, and I got great satisfaction out of pulling it off to smack some sparks off the flint onto a stick to light the candles on my son's birthday cake. This belt isn't cheap, but just putting it on you feel like a million bucks, which makes its price tag worth it.
I wish I could fly with SlideBelts's Survival Belt as I rarely check bags anymore (and in some places, like London, you could get in serious trouble for having a concealed blade so definitely check the laws of where you're going before just throwing it into your checked luggage). But really, most of us spend most of our lives exploring our backyard rivers and lagoons and forests and peaks. And sometimes you go to work at Nakatomi Tower and a criminal mastermind takes you hostage and you need a belt that looks elegant enough to wear to the office but tough enough to hold the bad guys at bay until John McClane can roll in. This a belt made for every day, and it's also a belt made for that day you hope never comes but you need to be prepared for all the same.
It seriously feels like putting on a little piece of armor as it ratches shut around your waist, all its tools snugly above your fly.
And it has a bottle opener, to celebrate after you've did survived. For those looking for a less burly version try out the SlideBelt Survival Belt ($50.00)
Related Articles: