The Spark R&D Arc Bindings arc you into that high-speed centripetal edge you dream of. See how that works? Smooth like the bindings. They're super light yet strong enough to lock in even the rowdiest rider, bare bones engineering that maxes performance while minimizing weight and most importantly, the most trustworthy binding in the market.
If you can find them.
And I will add, IMHO there really isn't much competition.
Spark Arc Binding Construction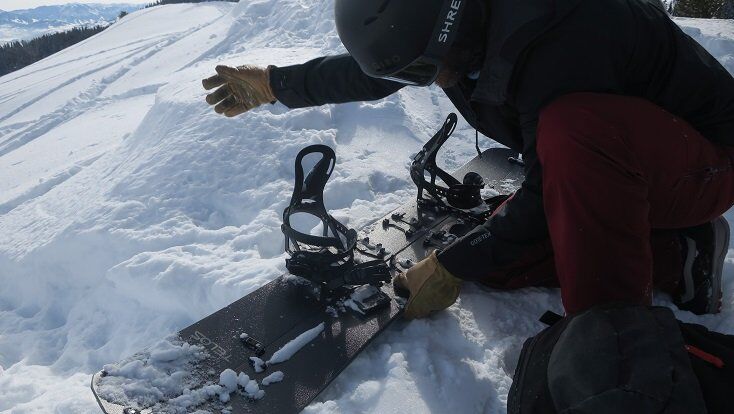 The Spark Arcs marry super lightweight but rigid metal with plastic in all the right places. The plastic straps lock in your boots but don't bring in any extra, heavy cushy padding. So yeah, maybe you will lose a little on the down with the bare bones Pillow Line Straps but Shaun White destroyed the world on a pair of OG Burton Customs so I'm sure you'll be fine. And the weight savings and responsiveness on the up make them a perfect touring binding. Because if you tour, you spend most of your time going up and out.
When Arc first came out with the Whammy Bar, I fell in love with how easy it was to lower it and get that uphill angle; glad they've kept it. Plus the Rip 'N Flip highback gives you easy transition from flexy touring mode to tighter downhill.
Spark Arc Binding Review
I'm gonna start with a disclaimer – I like Sparks. There might be more techy bindings, and some that people claim perform better, whatever, the thing about Sparks is that they're simple. In my experience, with snow and ice and frozen hands, the more moving parts you have the greater chance something's going to go wrong. Spark Arcs pack the performance you need into a basic, durable package. No pieces you might lose in the backcountry thanks to their T1 System. No funky binding mechanics that you have to thaw out to transition. Just slide and clip. Done.
I've taken them on night-time closed resort touring, where they felt lighter than any other softboot split binding. On the down, they dealt perfectly with the hardpacked ice since no padding means there's nothing between your boot and responsiveness. Maybe there are some others that feel better on the down but I love a split binding that saves the maximum amount of energy and muscle on the up, like the Arcs.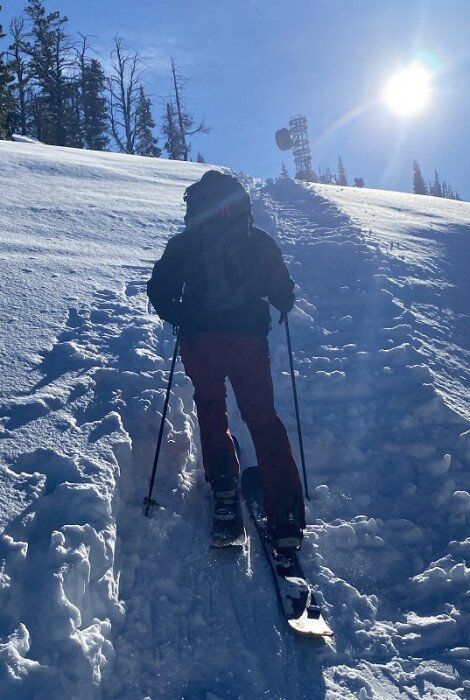 On every tour, they really move easier and feel lighter than about any other split binding. On the down they lock in and respond immediately to turns, spins, all the fun. And again, when we got another one of those Teton melt-freeze storms that mess up more complicated bindings, the Arcs still locked in like champs.
Though I will add one thing: with Spark Arc Splitboard Bindings, sometimes you're kinda screwed. As in there are I think 3 types of Phillips head screws on the bindings and a hex screw. If you lose one, as I did on my most recent tour, there is a chance you might not have it, especially if you have a traditional screw backup set in your pack (or none). Though I did just discover something that I hadn't known after 9 years of riding Sparks: Spark makes a backcountry hardware replacement kit you can order.
Overall Impression
There are lots of people screaming that the key to a splitboard binding is that it rides like a solid binding on the way down. But I guarantee most of them aren't actual splitboarders. If you spend over 5 hours touring, the weight and build of the binding for the up is much more important than having a cushy, padded bootstrap for the 25-minute ride down. And simplicity is key in the backcountry, where if you have an issue you can't just pop into the base shop and buy a replacement. The fewer moving parts, the more trustworthy a piece of machinery is. The Spark Arc is a dream for this reason. Though it'd be cool if they included one of those backup screw kits with every binding because, you know, it can be a pain having to go to the hardware store for one random screw and you probably don't have time to wait for them to send the backup hardware pack.
Still, overall these are still my most trusted backcountry companion. Spark minimizes weight while delivering bomber responsiveness in a simple binding that will last longer and fail less than all the techier stuff. Yeah, I'm kind of a Spark fan. I like things that simply work. Simply. But when it comes time to have fun on that sweet icing after the grind, the Spark Arc Binding ($429.00) is locked in.