My son watched as his 3- and 4-year-old friends started cruising on two wheels before he could. Then his Strider Bike arrived. And we went from at best, putzing around on the pedal bike with training wheels we got him because we didn't know better to hanging with the older kids.
Strider Bike Assembly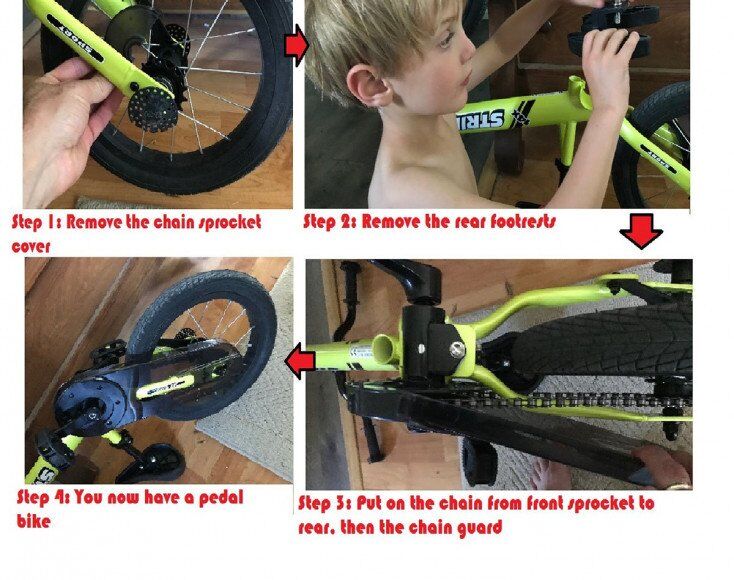 I got the Strider Sports 14X Sport Bike assembled in about 5 minutes and the boy was out kicking down the street. He looked awkward. A few times he was about to fall. That first day he said he liked it but that he still wanted to ride his old training-wheeled pedaler. The next day, though, I caught him walking the Strider around the living room. Then the yard. Without telling me he liked it, the kid told me he liked it.
A few weeks later he took it to bike day at his summer camp, where they assemble a herd of rowdy mountain kids to cruise around Driggs, Idaho, for an hour or so. This was a bi-weekly exercise for the month of June. The first one he'd taken the pedal bike. The second one, he wanted to take the Strider. And he never thought of that other bike again.
"Hey Dad, guess what? I can turn without putting my feet down," he told me one day.
A few weeks later he said, "Hey Dad, guess what? I can kick it so fast and then ride with my feet up on the foot holders."
"Alright, let's see it." We went out to our street and I watched as the boy made a couple huge kicks to crest a small hill and then cruised, balanced, for 20 yards. That was it. He was ready to try to ride a two-wheel pedal bike. Baby Steps?
Learning to Ride Strider Bike
Like most parents who aren't two-wheel rockstars, I'd figured that the dexterity and quad strength honed from starting out on a pedal bike was more important than any balance issues. It wasn't until after we saw Jackson's classmates whose parents were mountain bike freaks all rocking Striders that we realized we made a huge mistake. Strider's answer to our mistake arrived just in time. And after a little more than a month, my son was helping me convert it from stride bike to pedal bike. Undo a few parts, put a few back on and Strider is pedaler, easier than assembling an Ikea rövhål.
Honestly, I'd figured he'd get it out, take a few spills, and need to go back to striding. He was cautious at first, taking a few steps to get some speed and then-then he was pedaling. And he was riding. Eventually, he fell but only after he'd biked half the street. By the end of an hour, he was riding down to the end, turning a left for the paved road, getting cocky even and hooking a hard sliding stop and grinning as he kicked up dirt.
My 4-year-old son had gone from cautious antipathy towards assisted biking to an obsession with two-wheel cruising in little more than a month.
WATCH OUT SAM HILL
Jackson's big test was on July 4th. Exactly 6 weeks and 4 days after he first strode on two wheels down our dirt road, we decided to take a family cruise the 4 miles to town for the big Independence Day parade, save the hassle of parking, and holiday traffic. The wife pulled our Burley trailer just in case and I rode my skateboard. And Jackson just bombed it on his bike. This kid who two months before had ridden at most a couple of hundred slow yards propped up by jenky rolling antennae crushed both ways, hooting, and hollering and mugging for the camera.
It's a well-known fact that once a company becomes a common term for a general product, it's established itself as the best. Scotch Tape. Rollerblade. Buck Knives. Razor Scooters. AvaLung. Jet Ski. Chap-Stick. Band-Aid. Google. Strider bike.
Who's Sam Hill?
To give you an idea of biking acumen, I had to google Sam Hill to find out he's a 5-time Mountain Bike World Champion. But I can all but guarantee the next multi-champion biker (and let's be honest, mountain biking's the future) will be one of the kids killing it in the Strider World Cup. I mean really, you gotta check this out — it's toddlers from all over the world (Japan's team is amazing) converging on Boulder to race on Striders. And it's about as mind-blowing as the Red Bull Rampage. I mean, some of these kids can't poop on a toilet and they're already crushing a bike race. In fact, if you're anywhere near Boulder July 21st, I'd suggest you check it out firsthand.
As for me, I've gotten as much joy watching my little spawn learn how to ride a bike after just a few weeks on the Strider 14X as I've gotten topping out on any of America's tallest peaks.
Strider Bike Video Review
Overall Impression
Since getting Jackson on his Strider Bike, I've learned something that every real biker seemingly already knew — that the only way to teach a kid to ride a bike today is on a Strider Bike 14x ($189). I have memories of struggling to learn to ride my damn two-wheeled pedal vehicle around a park in downtown Baltimore. Which means I was already pushing 6. It seemed to take me forever and by the end,it was just an annoying thing I needed to do so my mom would stop forcing me to fall down on the thing.
No longer is that struggle necessary, the long fight towards 2-wheel balance. Strider has found a way to make bikes fun from the second they start pushing to when they start pedaling, at which point obviously the rest of the world picks up the slack. It's that quick, easy no-brainer to get the little rats out on the bike path that doesn't take much technical know-how from the parents. So for all us biking civilians, I gotta say thank you, Strider, this is the perfect bike for kids to learn.
Related Articles: