Slicin' and dicin' requires unyielding perfection. Carbon stiffness, camber blades, the bamboo core like a great samurai's bo staff. Made in the hallowed grounds of Tahoe. That's what TahoeLabs is throwing down: the TahoeLab Directional Splitboard, one of the burliest blends of light and strong, a board that, in the conditions, it's made for, is a samurai weapon of shred for the rowdiest steeps, hardpack, or pow.  And is also the reason that our in-house Freeride World Tour competitor, Mtn Weekly contributor, and all-around big-mountain ninja Jonathan Penfield rides for 'em.
Directional Splitboard
As a gear geek, I appreciate other gear geeks, and especially those who take it to the next level by super-engineering the kind of boards only a true gear geek would want to make. The Directional Split marries a wide-body design (for float and fat-footed folks like myself) to Bull Shark nose and tail for deep-pow float and stompability. That nose and tail also increase the amount of edge surface for turning, with a nearly-straight profile tip to tail, perfect for skinning. Then they built that with layer after layer of carbon fiber, and a bamboo core, which is basically the key to all those super snappy, super powerful planks I just eat up.
This is a board that begs to straightline 50-degree pitches at screaming speed and skin back up just as hard. Surf steep mushroomy shots, and power through slough. With their burly construction and UHMW sidewalls, TahoeLab's Directional Split is also a board that will last long past all those other bigger-name boards.
But how did it ride the Tetons?
I had some great experiences skinning out and up, which is really 75% of what makes a good splitboard, because you spend 75% of your time skinning and at best a quarter of your time coming down, maybe, if you stop at your islands of safety or to take those pics you gotta be takin'. So comin' down – here's the score.
On a day with 6 inches of pow on a crust and some funky grabby hot snow under it, the board took a lot to get the edge to turn through all three, and there was no way it was just gonna float on top. Partly that's an issue with camber in general — reverse camber lets you float on those 6 inches; a fat camber digs in, and in some cases, you end up digging through 3, 4 snow types, which can be tough with precision camber that reacts to all. On another day with that same fun/funky spring snow, I was laying in a few turns and just as I decided to start squirreling around, bam, snow shark chomped down on an edge, about the first time all season that happened to me. So for the rest of the run I laid down some fun, fat turns but had to keep vigilant.
And yet I had another day on super steep techy terrain, finally at that perfect sun-softness with a couple of inches of untracked, and I dropped. Laid in some big, floaty turns, then into a series of pillowy shots, tight steeps between trees and rocks, popping off and keeping on. At that moment, I saw the power and stompability of the board; its ability to hold speed, to react on a dime in a tight shot with just one type of snow and then hold speed through a big lay-back spray. Those are the kind of conditions in which the TahoeLabs Directional Splitboard kills it.
Overall Impression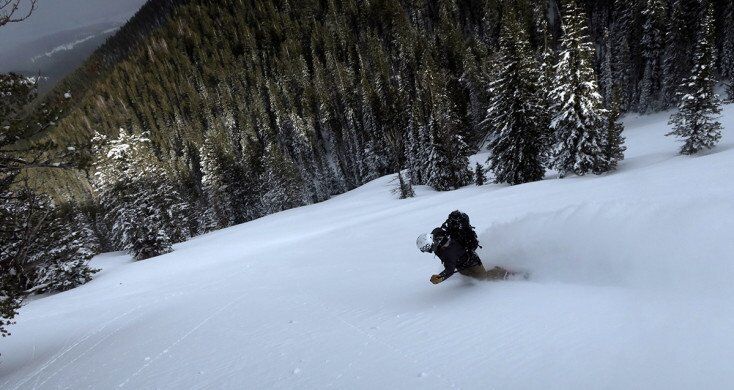 Carbon camber bamboo isn't forgiving. It can feel every layer — unfortunately, that includes the crusts, the manky hot cream, the little variable imperfections. You can't sleep on it 'cuz you get that funky snow, this board'll get you back.
>>>  In the running for the best splitboard of 2020
That said, if you've got some steep lines that are hard enough to need a fierce samurai blade that's just as hard, or if you want the best blend of high-performance and lightness for some life-affirming cliffy techy pow runs, the TahoeLabs Phantom is the unyielding weapon you need to add to your quiver.
by Mike Hardaker
TahoeLab is a small company based in Lake Tahoe, California that's been quietly cranking out hand-built high-quality snowboards, splitboards, and skis over the past few years. Tracking down one of these splitboards was tough, but I finally got a chance to try out the 2019 TahoeLab Directional Splitboard, and let's just say it was worth the wait.
TahoeLab Directional Split Review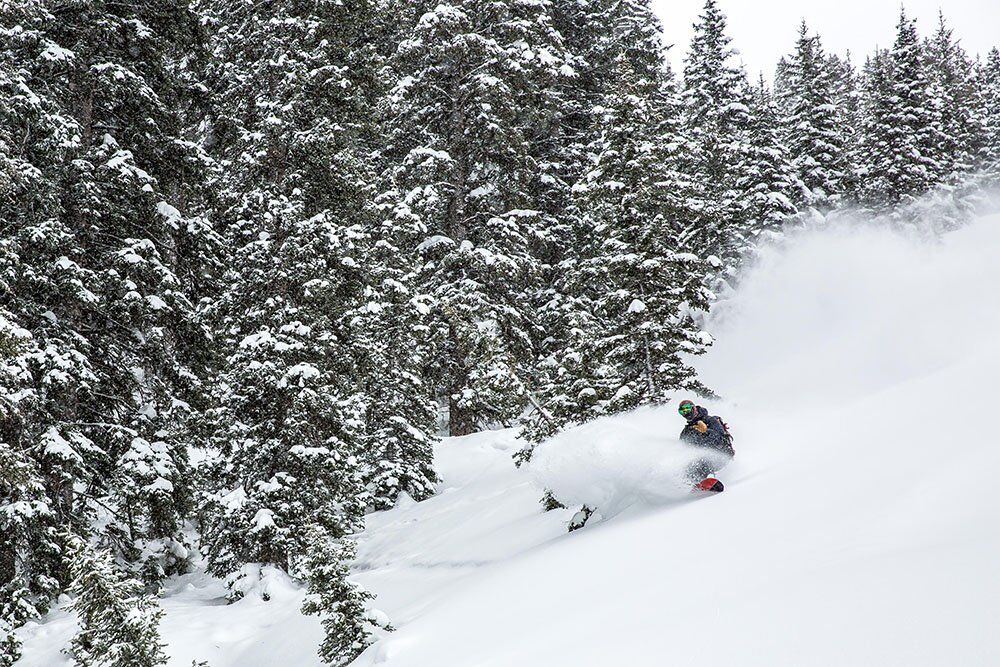 One of the first and most notable things about TahoeLab's Directional Splitboard for 2019 is its thin light-weight profile.  These guys clearly are splitboarders first, board builders second as the board is very streamlined and to the point. There are no fads going on here, zero added weight, and really everything that's needed to be included in the splitboard is here, while everything else the industry is wanting to push does not exist, ie reverse camber underfoot.
The TaheoLab Directional Splitboard is built with a camber profile and early rise tip and tail.  This construction allows the splitboard to hold an edge when needed and can handle it's own when it comes to surfing deep pow in the backcountry. It's no wonder this board is in the running for splitboard of the year.
Phantom Topsheet
So goodbye to plastic top sheets. TahoeLab figured out a way to replace plastic and fiberglass in the topsheet while dropping considerable weight in the process simply by substituting carbon fiber.  This is what Lee Collins had to say about his boards Phantom Construction upgrade:
"The Phantom layup uses four full sheets of carbon wrapped around a bamboo core. It's about 15% lighter that our traditional construction which uses two sheets or carbon and two sheets of triaxial fiberglass."
Along with being lightweight, the TahoeLab Directional is incredibly responsive, see the video below.
TahoeLab is making the Directional Splitboard in a plethora of sizes including (143, 148, 153, 158,163,168 and even a 173). The Directional Splitboard sells for $849 or $999 with the Phantom Construction which is a must-have.
Durability
So far so good, I do have to send this board back so I can't talk too long-term durability however after a few weeks of touring the boards base looks brand new thanks in part to it's sintered base.
The P-tex sidewalls, however, have started to take a beating and the top sheet is showing some noticeable scratches.  If you want to keep this board pristine, hang it on the wall.  Otherwise be gentle with this board as it's thinner and lighter than it's competition.
Overall Impression
Heading out on a long tour?  Need a board that can stick to the skin track and shaves some much-needed weight in the process?  Look no further than the TahoeLab Directional Splitboard. These boards are only available direct from TahoeLab. Be sure to check these guys out if you're in the market for a fast, fun, directional splitboard that can handle just about any terrain you throw its way.