REI's house-brand products are well-reviewed by outdoorspeople. They can't compete with the highest-end brands, but they provide phenomenal value. You get more than what you pay for. I got the chance to ride Co-Op Cycles' DRT 3.2, an entry-level full-suspension plus bike, and it's clear that REI's house-brand bikes are no different.
REI DRT 3.2 Suspension
The REI DRT 3.2 is a great bike for a great price — you'll make some compromises, but no sacrifices, with this $2,799 aluminum trail machine.
Before we get into specifics, let's talk about who this bike is for.
With 120–140mm of travel (we'll get into specifics next) and 27.5+ wheels, this is an all-around trail bike. It's not so much suspension that you give up pedaling efficiency, but it's plenty for riding most places in the Rockies that beginner and intermediate riders are likely to tackle.
The plus-sized tires on the DRT 3.2 make it great for beginners; they soak up a few more bumps and provide tons of traction. They won't spin up as fast as smaller tires, and larger wheels tend to roll over things a bit better. But 27.5″ x 2.8″ is a great tire size to learn the ropes on.
The price and setup make this a great bike for beginners. But it will carry you through to the intermediate category with very little trouble.
I'll give you some ideas on how you might upgrade this steed when you progress beyond the beginner level. But first, let's look at what comes stock.
Components
You'll find similar specs on this bike to other entry-level offerings. But where you'll often see one or two components that have been stepped down to save a bit of cash, the DRT 3.2 keeps everything around the same level.
For example, the entire drivetrain is SRAM NX Eagle — including the cassette, which is often a place for manufacturers to save a bit of cash. The wheels are built with SRAM hubs and WTB rims. WTB's 2.8″ Ranger tires come stock on the bike, as does the Volt Saddle, two popular choices in the aftermarket scene.
A stock X-Fusion dropper post is a nice touch on an entry-level bike. The dropper post is one of the most game-changing inventions in recent memory, and everyone should have one. This just means you don't have to get an aftermarket one. The same goes for the DRT 3.2's tubeless-ready wheels and tires.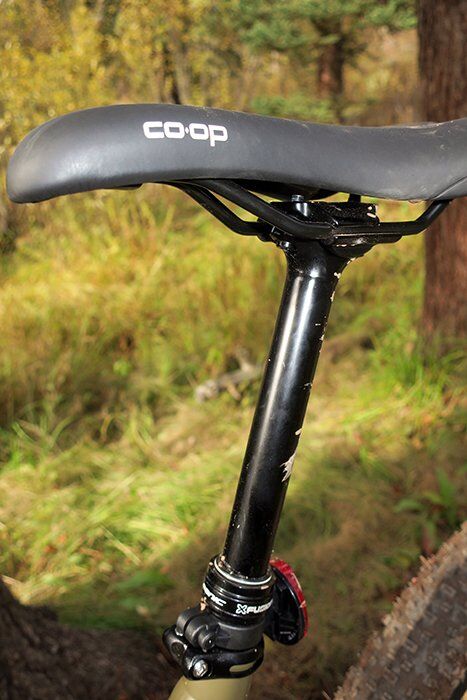 REI MTB Suspension
One place where the DRT 3.2 stands out is the fork: RockShox's Revelation RC fork is specced on more expensive bikes than this, and you won't need to upgrade it for a long time. If you keep up with maintenance, you may never have to switch it out. It's a solid fork for cross-country, trail, and even light enduro riding.
With 120mm or 130mm of fork travel, the Revelation fits squarely into the "trail" category. But it's not so much suspension that it wouldn't work great for more cross-country-style riders, too.
The RockShox Monarch R Solo Air shock in the back is similar. It's a solid entry-level shock, and the only thing you're giving up by not spending more money is a switch for climbing and descending modes (which, to be fair, is definitely worth spending more on if you can).
Size-specific components
One thing worth noting about REI's DRT series is that they spec extra-small and small frames slightly differently than the rest.
Extra-small and small frames have 26″ wheels, and medium and up have 27.5″. They all use WTB i40 rims for plus-size tires.
On the suspension front, extra-small and small bikes have 120mm front and rear, while the rest pack 140mm front and 130mm rear.
While 26″ may have gone out of vogue with 2015, these changes make the bike fit smaller riders better. It's definitely something worth considering if you're 5'6″ or shorter.
How does it ride?
I took the DRT 3.2 out on a test ride, and noticed a few things right away. Being my first full-suspension bike, it took a little while to get used to. And because I don't spend as much time mountain biking as I do other mountain sports, I noticed that the 1×12 drivetrain didn't go quite as low as I would have liked. This was especially noticeable on big climbs — I couldn't drop down into a traditional granny gear like you can on a double or triple chainring.
After a bit of time getting used to the bike, though, I'm sure I'd join the 1×12 camp (I definitely appreciate the decreased maintenance that comes with not having a front derailleur).
The 75º seat tube angle makes for a good climbing position, and the 67º head angle is ready to crush some rocky descents.
Once you find your sweet spot, this REI mountain bike can handle anything on the up and becomes an absolute blast to ride downhill. Those big ol' tires can roll over everything with ease.
It's basically a monster truck.
Overall Impression
A sub-$3,000 full-susser is usually full of compromises. And while you won't get world-class components on the DRT 3.2, you also won't make sacrifices. This is nearly a mid-level bike for an entry-level-friendly price.
If you're looking for your first full-suspension bike, and you're open to 27.5+, you'll be hard-pressed to find a better deal than Co-Op Cycles' entry-level trail bike.
Once you get into riding more, you may find that you want to upgrade the rear shock to one that has climbing and descending modes. You may also want to upgrade to aftermarket tires, including something with more bite on the front.
Beyond that, though, the REI DRT 3.2 Bike ($2,799) will keep you ripping for a long time without requiring that you take out a second mortgage.
Related Articles: