I have started winter camping and was looking for a sleeping bag that would allow me to camp out in temperatures under 32 F ( 0 °C) as well as double as a sleeping bag I could use in the spring, summer and fall. The question is can the Therm-a-Rest Oberon can work in variety of temperatures or is it solely for winter camping? A Therm-a-Rest Sleeping Bag is perhaps the last sleeping bag you will ever need to buy.
How does it Feel?
One of the first things you will notice about the Therm-a-Rest Oberon 0F/-18C Sleeping Bag is just how darn soft the thing is inside and out. Think comfort here, in fact, I sleep better in this sleeping bag outdoors than I typically do indoors. The outside of the sleeping bag is made of 20D Polyester Ripstop. This material has been durable and resistant to tears and punctures so far.
At 5'11 I opted for the Long version of this sleeping bag. For anyone that likes to really stretch out, the added weight and size of upgrading to the long bag is a no brainer, and won't add any noticeable weight to your pack, but makes a huge difference when it comes to getting a good nights sleep camping.
Insulation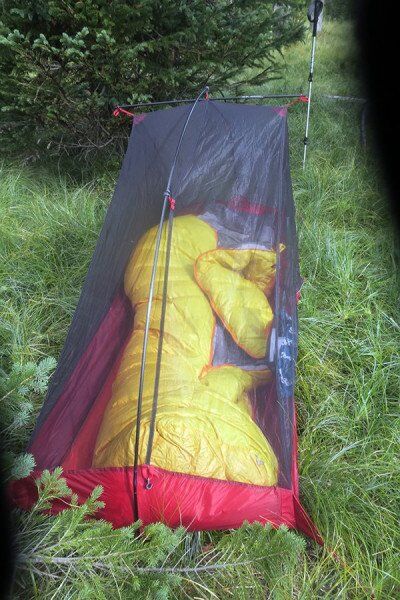 For insulation Therm-a-Rest uses 800-Fill Down that's super cozy, keeps you warm and in the event it gets wet, the down material Therm-a-Rest uses dried much quicker than other bags on the market. The inside of the sleeping is made with a 20D Polyester Taffeta that makes sliding in and out of the bag a breeze. Actually, at times you may find yourself sliding around more than you would like as the entire sleeping bag inside and out is slick.
Therm-a-Rest wants you to pair their sleeping bags with the brands sleeping pads. Knowing their material was slick, they added removable connectors or straps to secure your bag to the sleeping pad. However I never actually used the straps so not sure how they work. Find a level spot to camp and you should be fine. Set up camp on an incline and you will slide around in this bag.
Side sleepers will love the Therm-a-Rest Oberson Sleeping Bag as it adds extra room, especially the Long version is 32.5″ wide, the Regular Bag 31″ wide and the small comes in 28.5 inches wide.
Who is this Sleeping Bag For?
Skiers, climbers, adventures and your everyday camper will love the warmth, lightweight feel and packability of the Thermarest Oberon 0 Degree Bag. Keep in mind this bag is not just made for winter camping. If you plan on camping in temperatures well below zero you'll want to look for a bag with a comfort rating around -20F such as the Therm-a-Rest Poler -20 Sleeping Bag.
Overall Impression
The Therm-a-Rest Oberson Sleeping Bag packs down small, is incredibly warm and best of all feels amazing when wrapped around your body. This is the sort of sleeping bag that will make it difficult to pull yourself out of on cold days. You won't want to leave this comfort behind. Having tested a handful of sleeping bags this winter, the Therm-a-Rest Oberon OF ($519) is the bag I pick anytime I'm heading out for an overnight ski tour or longer missions.
Related Articles: