The Vans Pat Moore Infuse Snowboard Boots are burly all-mountain slayers featuring Laces, Powerstrap, & BOA. The most unique thing about the Vans Infuse is the way you can control how you're feet are locked into place.
UltraCush Footbeds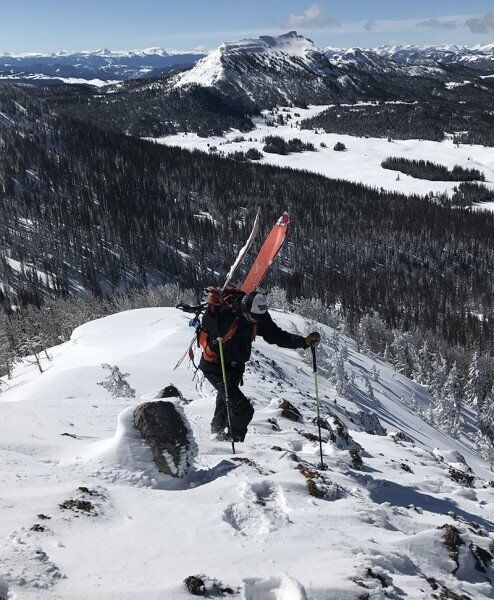 New for this season is the Vans Infuse Snowboard Boots signature colorway featuring rich full-grain leather, heat-moldable liners, UltraCush footbeds, and Vans revolutionary Flex Control. It will be hard if not impossible to find a more versatile and responsive snowboard boot currently on the market.
When you first step into the boot it may feel stiffer than other boots you have used in the past.
Once you put your foot inside the Vans Infuse it almost feels like's being cradled, and it is. Between the liners and the UltraCush footbeds, you get a feeling of support in the heel that doesn't exist in other snowboard boots. This boot is on the stiffer side so you really need to pull on the tongue and back loop to slide your foot inside. Without sounding like a kook, it's almost like the way a ski boot holds your foot into place, it's not going anywhere.
Vans Infuse BOA
Now that your feet are inside the boot what sort of conditions is the day going to throw your way? For someone wanting total support, you can start by tightening the Infuse liners with a familiar pull strap. Once the liners are dialed in it's time to look to the outside of the Vans Infuse Snowboard Boots
I like to start with the BOA as it brings the boot and everything inside securely into place. Simply push the BOA button against the boot and crank away. From there you can pull up on the laces (waxed I believe) and put them through a couple of sets of eyelets before tying a knot.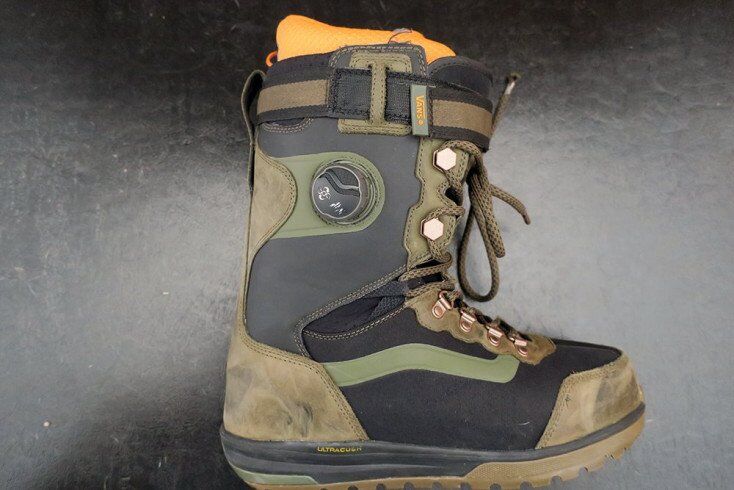 Last and surely not least comes the powerstrap. What's rad about this closure system is you can really notice the impacts immediately once tightened. And honestly the same can be said for most parts of this boot. Each piece is customized to work together or independently depending on your needs.
I prefer a stiff boot for touring on the way uphill, the Infuse uses BOA and a powerstrap which makes this easy to accomplish. Then when it comes to going downhill, for someone wanting a soft surfy feel simply unlatch the BOA and maybe even loosen up the powerstrap, each of these moves can be done in under a couple of seconds.
Once you get to the bottom of the run you can customize the boots again and again. This boot works really well for splitboarding and would also be a badass big mountain boot for someone charging hard at a local resort or even better for sled skiing thanks to the boots thread.
Waffles, waffles and more waffles. Vans love waffles as do I and you surely will too. Just look at the bottom of this boot. It's got so much freaking tread sort of like a 4×4 vehicle. Pat rides sleds into the filed, and the Infuse boot really hold onto running boards with authority. The same thing can be said for hiking and scrambling over rocky terrain or even punching in deep boot packs up the mountain, this boot can and will do everything you ask of it.
Overall Impression
With the heat-moldable lines, and all the features mentioned above Vans claims the Vans Infuse Snowboard Boots are (as Vans claims)
the World's Most Customizable Snow Boot
… and we couldn't agree more. The Vans Infuse Boot can handle any terrain you throw its way. Just look to Pat Moore's video parts as of late, the guys shreds park, street, and backcountry with ease. All while rocking the same darn pair of boots with surely some customization from time to time.
The Vans Infuse Boots come with a flex control system that offers removable tongue stiffeners. I started my season without using these as apparently they work well for bringing the boot back to life after it starts to get too soft. After 50+ days of hard touring, climbing and shredding on this boot, the tongue stiffeners still aren't needed, that should tell you something about the Infuse.
"You may be hesitant to step into something so … substantial". Don't be the Vans Pat Moore Infuse Snowboard Boot ($369.95) will improve your riding from day 1.
Related Articles: