Upon seeing these gloves for the first time my thought was "where's my horse, my tractor and my lasso". Foregoing the common GORE-TEX clad and synthetic bits of the modern ski glove appearance, The Vermont Glove Uphill Skier Glove is a far more traditional styled glove.
At first glance it's a work glove or a glove for a lineman. Taking a closer look though, a bunch of details set it decidedly apart from a common work glove.
Vermont Glove Leather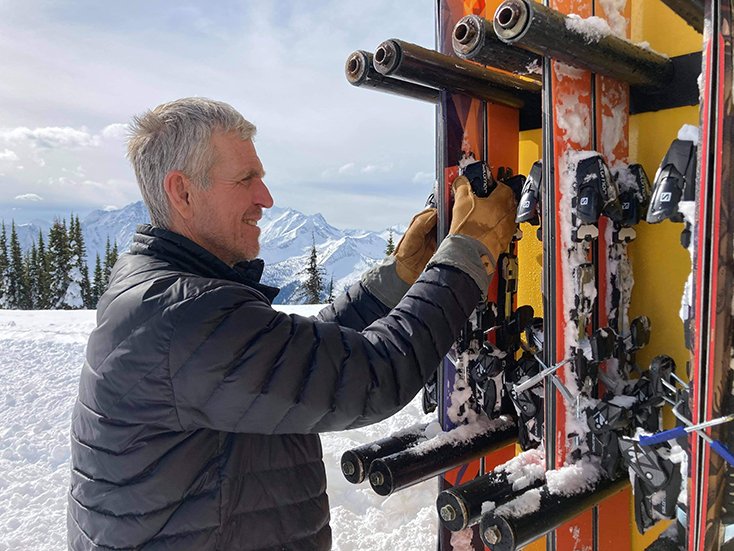 Vermont Glove has been making leather gloves in their factory in Vermont since 1920, so they know how to make a good glove. The Uphill Skier is their only offering focused on recreational use, unlike the other gloves which are aimed at tradespeople, forestry, ranching etc.
The shell is 100% goat leather and waxed canvas, stitched with heavy duty nylon thread. That's it. It comes with a merino wool liner for the colder days, which (thank god) is removeable.
The major plus to such simple construction is durability and waterproofness. There's a plethora of waterproofing products for leather and when your gloves start to lose impermability, add more waterproofing. The waxed canvas cuff is crazy durable and also, very easy to waterproof. I put some sno-seal on mine and they have kept my hands dry without a re-application in over a month.
They have lots of minor features adding to the durability and comfort of the glove, such as double walled fingertips, double stitched seams, double walled palms, and additional leather welts under the fingers.
Vermont Glove Sizing
My first use of them left me feeling like they were a little bulky and would interfere with using my fingers to do important things, like put my shovel together or crack a beer. I continued using them for a variety of things, snowboarding, touring, shoveling, chainsawing. Over time the leather broke in and the chunky exterior seams rolled back and they felt like a normal ski glove and I really liked the Vermont Glove Uphill Skier Glove ($140.00)
They may or may not be your style as they have a unique look (for a ski glove). If you're looking for a tough, waterproof, warm, durable glove (they also have that rich leather smell which is a big positive for me) these are excellent gloves, and if you buy a pair you likely won't have to buy another pair for at least a decade.
Related Articles: