The Pacific Northwest has arguably the best hiking in the country. And anyone who has ever taken the opportunity to explore the territory is surely an advocate for hiking in the Pacific NW. It's next to impossible to pick the top 9 Pacific Northwest Hiking Trails, but this grip of treks are supreme ambassadors of the jaw-dropping landscapes that make up some of the best trails in the PNW that are oh so divine.
Here's our picks for our favorite Pacific Northwest hiking trails:
Best PNW Hiking Trails
Eagle Creek
The Columbia River Gorge area on the border of Washington and Oregon is a hiker's paradise. Get the best of the best by setting out on the Eagle Creek Trail Head just past the iconic Multnomah Falls on Highway 84. Sure, you can hike the 13 miles into Wahtum Lake, but the real treat is the journey. So many waterfalls! And not just little moisture trickles either. From Metlako Falls, Punchbowl Falls, Tunnel Falls, and everything in between, Eagle Creek is paradise for waterfall lovers. And if you are into some crazy fun cliff jumping, there is plenty of that too.
Smith Rock
This area is perhaps the most famous rock climbing destination in the Pacific Northwest, but it also offers some uniquely awesome hiking. There is a loop around the whole place, which passes Monkey Face on the backside, that is only 3 ½ miles, but I'd encourage lots of exploration once you get to the top of Smith Rock. Gorgeous canyons and creeks mesh with sheer cliffs and undeniably sweet views to make this hike one of a kind. It's open year round and only rises about a thousand feet in elevation so you can enjoy Smith Rock no matter what month the calendar reveals.
South Sister
It may only be the third tallest mountain in Oregon, but it might be the best mountain to hike. It's not the easiest climb, but when it comes to summiting mountains, this one is totally doable as it doesn't require any technical equipment. Trek almost 5000 feet over 6 ¼ miles through the forest, stroll through big open spaces with superb views of neighboring Broken Top, scramble up a rocky ascent to the false summit, take a break at Teardrop Lake (the smallest in Oregon) and then attack the cinder saddle that takes you to the top. The summit offers pristine views of Mount Bachelor the Middle and North Sister, and the nearby town of Bend. If you want to climb a legit mountain in the Pacific Northwest without getting too crazy, hike the South Sister.
Foss River Basin
This area just off Highway 2 a few miles west of Stevens Pass has it all. Hike in about 7 miles to Big Heart Lake, but get a full tour of the majesty the Foss River Basin has to offer along the way. You'll pass by multiple lakes (Trout, Malachite, Copper, and Little Heart) and some impressive waterfalls as you climb a bit over 3000 feet. There are a few spots to pitch a tent at each lake and the gradual climb along the way keeps this trek from getting super challenging. Whether you deem Big Heart Lake your destination, push on further, or call it good at any of the lakes on the trail, you're going to have an incredible hike in the Foss River Basin thanks to its epic scenery at every turn.
Blanca Lake
It's just over 3 miles from the trailhead to the lake, but you'll also be taking on 1000 feet of elevation gain each of those miles. Thankfully, this isn't another one of those hikes that make you endure switchback after switchback before finally getting a view at your destination. There are killer views along the entire trail to help you cope with its strenuous demands. Once you arrive at Blanca Lake, you'll take in one of the most striking bodies of water Washington has to offer. The greens and blues of the glacier-fed lake are framed by the peaks of the Cascades for a view that will literally take your breath away.
Hit up these hikes, explore other trails, or make your own path, but no matter what, get out there and take in all the amazing hikes the Pacific Northwest has to offer.
Some people prefer running on a treadmill in a stuffy gym that they pay to attend. Others choose to pound the pavement as cars zip by dumping exhaust in their faces. Then there are those who truly know how it was meant to be done: trail runners. What's not to like about soft earth beneath your feet, fresh air in your lungs, and sweet views for your eyeballs to take in? Trail running is where it's at and the PNW is one of the greatest places in the world to get it done.
Here are five of the best northwest trail runs:
Forest Park, Oregon
One of the country's largest urban woodland reserves is situated right in Portland. There are 70 miles of trails in all, but the Wildwood Trail may be the favorite hike trails in the PNW for runners. Switchbacks, hairpin turns, and brilliant scenery highlight this trail that goes all the way from one end of Forest Park to the other. It begins near the Oregon Zoo and Hoyt Arboretum, and the start of the trail passes near the Portland Japanese garden, but the majority of the route is uninterrupted forest area that is seldom very crowded. Having such an amazing trail running area positioned in the midst of a large city is a rarity, but that's just one more thing the Pacific Northwest does best.
Green Lakes Loop, Oregon
To the east of Oregon's Cascade Mountains lies Bend, an outdoor enthusiast's paradise. Sure there is awesome mountain biking, hiking, caving, rafting, snow sports, and more around Bend, but there is greater than 60 miles of trail accessible just from the downtown area alone making this town a trail running utopia. One of the best nearby trail runs is the Green Lakes Loop. Eleven miles of trail takes you through the gorgeous Green Lakes Basin and Three Sisters Wilderness where you'll come across some fun creek crossings and challenging terrain all while the giant peaks watch over you. At right around 4000 feet elevation, this area offers a bonus test if you aren't used to the bit of altitude.
Lime Kiln Trail, Washington
A couple of hours northeast of Seattle is a trail that off-road runners can't get enough of. It's the baby on our list of the five best trail runs in the Pacific Northwest at just under seven miles and less than 500 feet elevation gain, but what it may lack in intensity it makes up for in remote beauty. The Lime Kiln Trail feels like a private trail that follows a meandering riverbed through the trees decorated with plenty of flora and fauna. Need to take a little break? Check out the abandoned kilns where they used to make limestone or snag some ripe blackberries in the summer.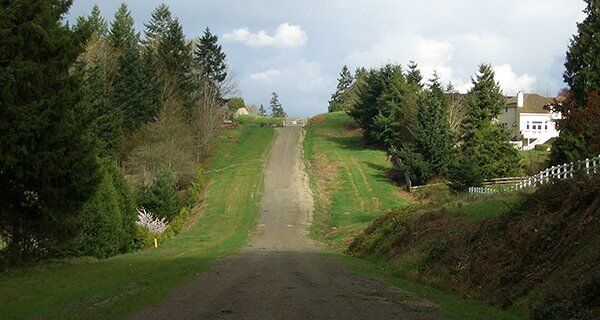 Tolt Pipeline Trail, Washington
Much closer to Seattle, this multi-use trail offers plenty of hill climbs and scenic views. You may have to dodge a few mountain bikers and the occasional horse, but the convenience and challenge of the Tolt Pipeline Trail is hard to beat. It has a total length of just over 17 miles and actually ends close to the Burke-Gilman Trail which takes you all the way into Seattle. The state of Washington is home to a variety of both urban and remote trail runs of all types so there is something for every mood and ability.
Shingle Creek – Mahalo – Dry Creek Loop, Idaho
Since only one Idaho trail is making the cut, it's going to be a doozy. Featuring over 20 miles of trail, a couple of loops, and a total of over 3000 feet in elevation gain, this area is as demanding and rewarding as they come. The route may start out near Boise, Idaho among sagebrush, but as you ascend the trail, you'll get into the shade of lots of trees. This trail is runnable all year as long as you're ok with navigating a bit of snow in the winter. There are a fair few creek crossings that demand some good balance to make it across on logs or else your feet are going to get wet. The Pacific Northwest has tons of amazing trail runs, and Idaho boasts many of its own contributions.
Hop off the treadmill and escape the streets. The Pacific Northwest has some of the best trail running out there. Get after it. These are some of the 10 best pnw hikes we know about, are there others you care to share? Leave a comment below.
Related Articles: