Let's face it. Cooking takes a lot of time and energy, and sometimes that time and energy is just hard to find at the end of a long day when you're getting ready to make dinner.
Modern life is complicated, but home cooking can offer serious health benefits, not to mention being cheaper than ordering takeout. So tools that help make home cooking easier to do, less time consuming, and more effective are pretty popular right now.
Enter the CookingPal Multo. Advertising an impressive 15 separate cooking functions, from prep tasks all the way to cooking complete meals, the Multo is designed to be an all-in-one cooking station for all your home cooking needs.
But does the CookingPal Multo live up to the hype? How does it compare to other cooking appliances, and how does it hold up compared with other cooking appliances on the market.
Let's dig in.
About CookingPal
CookingPal is based out of Hong Kong, right now the Multo is their only live product, but they have also reached their Kickstarter goal to launch the Pronto and Alto pressure cooker and air fryer system at some point in the future.
CookingPal might be a new company, but that doesn't mean they are starting small or that they have a small vision for what they could do. Instead, this company is looking for innovative solutions to modern challenges in the cooking and coming up with solutions to making delicious, healthy meals, with as little time and effort as possible in the process.
That said, since this company is still so new, and the Multo is their first big release, it's important to consider that they aren't really proven yet.
At the same time, CookingPal is offering a 2-year warranty on the Multo (which is nice, considering the high price tag), which should give consumers some confidence in the product and its overall durability.
However, since this is a company that is looking at more high-tech solutions to problems, they also aren't necessarily trying to attract the average consumer to their products. They're looking to offer high-value products who want powerful kitchen solutions.
What Is the CookingPal Multo?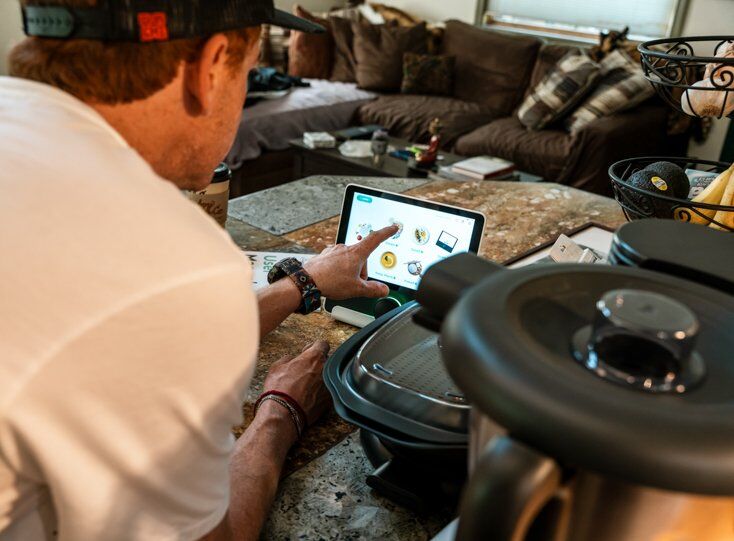 The CookingPal Multo system is really 2 appliances, the cooking station itself, as well as the tablet that comes with the cooking station and gives you updates and lets you control the station while you're making meals.
There are 15 different functions from the Multo, including some important prep steps like chopping, kneading, or weighing the ingredients needed for your recipe. The station also has different settings for stirring, grinding, or whisking different kinds of ingredients so you can take a more hands-off approach to cooking while still having a reasonable amount of control over the textures in the finished product.
One of the 15 functions offered by the Multo (we'll give you more detail in a moment) is almost inevitably the 'Clean' function, but we can forgive common cooking appliance marketing techniques like that.
At the end of the day, this cooking station is a blender with extra features, a few recipes designed to kickstart the home chef in how they can use this cooking station and what it can do, and a few handy additional features that help it stand out compared to the Thermomixer and other blender and cooking stations.
CookingPal Multo Features And Functions
One of the key things to really understand whether this cooking station is worth the price tag is really understanding how the different features and functions work.
The Multo Tablet
This cooking station is a smart station, which is designed to be as autonomous as possible, and comes with a tablet that you can use to control the device from anywhere in your home. It also gives you a readout on what the Multo is doing, and will help alert you when your food is ready.
The tablet (and app for your phone) also let you make adjustments to cooking time and other details on the fly. The machine itself doesn't have control buttons, just power buttons, which does mean that you're dependent on the tablet working properly if you want to use the Multo. If you have connectivity issues, you could be in trouble.
Prep Features, Weigh, Chop, Blend, Grate, Grind
Like most blenders these days, the Multo is designed for a wide variety of functions depending on what setting you use. There is a multi-purpose blade though, which is a nice addition since it means you don't need to change what blade you're using as often when you're changing functions.
At the same time, that also means that the different functions are a little less distinct than they would be with different blades or different appliances. So, home chefs might still find themselves performing at least some prep tasks by hand in order to create more distinctive shapes and textures.
Saute
Sauteing foods is one of the most common and tastiest ways to prepare a wide range of foods. The fact that the Multo has a saute function is one of the things that makes it more distinct from other blender cooking stations. It also opens up a wider variety of meals, instead of limiting you to soups and sauces.
Steam
Steaming is one of the healthiest ways of cooking, and the multi-level steamer basket design in the Multo makes it possible to cook several meal components, simultaneously, without cross contamination or sharing flavors.
It's also possible to steam ingredients for several different meals, assuming the components need a similar cooking time.
In terms of cooking for a home prep cook, this function is going to get a lot of use.
Knead
The Covid pandemic saw a lot more people picking up baking bread, pastries, and other baked goods at home. That makes the kneading function on the Multo especially helpful. With a range of stirring and kneading tools, settings, and a spacious blender jar, home bakers are going to love the option to knead and let their baked goods rise in the same container.
Keep Warm
Keeping a meal warm while you finish other components, wait to serve, or summon diners to serve themselves can be one of the bigger challenges for the average home cook. Having a keep warm function gives you the option of serving the same warm delicious meal even hours apart, depending on your schedules and needs.
Keeping things warm can also help improve food safety overall, by preventing foods getting into the danger temperature zone.
Boil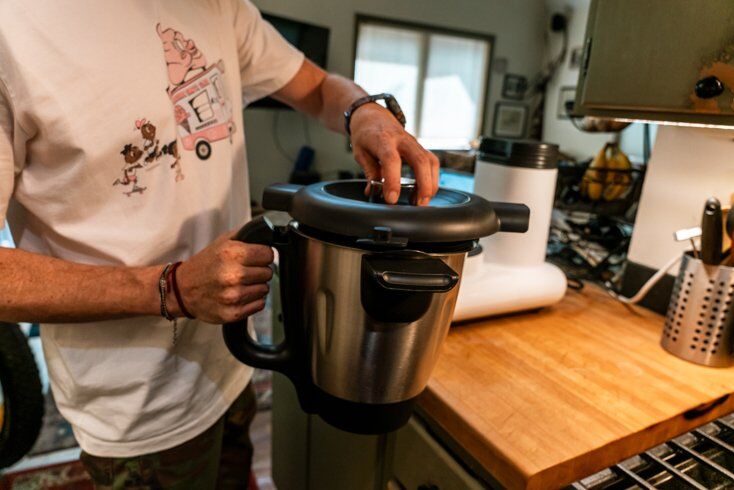 Being able to boil directly in a blender isn't a new feature, but it's still a good one for soup and sauce lovers who don't want to clean up a bunch of different dishes and appliances when they're done cooking. The appeal of chopping the ingredients for your soup, adding broth, and boiling all in one container is a tempting one, and the Multo's boil feature is effective.
Other Features
In addition to the other features of the Multo, it also has it's own clean function to cut down on cleaning time between meals.
You will still want to give this cooking station a deeper clean by hand from time to time, but it can handle basic cleaning tasks on it's own.
It's also worth mentioning that the Multo has a much bigger mixing bowl than most of it's competition, which makes it a better option for people with large families or who prefer bulk cooking.
Speakers and cameras built in to the system also give you a closer look at your food and better reminders when your Multo is done with one cooking task and ready for the next.
Gentle enough for cooking pasta, robust enough for even the toughest doughs, and ready to take on cooking tasks from sauteing a fish fillet to slowly cooking a stew, the versatility of the design is it's main draw and advantage.
Steamer Set
Multilevel steaming set is designed to let you use proper food safety techniques while steaming different ingredients, with plenty of room left in the bowl. It would be nice to have the option of more than a 3-piece basket, but this design can still help speed up cooking and meal prep.
Lid And Measuring Cup
Some foods need more advanced mixing techniques. Making the best hummus at home means emulsifying different ingredients slowly, as do many of the best and most popular sauces. A double safety locking system and measuring cup with slow drip dispensing is perfect for emulsifying different ingredients and smooth sauces.
Mixing Bowl And Blades
The mixing bowl is an impressive 3 Liters, with a specially designed spatula to make it easier to get all of your food out of the bowl. A multi-purpose blade, butterfly whisk, and simmering basket round out the additional equipment you might need for each of the Multi's 15 functions.
Who Is The CookingPal Multo For?
At $999, the Multo isn't the average small kitchen appliance. It's really designed for foodies who love making complex food in their home kitchen, modern professionals who want to make healthy home cooked meals with a minimum of effort, and people who are looking for a bulky cooking solution and are willing to pay for the convenience.
Your average family probably doesn't need something like the Multo, but that doesn't mean that they wouldn't benefit from deciding to get one.
This appliance does a good job of offering advanced features for the invested home chef and making cooking easier for people who are less in love with the process, but still want to enjoy the finished product.
When Can You Use Your CookingPal Multo
The CookingPal Multo is perfect for people who want to prep a lot of meals all at once. Sunday meal preppers will surely love the versatility of this design and the option to use a self-cleaning cycle between different meals.
It's also a great option for people who want to kick off a cooking cycle while at work, or who just want to be a little more hands off while still producing delicious food.
It's best for a busy lifestyle, but perfectly workable even for people who don't need the hands free prep and cooking design.
Our Favorite Recipes For The CookingPal Multo
Multo's recipes do assume that you have some knowledge of how you would prefer to prep your ingredients for a meal, but if you have a reasonable amount of cooking experience you can make truly delicious food straight from the recipes.
Here are a few of our favorite Multo recipes.
These should give you an idea of what the Multo can do, and can even be a great starting point for creating your own Multo recipes.
Overall Impression
Is the Multo for everyone? No. But it's functional enough and multipurpose enough that just about anyone will have a use for it. The Multo CookingPal ($999.99) is a good cooking station. It's versatile, effective, and offers a lot of benefits for the busiest home chefs. Overall, this is a good cooking companion, and we're excited to see more modern cooking solutions from CookingPal in the future.
Related Articles: