One of the wonderful and sometimes frustrating things about being a modern consumer is the proliferation of sports recovery drinks on the market.
On one hand, recovery drinks can be a powerful tool for your fitness and wellness journey and can make a big difference in how you look and feel after a workout.
On the other hand, many sports recovery drinks tout big results without the ingredients or formulation needed to back them up. Many use fad ingredients or don't pay attention to proper proportions for most consumers, resulting in an expensive drink that isn't as useful as it could be.
The other big problem with a lot of recovery drinks is that they often recommend using them all the time, or in situations when you don't necessarily need a recovery drink to get back on your feet.
Why are those things problems? Because it can mean that the product you're using to enhance performance, recover from a workout, and push your wellness goals could actually be holding you back instead.
So, with all that in mind, let's take a look at one of the more exciting innovations in sports recovery drinks in recent years, coming from Skratch Labs.
About Skratch Labs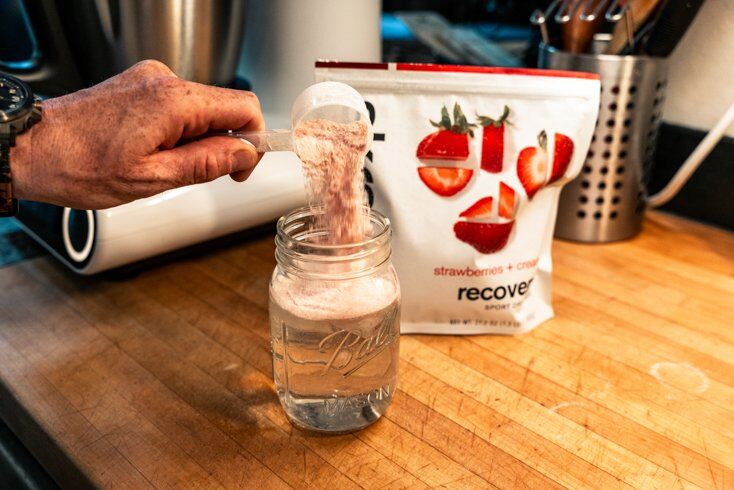 Skratch Labs is a company out of Boulder, Colorado. They are an innovator in sports nutrition and recovery drinks, and recently announced a new Strawberries and Cream Flavor of their recovery drinks.
They are focused on creating recovery drinks that really work, and using real performance measures to see how the drink performs in real-life scenarios. Skratch Labs realized that chocolate milk and similar drinks were actually doing a better job of helping athletes recover from heavy exercise than traditional sports recovery drinks. So they set out to create a recovery drink at least as good, and ideally better, than chocolate milk in terms of real performance changes.
Skratch Labs uses non-GMO, kosher, vegetarian, and gluten free ingredients. They have a mix of electrolytes like many recovery drinks these days but without unnecessary or purposeless additives.
Best of all, Skratch Labs drinks are genuinely delicious. Not more choking down a recovery drink that doesn't taste or feel good, when you can reach for one of Skratch Lab's drinks you can trust that you'll actually enjoy the drink.
What Is It?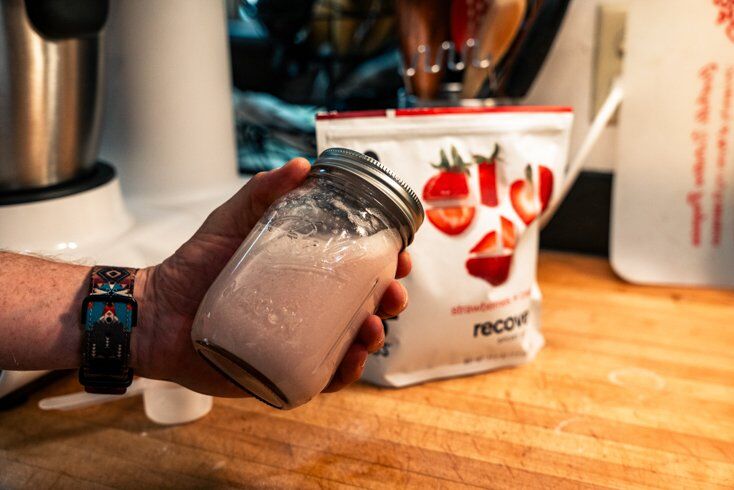 Skratch Labs Recovery Sport Drink Mixes are a convenient way to recover after heavy exercise or a big workout, with an ideal ratio of carbohydrates to protein for recovery. They also provide a fat and salt boost to replace some of the necessary nutrients and electrolytes your body loses during exercise, to improve rehydration, and help you feel your best after even the heaviest workouts.
The addition of lactase and probiotics also help improve digestion and absorption. No more heavy feeling from drinking a protein shake or recovery drink, Skratch Labs drinks are designed to be easy on your system.
Co-Founder Dr. Allen Lim is passionate about the science of sports recovery and believes in real food as the ideal support for athletic performance. So that's what they've created.
Multiple Flavors: A lot of sports drinks these days come in more than one flavor, but Skratch Labs has a particularly delicious lineup. Coffee, chocolate, and horchata flavors that taste like the real thing. The lastest flavor, Strawberries and Cream tastes like summer. There is also a Vegan Chocolate option for people who want the benefits of a high-performance sports drink without relying on milk protein.
Backed By Skratch Labs Guarantee: Skratch Labs is so confident that this drink will boost your athletic performance that they've backed it with a unique guarantee. If their drinks don't work for you, they'll work with you to find an alternative that does! If they can't, they'll fully refund your purchase.
Resealable Shelf-Stable Pouch: Too many sports drinks these days either only come pre-mixed, or in bulky containers that aren't very portable and take up more space than they need to. Instead, Skratch Labs has opted for resealable bags for ultimate storage and portability.
4:1 Carb-to-Protein Ratio: This might sound like a huge amount of carbs to some people, especially if you've been taught that carbs are the enemy of fitness. That's fair, in part because this drink is actually designed to spike your blood sugar.
That's because spiking your blood sugar is the signal your body needs to produce a lot of insulin that turns all those carbs into energy so your body can start repairing and building muscle. Fats and protein provide the basic building blocks of muscle your body needs, while electrolytes help improve hydration and help your body carry those essential nutrients to the places they're needed.
The said, this probably isn't the drink for diabetic people or anyone with blood sugar concerns.
Fantastic Taste: Easily the best thing about Skratch Labs recovery drink is also the biggest problem with the drink. It's Delicious. But it's not designed to be a good dietary option if you haven't been working hard before you drink it.
But, you can definitely use this recovery drink as a treat to help motivate yourself to work hard enough to earn it!
Lactase And Probiotic Formula: Plenty of high-performance athletes are lactose intolerant. So Skratch Labs has made that less of a concern by adding the Lactase you need to digest milk sugars directly into the drink. In addition, probiotics help your gut perform even after the stress of a heavy workout and a lot of effort.
That way you're helping your microbiome as well as getting those key muscle-building blocks and the raw energy you need to recover.
As a note, the Vegan Chocolate version of this drink doesn't contain any dairy. So if you can't tolerate dairy, even with the help of lactase, there's still a Skratch Labs recovery drink option for you.
Who Is It For?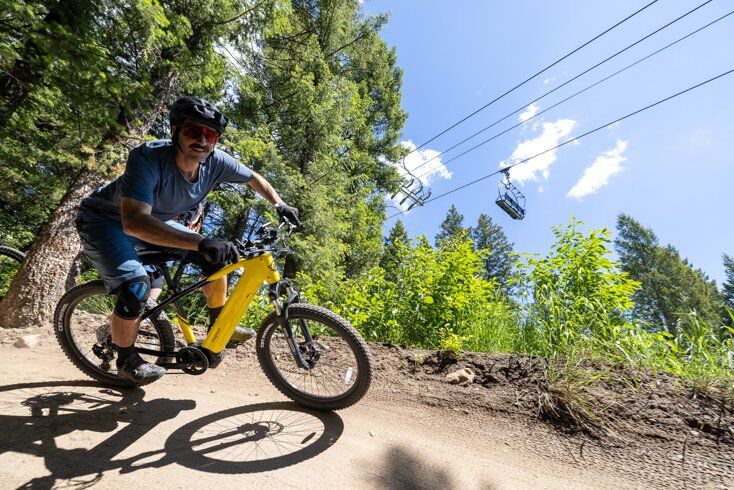 Skratch Labs recovery drink is for high-performance athletes, people working to push the limits in their workouts or daily lives, and people who need sustainable and quick nutrition solutions after hard work.
This isn't a more casual sports recovery drink, and it isn't flavored water + electrolytes. Instead, Skratch Labs sports drinks provide more complete nutrition, including carbs, protein, fats, and sugar, and is milk-based.
That means that this is also a good option for people who need some calorie or nutrition supplementation, though it's not meant to be a meal replacement or a replacement for regular nutrition from more traditional food sources.
However, if you find yourself at a consistent calorie deficit, or struggling to recover from harder workouts and constantly in a post-exercise haze, this recovery drink might be a good option for you.
It's also a good idea for hikers going on an extended or cross country trip, thanks to its long shelf-life, lightweight packaging, and high-performance enhancing nutrition.
When Can You Use It?
We'd recommend only using this recovery drink after a hard workout or a very active day.
There are a couple of reasons for that, but the main reason is that this recovery drink has a lot of sugar. That's a lot of calories, and potential for messing with your blood sugar, in addition to the possibility of a sugar crash.
If your body needs the sugars, the way it does after a rough workout, a marathon, or a long bike ride, the sugar content isn't a problem and can help restore your energy a lot faster. In fact, it can help you feel more like yourself after a rough workout and can help facilitate recovery and muscle building in the meantime.
But, you don't want to load on that much sugar when your body doesn't need it or won't benefit from it. Sugar is the easiest food for your body to store as energy for later, leading to fat creation that can slow you down or stop you from meeting your fitness goals.
We don't recommend cutting sugar out, and Skratch Labs recovery drinks are genuinely a good option after a hard workout. We just don't recommend using them casually or after lighter workouts. There are better alternatives for those situations when your body doesn't need as much of an energy boost.
Where Do You Need It?
We've already mentioned that Skratch Labs sports recovery drinks aren't really for casual workouts or consistent use, unless you're consistently asking your body to engage in high-performance sports. Professional athletes, Olympians, and other extreme-performance athletes can probably benefit from Skratch Labs' recovery drinks on a regular basis.
Other people can benefit from these drinks while hiking, winter camping, during the bulking phase of a workout routine, and after intense workouts.
Why Do You Need It?
There are a lot of reasons you might want to give Skratch Labs' recovery drinks a try, especially if you're already using another alternative recovery drink to help keep you going after a rough workout or as a pick-me-up for your normal day.
Portable and Convenient: One of the big advantages of this formula is that it's easy to pack and take with you when you need it. The resealable bags are reliable and secure, and the design is lightweight and compact. That makes this a perfect refueling drink to take with you to the gym, competitions, game day, long hikes, and more.
This recovery drink can come with you, wherever and whenever you need it.
Science-Driven Recovery: A lot of recovery drinks are only based on a portion of the science behind sports nutrition and performance. That's a big problem because it might be addressing some of the needs your body has after a workout while forgetting about others or even working to the detriment of your whole system.
Skratch Labs is based on the latest science in sports nutrition, and on studies into what actually helps athletes make a performance difference. That means it's not based on ideas about what might boost your performance and help your body through difficult workouts. It's based on proven theories about how to improve performance, aid in recovery, and meet your long-term performance and fitness goals.
You Want A Drink That Actually Tastes Good! Let's face it. We've all had those chalky vanilla or chocolate sports protein drinks or artificial-tasting recovery drinks. While those drinks have their place and can be useful, most people don't enjoy them.
Why limit yourself to a sports drink you don't enjoy when you can choose an option that really works, comes in a range of great flavors, and is continuing to innovate and find new ways to make sports recovery drinks as delicious as they are effective?
Overall Impression
Overall, we're very impressed with Skratch Lab Sports Recovery Drinks ($33.95). The latest flavor tastes fantastic, and the inclusion of the horchata and coffee flavors helps give you more options to keep your recovery drinks tasting fresh and new.
This is a performance drink, it makes sense that you need to put in the performance to see the benefits.
While these drinks definitely aren't designed for people who aren't getting a lot of exercise, that only helps make them more effective for the people who are.
That said, we'd still be cautious about only using this drink when you really need it, after a tough work out, and when your body is really out of gas. That's what it's designed for. In other circumstances, it might just be a little too much energy and too many calories.
Related Articles: