CBD is one of those products that seems to do just about everything and anything you need it to, at least if you look at the promotional material.
The truth, of course, is a little more complex. CBD is good for a lot of different things and can help with a lot of different problems, but it's not a miracle compound, and you need a high-quality product if you want to get the best results.
When we're looking at a CBD product, we're looking for high quality, high actual CBD content, whether that product is broad spectrum or an isolate, and whether it works for its intended purpose.
So, when we reviewed the 1500 mg CBD salve from Organic Grit, we had high expectation. This is a broad-spectrum salve with a high CBD content and looks like it has the potential to be a great product.
CBD salves are effective for stress and inflammation, can help relax stressed and tense muscles, and provide several other benefits on the side.
But, salves with low CBD content, ingredients that don't absorb well into the skin, or that use a ton of fillers that don't really help, can leave you disappointed and hurting.
Let's take a look at how this Organic Grit salve holds up, whether it's as good as it sounds, or a CBD salve that doesn't deliver.
About Organic Grit
Before we get into the benefits of this salve and talk about how it stacks up against other CBD products, lets talk about the company.
More and more these days a company's character and leadership can tell you a lot about their products and how they treat their people.
Organic Grit is a new company, founded in 2019. They are veteran-founded and continue to support veterans today. They also donate 20% of their proceeds to 501[c]3 non-profit organizations.
The hemp for their CBD products is sustainably grown in Wisconsin. In addition, the products are all tested by the 3rd party lab (no worries about the company using internal tests and lying about their results), located in Denver Colorado.
Plus, in case you're wondering about the potency and purity of your specific product, all of Organic Grit's products come with a unique QR code you can scan to pull up the specific test results from that batch!
The Benefits Of Broad Spectrum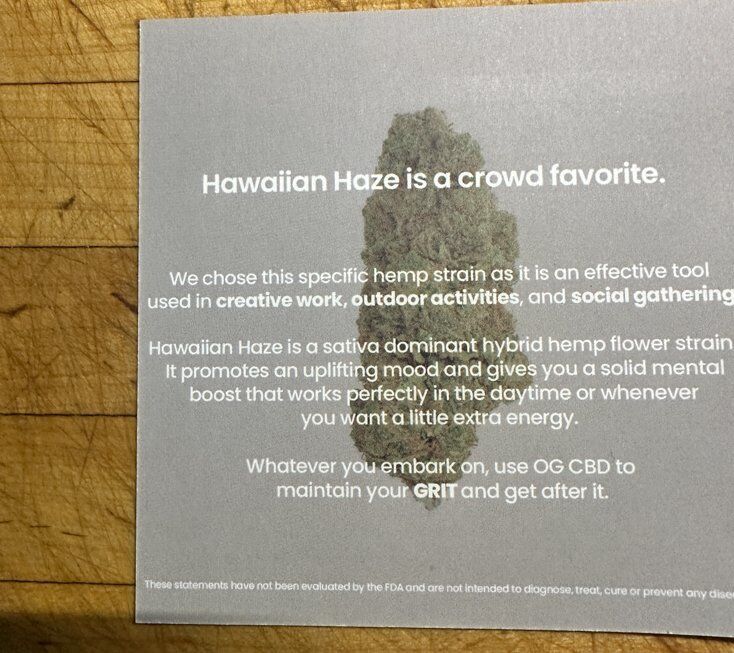 When you're looking at CBD products, one of the things you should consider is whether you want an isolate, that's just CBD or a broad-spectrum product that includes other cannabinoids along with CBD.
Like all CBD products, Organic Grit's salve doesn't contain THC. They've actually been able to get their trace THC count down to 0.0%, which is rare. The legal limit is 0.6%, so being truly THC free is impressive.
In this case, the CBD isolate definitely prioritizes CBD, but trace amounts of other cannabinoids are still there.
That's important because we don't actually know how all of the cannabinoids found in cannabis and hemp plants work. Many of them can have benefits of their own or can work with the CBD in your salve to improve its benefits.
So in this case, seeing broad-spectrum CBD along with other proven herbal ingredients is a great sign for the effectiveness of the salve.
How You Can Use Organic Grit CBD Salve
When it comes to salves, knowing how to use them is critical. Some salves are better as a preventative, others should only be used as an acute treatment, and some are recovery salves that work best when you put them on after stressing a muscle.
In this case, this CBD salve actually works for all three uses.
As a preventative, this salve helps encourage circulation to reduce inflammation, fatigue, and pain. As a treatment, this salve's CBD helps control pain signals and reduce inflammation, while other herbal ingredients create a tingling sensation that helps to mask and reduce the impact of pain.
The combination of beeswax, grapeseed oil, and coconut oil also makes this salve buttery smooth, easy to apply, and super hydrating.
Unlike some pain-relieving salves, that can be tough on the skin or feel drying, this salve looks and feels like it's actually good for your skin too.
Plus, the texture is light and melts easily, which means you can spread a little of the salve a long way.
That's critical since a lot of wax-heavy salves really don't spread, which means that you wind up using more product than you need if you want to cover a larger area. Since this is a veteran-founded company, it's clear that they understand some of their users are going to need coverage over a broad area, especially if they're using this salve to treat pain from past injuries or workouts.
The other big benefit of this salve is that a little bit goes a long way.
We tested the 1,500mg version of this salve. At that concentration, a little bit of the salve goes a long way.
We noticed the effects of the salve even with a relatively small amount of it, spread over a wide area. Plus, since the oils used to soften the wax in this salve are easy for your skin to absorb, this salve starts working quickly. You should feel it within just a few minutes of applying the salve to your skin.
Organic Grit recommends waiting 30 minutes before applying more salve. Why? Well, it's a combination of things. For one, the sensation and pain relief from the salve increases over time. You aren't going to feel the full effects of this salve for at least 30 minutes, and the effects should last a good bit longer than that.
So, by waiting to apply more, Organic Grit is actually helping you save money by helping the product go farther and last longer.
What Is Organic Grit CBD Salve Good For?
Like a lot of CBD salves, this salve is mixed with a lot of other herbal oils which all work to improve the function of the CBD.
But what is it designed to help?
In this case, the CBD salve is designed pretty specifically for pain and inflammation, with a combination of ingredients that work for pain relief, encouraging circulation, promoting healing and recovery in your muscles, and generally helping you feel better.
You can apply the CBD preemptively, to help prevent pain and swelling and reduce your symptoms ahead of an active day. Or you can use it to treat pain and inflammation in the moment.
As a recovery tool, this salve is a little less effective, but the benefits of added circulation and relieving the tension in a tired muscle can add up.
We also want to specifically call out that the other ingredients in this salve are impressive. We love to see a salve that doesn't have any fillers in it. But the combination of a salve that doesn't have any fillers, and also has a lot of supporting ingredients that work well together, that's a match made in heaven.
Ingredients like peppermint and ginger oils help create the pain-relieving tingle, while also providing additional benefits once they've absorbed into your skin. Eucalyptus and lavender oils help with muscle relaxation while also providing a pleasant scent.
Normally, with a pain-relieving salve, we'd be warning people that you might smell a little odd when you're using this salve. But in this case, Organic Grit's CBD salve actually smells really nice. The scent reminded us of being outdoors in a forest.
While we wouldn't recommend wearing this as cologne, since it's good for a lot more than smelling nice, it does smell good enough to be a full-size scent.
Is Organic Grit's CBD Salve Practical?
One of the challenges with a product like this is that you might not be able to carry it and use it when you need it.
A lot of cannabis products can only be used in the comfort of your own home, and others stink or just aren't designed with busy people in mind.
This is an exception to the rule.
The small 1.7oz tin is compact, durable, and easy to take with you. You can slip the tin into a pocket, into your gym bag, or even keep it in a cooler area of your car, like the glove box or center console.
While the wax in this salve can melt at high temperatures, the container has a pretty good seal, so it's unlikely to spill and waste your product even if it does melt.
The small size and pleasant scent also make it easy to apply this salve on the go wherever you need to, whether you're putting it on at work, in the middle of a hike, or your gym's locker room.
The other ingredients in this salve are also very practical. Combined with the hydrating and skin-protecting ingredients in the salve, the oils, and herbs included are safe for daily use and unlikely to cause any skin irritation.
That means that you can use this salve whenever you need to, every day if you need to, without worrying about unintended consequences.
Overall Impression
There's a lot to love when it comes to this product. The fact that Organic Grit is USA based, veteran-founded, GMO-free company is a great start. But it gets better as you look at the open access to lab reporting, the fact that they donate to non-profit organizations outside the company, and more.
Then you have the product itself. This salve was surprisingly effective in our trials, it smelled great, and using the salve was incredibly easy thanks to its highly spreadable texture.
If you're in the market for a high-quality CBD salve, this might just be the product for you.
Not convinced? Organic Grit also offers free samples of their CBD salve so you can test it for yourself and see how it works!
Related Articles: