DENVER, CO – Metallica kicked off their WorldWired Tour with the first summer concert at Mile High Stadium. When Metallica rolls through town they bring the heat literally, pyrotechnics, fireworks, jumbotrons and most importantly a PA that can rock a stadium full of 50,000 fans that are here for one thing, Metallica.
Before Metallica took the stage fans were able to catch sets from VolBeat and Avenged Sevenfold, also Mix Master Mike from the Beastie Boys played between acts, which was a total bonus. I once saw Metallica fans boo the opening band off the stage at Red Rocks, so it was rad to see the fans so engaged with the opening acts of the WorldWired Tour.
The band VolBeat from Copenhagen Denmark had their stage set up like a boxing ring with red velvet ropes. They quickly got fans going with a mic of hard energy and melodic tunes. Volbeat is great band to see live and has been a staple on many of the summer hard rock and metal festivals around the country, if you don't already know them you should.
Avenged Sevenfold was up next, a fan favorite that has been blowing people away since they hit the scene in 1999. AX7 abbreviated for short have everything you want in a Metal Band and then some. They play a mix of music that will make the old school rockers happy, but is also relevant to the kids of the future generations. Avenged knows how to play fast and hard and at the same time knows how to take the crowd on a musical journey. Currently on Tour for their release "The Stage" catch them with Metallica or on their own, the point is to see them live, you'll be happy you did.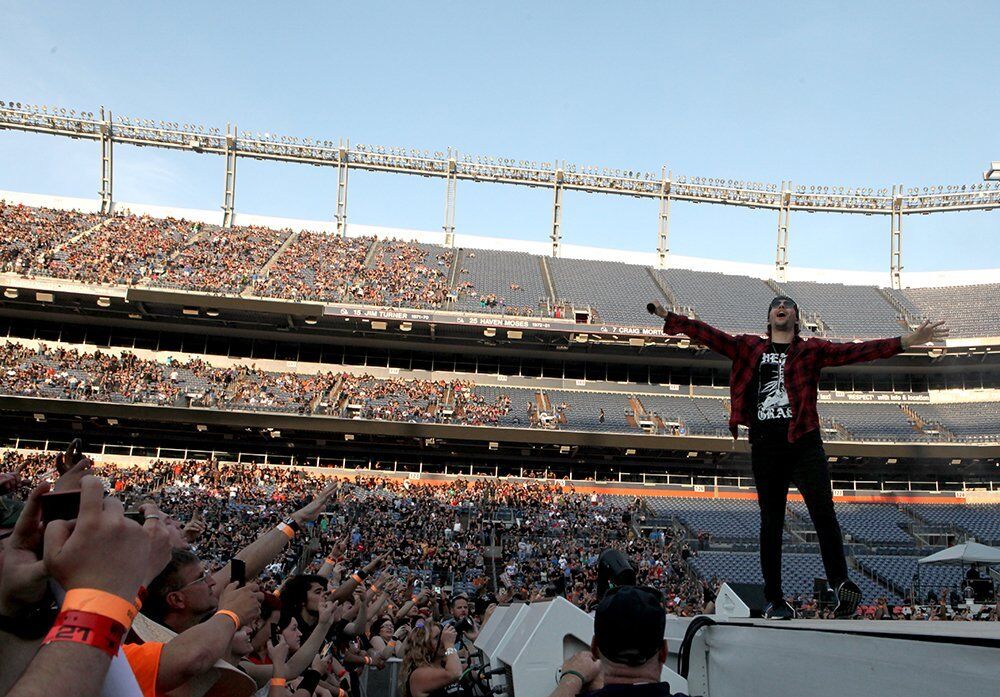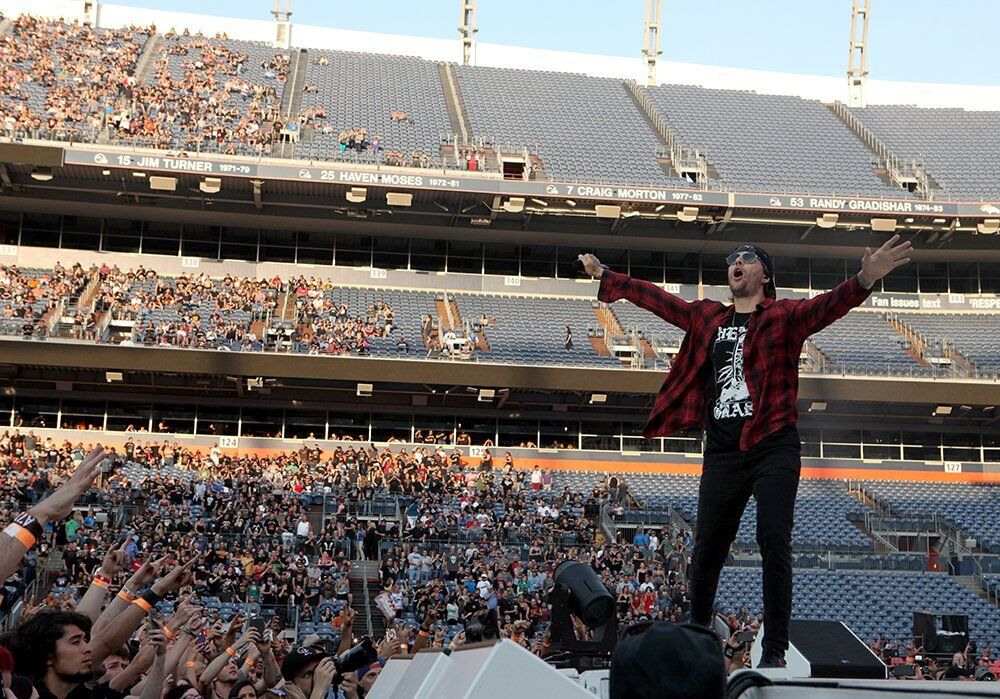 And now onto the Headliner..
Metallica Mile High Review
Ten minutes before Metallica hit the stage you could feel the energy in the stadium building, and rightly so one of the biggest, loudest bands was about to come and bring the thunder. Metallica has been together for 36 years, in that time generations have grown up on the music of Metallica. Looking through the sea of people there were fans in their 60′ and 70′ among and fans in their diapers and everyone in between, Metallica covers the full spectrum.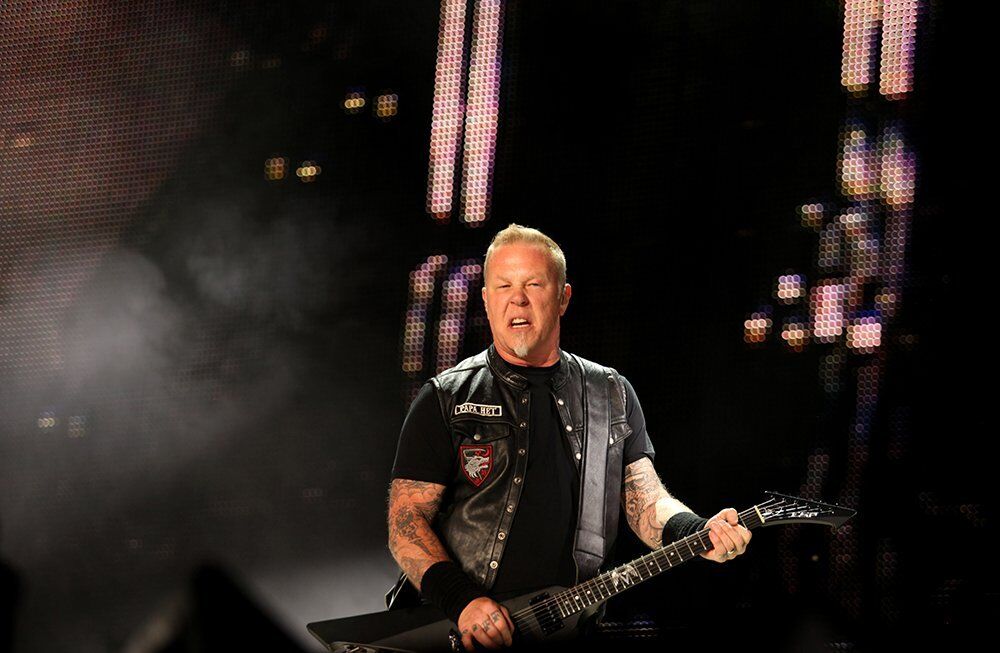 When the band finally hit the stage and you could feel Mile High Stadium erupt with energy, it's on, Metallica is here to bring it. Metallica played a mix of new material from " Hardwired to Self Destruct " and classics from " Ride the Lightning", "Kill 'em All", "Master of Puppets" and "And Justice for All".
When James Hetfield started singing the lyrics to "For Whom The Bell Tolls" the crowd sand along in unison, note for note. The sheer collective power of everyone together is a sight to be seen. Kirk Hammet's blistering guitar solos are still as impressive as ever and Robert Trujillo has a way of keeping things balanced while Lars Ulrich beats those drums like a maniac. Five songs into Metallica's set the gentle rain that started during "For Whom The Bell Tolls" picked up and turned a bit more fierce, just then the Lightning started, postponing the show for a bit while giving fans a chance to grab a drink, use the bathroom and snag some food.
The hardcore fans upfront waited out the rain as they weren't going to get caught dead giving up a chance to be upfront for Metallica. Sometimes you need to weather the storm on you path to greatness.
Metallica came back and the show returned to kicking ass like nothing ever happened. It was really cool to see Robert Trujillo play (Anesthesia) – Pulling Teeth as the video screens show Cliff playing it live years back.
The band slayed through a host of songs from all aspects of their career. When they got to "Motorbreath" Mile High went bonkers, and that was just the start of a slew of songs one after the next building to a frenzy of energy and release.
Lars goes skiing
Metallica brought the Lightning to Mile High and the Mile High City is still buzzing off that energy days later and will be in the weeks, months and years to come.
Metallica Set List: Denver June 7th, 2017
1. Hardwired
2. Atlas, Rise
3. For Whom The Bell Tolls
4. Creeping Death
5. The Unforgiven
6. Now That We're Dead
7. Moth Into Flame
8. Wherever I May Roam
9. Motorbreath
10. Sad But True
11. One
12. Master of Puppets
13. Fade to Black
14. Seek and Destroy
Encore
15. Fight Fire with Fire
16. Enter Sandman
You can order a sound board recording of the show here:
http://livemetallica.com/
Personal Note: I've seen Metallica many times over the years. The last time I saw them was in Park City, Utah at a venue that holds about 1,000 people. Honestly I didn't think that show could be out done, however seeing Metallica play Mile High Stadium to fifty thousand people topped it.
Metallica Denver Photos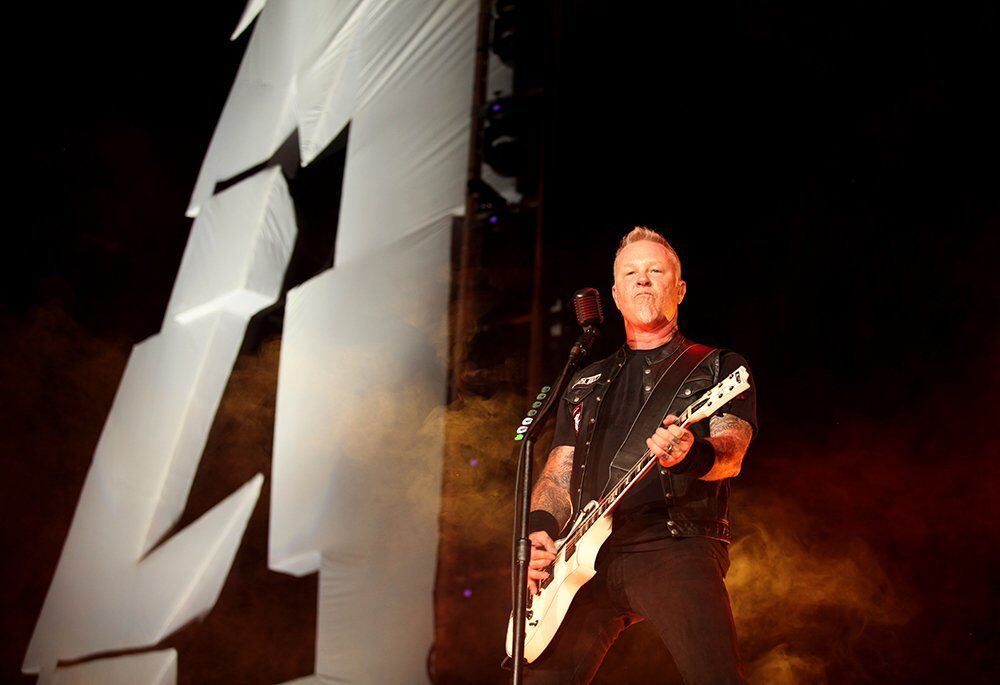 Related Articles: