ALTA, WY – The 10th annual Targhee Fest went down this past weekend with a killer lineup of Americana singer-songwriters performing at the base of Grand Targhee Resort. Easily one of the most picturesque festival backdrops of the summer, Targhee Fest offered incredible 360-degree views of the surrounding mountains. Along with cheap beers, incredible food and a family-friendly atmosphere, it's no wonder that that Targhee Fest has been going for ten years strong.
A total of 14 bands performed during the 2014 Targhee Festival + late night acts. Our favorite performances of the weekend included:
Targhee Fest Photos
The Wood Brothers
The Wood Brothers set the tone for the weekend with their infectious vocal harmonies and old-fashioned guitar riffs. One of the most underrated bands in the music industry, The Wood Brothers touched every single person in the crowd by playing heartfelt American roots music. There's something to be said for the simplicity of listening to a three-piece band pluck away at their instruments.
Hard Working Americans
The loudest and most rocking show of the Targhee Fest went to the newly formed Hard Working Americans. The band kicked off their summer tour at Targhee Fest however it felt more like a tour closer as the band was playing tight, communicating non verbally throughout the set. The supergroup of sorts consisting of the talented Todd Snider on lead vocals, Widespread Panic's bassist Dave Schools, Neal Casal, Duane Trucks, and Chad Staehly.
Hard Working Americans 7/19/14 Setlist:
Backland Farmer, Run a Mike, Mission Accomplished, Down the Well, Another Train > Is This Thing Working, I Don't Have A Gun, Guaranteed, Wrecking Ball, Mountain Song, Straight to Hell, Stomp, and Holler
Nicki Bluhm & The Gramblers
What happens when you combine the vocals of Janis Joplin and the stage presence of Grace Potter, perhaps the up and coming Nicki Bhlum. Her band Nicki Bluhm & The Gramblers performed an amazing set on Sunday afternoon that had the crowd singing and dancing along to every note. It was one of those sets were just found yourself smiling the entire time.
If you love great music and the outdoors, do yourself a favor and put this fest on the calendar for next year. I can promise you won't be disappointed.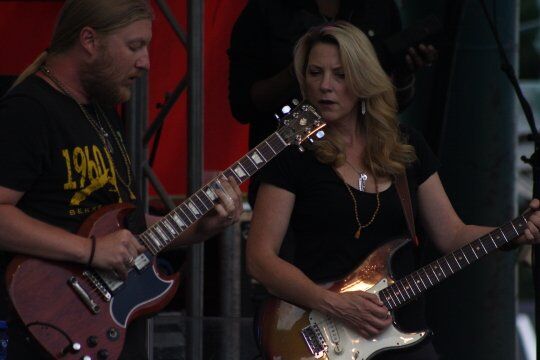 Take a look at our Grand Targhee Resort Review to learn more about this hidden gem!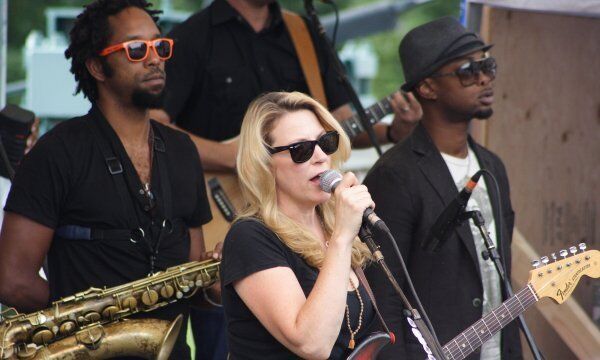 Tedeschi Trucks Band
Jackie Green