The 686 GLCR Hydra Thermagraph Jacket was made for shredders that like to bang out lift-accessed laps at their local ski resort. What makes this coat unique is its Thermagraph insulation which is conveniently located throughout the jacket in the areas where your vital organs alive.
686 Hydra Thermagraph Jacket Warmth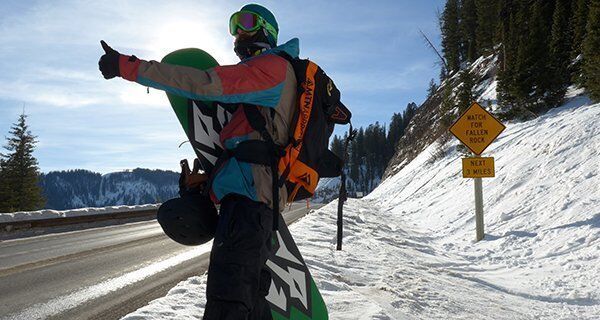 Right off the bat, I found the 686 Hydra Thermagraph body mapping to be a bit on the warm side for splitboarding. 686 rates their jackets on a scale of 4 – 10, with 10 being the warmest. It was interesting to see the 686 GLCR Hydra Thermagraph Jacket listed as a 5, however, if I was to rate this I would say it's closer to a 7 or 8.
Sure you can tour and boot pack in this jacket, especially with the great pit zips that have 2-way zippers (which is super rad) but if the temps are warming you will surely find yourself shedding this shell on the way up as the Thermagraph Body Mapping Insulation heats up quickly.
The thing that I notice the most about the 686 men's GLCR Jacket was the way the colors popped out. It's not too bright, not too dark but really stand out when shooting photos and videos. The colorway I tested was the Brick, Heather, Twill, Colorblock. Another really cool feature is the collar on the GLCR Thermagraph jacket that zips up and to the side which is typically only found in very high-end jackets.
The collar combined with the Vader vents allows great breathability, which helps keep your sunglasses from fogging up while touring. It also works to keep Goggles from fogging up thanks to tiny holes in the Vader vent. And who doesn't love a fleece-lined collar, which is especially comfortable if you're running a beard!!
Deep Chest Pockets
However, with all the cool features above, I find myself utilizing the deep chest pocket the most on the 686 GLCR Thermagraph Jacket This works great while touring with a backpack on as I can store my glove liners, snacks and sunscreen in the pocket without seeing any added bulk. You can also store your smartphone or iPod in that pocket as well if you like to have easy access to that stuff while riding.
What can be Changed?
Not really a fan of the adjustable cuffs this year, I had trouble getting them on and off without my gloves on. Sure I can always take my gloves off to adjust the cuffs however I find myself deep in the backcountry on most days, and taking my snowboard gloves off at 10,000 feet is not something I typically like to do. Also what's up with RECCO in coats anyway?
We all wear avalanche beacons, you should be too if you're in the backcountry. Not sure why or how the RECCO avalanche system is of any benefit to anyone, again wear a beacon, and practice with it routinely.
Overall Impression
This incredible new insulated jacket from 686 works really well while riding around at ski resorts. With 20k waterproofing, 15k breathability you can run this jacket from Mt. Baker to Jackson, Wyoming and anywhere in between. The 686 GLCR Hyrda Thermagraph Jacket ($289.95) comes in at half the price of some of the other jackets we tested.
Keep in mind if your a fan of 686 and spend most of your time splitboarding or hiking the boot pack you may want to look into another 686 snowboard jacket they make that doesn't have the added 80g of insulation found on this snow jacket.
Related Articles: