Anyone who has spent time climbing in New England has probably heard the word "seep." You know, like, "That crack will seep for days after it rains!" or "Wow, this wall is still seeping, and it's been dry out all week." This summer was especially seepy. I found myself dragging my shiny, new Mammut 9.5 Infinity Dry Rope through mud, wet cracks, and piles of moss in the White and Green Mountains. This was partially because I don't own a rope bag (whoops) and partially because rainy summers, mossy cliffs and tall trees keeping sun off the rock tend to keep New England's crags dripping and seepy for days.
Mammut Dry Treatment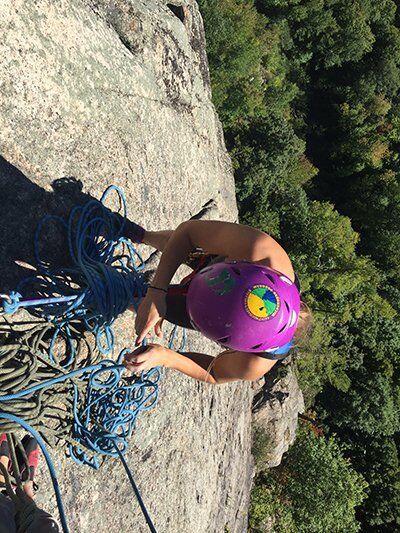 Despite climbing through the seepiest summer of my life, my shiny, new rope is somehow still shiny and clean. I'm guessing this has something to do with Mammut's new dry treatment. UIAA recently started regulating how dry treatments are rated, requiring that ropes absorb only five percent of their weight in water. Mammut's dry treatment goes above and beyond, absorbing only one percent of its weight in water. After hanging up my old ropes to dry constantly—even on days when I didn't even see puddles—my Infinity stayed dry after being pulled through cracks that left me soaked. How does Mammut achieve this? They coat both the sheath and the core of the rope, which makes it more resistant to wear and tear too.
Sheath Fraying?
My Infinity held up to alpine rope drag like a champ. I was sure that I would see sheath fraying after bringing it up the winding classic Whitney Gilman on Cannon Cliff in New Hampshire. 9.5 is, after all getting to the skinnier side of fat ropes (remember when 9.5 was skinny?). While my old 9.8 was designed to run over sharp corners and pull through zig-zagging protection, I wasn't sure the 9.5 would hold up.
Overall Impression
I was wrong. Now, my Mammut Infinity 9.5mm Dry Rope ($249.95) has five months of drag on it from not only New Hampshire's White Mountains, but also the Tetons, and my sheath hasn't even started to get that peach fuzz that I have become used to with wearing ropes. This is thanks to the thickness of the sheath, which is 40 percent of the rope. Despite the thicker sheath, the Infinity comes in at only 58 grams per meter.
Related Articles: