Indoor rock climbing was born in England, which makes sense when you consider the fact that England has produced more legendary mountaineers than basically anywhere else, and that's without any Yosemite/Eiger/Teton/Cordillera Paine/MontBlanc storied climbing meccas. On a recent trip to London, I had to get out of the normal family trip grind of restaurants and shopping and Harry Potter mania old-building-gaping to check out the indoor rock climbing scene. With family in tow, I found myself at the Arch Climbing Building One
Arch Climbing Wall Review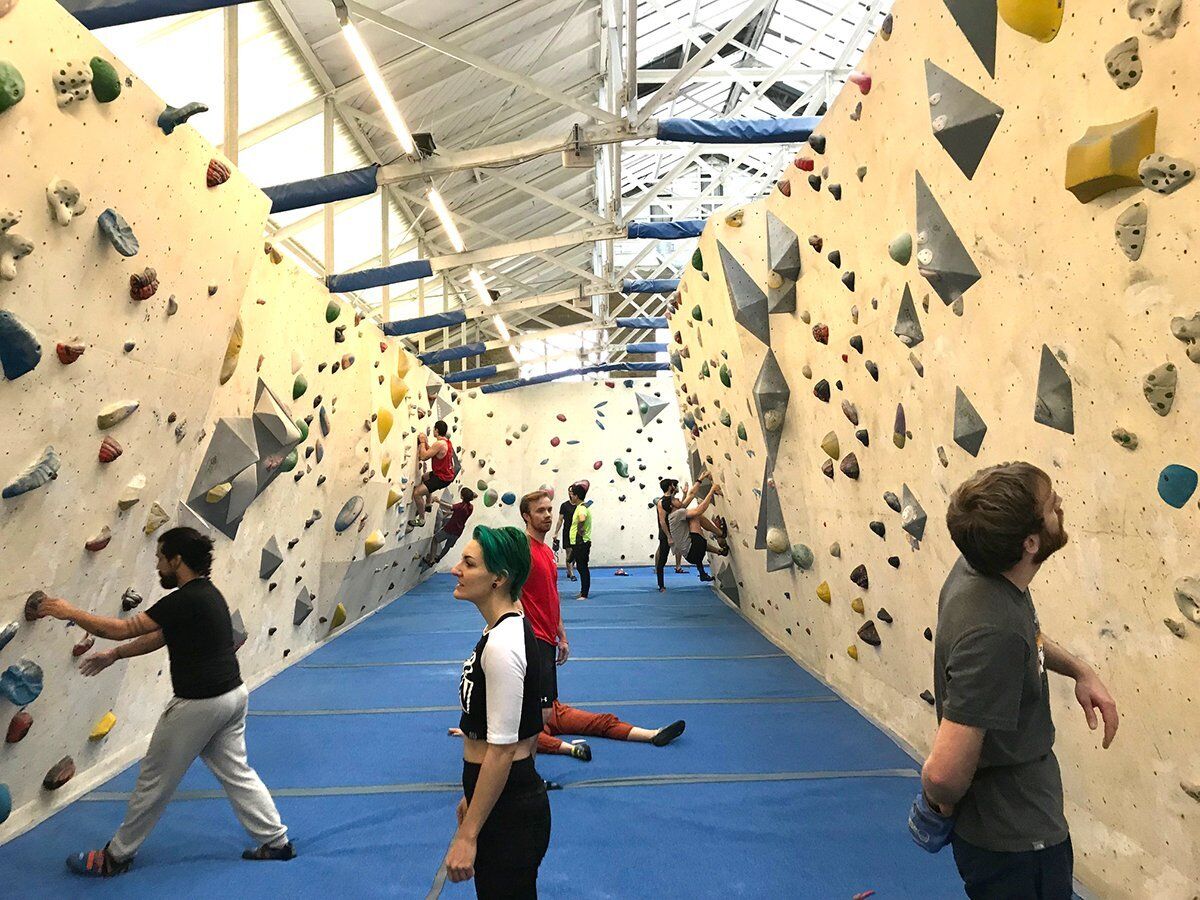 When I arrived at the Arc Climbing Wall the place was packed, especially for 1 in the afternoon on a Friday. Kids. Older balding kids (like me). Legit old-timers. People on dates. People on lunch breaks. Collegiates after school. Professionals after work. It was a scene, more than most climbing gyms I've been to stateside (and no, I've never been to Brooklyn Boulder). I mean, really a scene — 5 people standing around for everyone climbing, a cafe with a few tables to hang out and every table taken up by folks chatting over Americanos. A shop. And just good vibes, good social gathering, no egos, no climbing bros getting aggro over how cool they look on plastic holds. And obviously, it had some really fun, varied climbing.
London Indoor Climbing Wall
Arch Climbing Wall: Building One is like a bouldering Wonderland. You look in the window and it looks okay – but then you enter and the rabbit hole goes so deep. Walk in, take a quick little test about basic climbing safety (e.g. the guy at the front desk showed me a picture of a guy standing underneath another who was bouldering and asked me what was dangerous in the picture), and then you're in the first room, with a wall in the middle of varying angles. Pass the shop and cafe on your left into another room with a two-sided wall and strengthening section on your right — pull-up bars, rings, weights, hang boards, so on. Then turn a corner to pass a u-shape corridor set up with a traverse route. Next, there's a cavernous room with seemingly endless angle and hold options. Having fun on overhangs.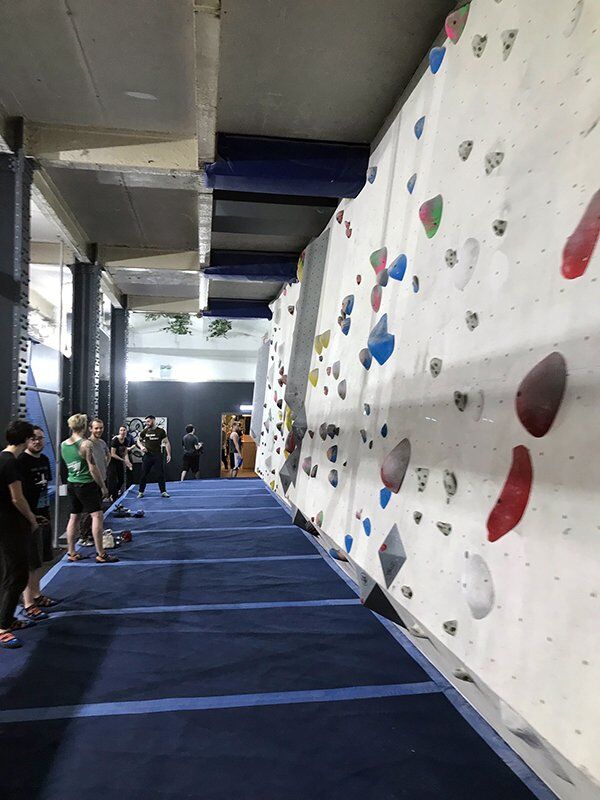 Fun jug side pulls and down to little crimps. I lapped the room, went back and lapped the traverse, then back into the cavern room and worked it hard. Back to the first room. Back to the middle room. For an hour I climbed basically everything I wanted to climb despite the crowd. Never felt intimidated by some rock goddess throwing shade at the mortals (actually saw a lot of people who seemed to be climbing for the first time). Never had anybody going, "Hey bro, I was eyeing that wall you're on." And I walked back out with a good sweat, muscles twitching, stretched, and all around feeling better physically than I've almost ever felt on an urban vacation.
I kinda chose the spot because it was one of the closer climbing gyms to where I was staying by Tower Bridge, though I also did some research and dug the history of Arch Climbing (originally founded on an old Victorian arch underneath London Bridge, now the fastest-growing climbing company in the UK.
We crossed Tower Bridge, walked away from the touristy section into the neighborhood of Southwark, past townhomes and schools and stray cats and young'uns giggling with accents. I finally found it tucked into a former factory courtyard, with a bunch of hot shops and food spots, that beautiful reinvention of aging husks that is IMHO possibly the greatest trend in the urban landscape.
The official address is 121 Drummond Rd, London SE16 2JY, UK. Next time you're in London and you've had enough touring around and fish and chips and just need to get that sweaty meditative pumpy fulfillment that only comes from physical exertion and, especially, from a good hard climb, check out the folks at Arch Climbing Wall. With 3 spots, no doubt that got one close enough.
London Hotels Near Arch Climbing
Room with a view – Guoman owns several 4- and 5-star hotels around London and the Tower Hotel, while maybe a little dated, is still impeccable and right on the Thames. Despite being a "luxury" hotel, prices at Tower Hotel are actually pretty affordable, starting just over 100 pounds a night. Splurge here, though, for a room with a waterview so by night you can ogle the Tower Bridge (often mistaken for the considerably plainer London Bridge) next door over the sparkling Thames and stare out across the endless legendary London skyline (chimneys and all). With online services ranging from free appetizers in the club room to breakfast buffets and even a hotel car service (as well as an onsite rental car station should you feel up to driving on the wrong side of the road), you've got waterfront champagne for beer prices. And the Tower of London is right there for when you want to see where prisoners were forced to fight lions and Henry VIII had his unable-to-produce-a-male-heir-wife's head cut off. (1.5 miles to Arch Building One).
Live like a (maybe slightly eccentric) Lower Lord – The Lalit is modern updated luxury without being stuffy. Sumptuous stylings and an interior design that accentuates instead of gentrifying. Sumptuous inhouse halls paired with massive, airy rooms with the perfect blend of posterity (brick walls, 19th century deco for the bathrooms) and modernity (new floors, new fixtures, basically new everything). The Lalit also boasts one of London's most heralded spas for getting the kinks out after a day of climbing and sightseeing. And while you're a ways from the theater district, if you like some Brit culture with your dinner grab a bite or at least a coffee and brekkie at the nearby Swan at Shakespeare's Globe theater. (1.2 miles to Arch Building One).
Climb all day, party all night – Of all the big cities I've ever been to, London is certainly one of the more staid. While you'll find folks drinking in the pubs from about noon on, and 5 o'clock drinks is madness, by 9 everybody seems to have gone to bed (or passed out). But fear not – Shoreditch is the spot for the young and savage, and the Ace is located right in the middle of it all. After a long sesh at the Arch, wander the converted storage container part of town and grab some killer pizza from Voodoo Ray's. Then hit up any of the dozens of clubs and bars in the area catering to the young, alive, and beautiful (hey, that includes you), making sure to start your night at the Lobby Bar Social Club at Ace's inhouse venue the Miranda. (3 miles to Arch).
Go royal, do some shopping, hit up a show, climb (in style) – Because let's be honest, while you're in London you might as well do something OTHER than climbing, at least for a little. The May Fair Hotel is a sumptuous slice of heaven in the middle of all that requisite stuff to visit on your trip to Foggy Londontown – walk to Buckingham Palace, do some shopping on your way to Piccadilly Circus (and of course you gotta check out Chick'N'Sours for some fancy fried chicken served in a party palace), take in a show in London's legendary theatre district, and grab dinner at Rules, the oldest restaurant in London (founded in 1798, which makes it just 22 years younger than the United States of America). It should be added that while it may not cost the $600 a night some rivals may charge, the May Fair is one of London's famous 5-star hotels and a must. Because if you're staying in a classy part of town, act like you belong. At 4.5 miles it's one of the farthest hotels on the list, but at least you can just take the Jubilee tube line to Bermondsey and not have to change trains. That's always nice. (4.5 miles to Arch).
Because you're a skid – Growing up in America, I discounted hostels out of hand, even one summer when a bunch of Irish kids moved to San Diego and raved about the Banana Bungalow PB. Then I traveled the US hosting surf videos on a shoestring budget and realized hostels are cheap, clean, in great locations, and full of likeminded not-rich travelers. The YHA London Thameside Hostel is no exception – actually, it's nicer than most of the hostels I've been to. Funky cool décor, 24-hour open doors (vs. hostels with curfews), and options for either a shared single-gender room or a private room starting at 17 pounds, it's the spot if you're looking to stretch your money as far as you can (without getting gross) are looking for other dirtbag travelers or even just wanna meet some international adventurers. The fact that it's only about a mile walk from Arch Building One is added bangers to your mash. (1.1 miles to Arch)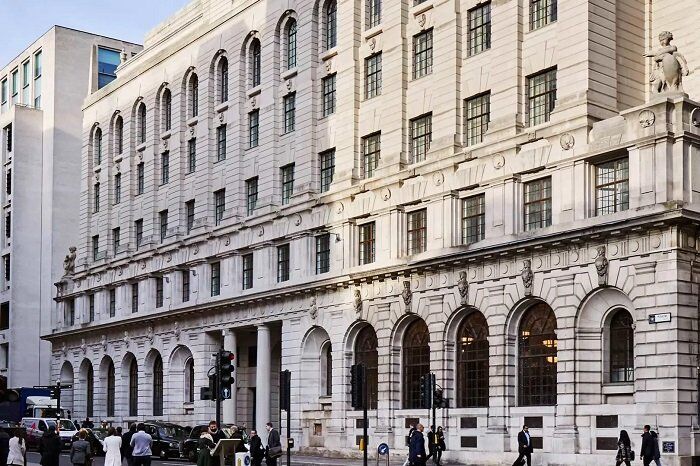 Bonus option: Because you like architecture and in-house options – I'm calling this a bonus option because it isn't necessarily anything super different from the other options. It's a traditional luxury 5-star hotel but so is the May Fair (and the Ned is newer); it's cool and hip but not in the center of hipsterdom like the Ace. It's high-end and funky but with a little less eccentricity than the Lalit. And at 2.5 miles it's not the closest. But the hotel's also an old bank turned into an imperial residence, complete with an exclusive VIP bar in a converted vault and architectural grandeur throughout. They've got a barbershop to get your hair all did for a night impressing the opposite sex (or the same sex) with your American accent. And they've got 6 impeccable restaurants in-house serving everything from Italian to French to British to American to California to Asian (and New York). My tip is to grab a booth at Millie's and enjoy a DJ set or some funk lounge jazz pop complete with standup bass as you crush an impeccable ribeye with a scotch egg (or, of course my favorite, their buttermilk-fried chicken burger). Yeah, Ned's kind of a centrally-located one-stop high-end shop. Like Harrod's, but not overpriced. (2.5 miles to Arch)
Related Articles: