Over the last few months I've been testing the Anker PowerHouse 757 Portable Power Station here in the mountains of Wyoming, and I have plenty to report. Long story short, the PowerHouse has worked great for me in a variety of applications with the exception that it won't allow itself to be recharged in very cold temperatures (10-20*F). I'm told this is an intentional limitation common to most LFP battery systems, and I was able to work around it by moving the unit to a heated location.
There are countless other reviews highlighting the Anker 757's technical specs, so I'll spare us another deep dive into electrical mumbo jumbo and tell you about my experience using the power station instead.
Backcountry Test
I've strapped my Anker 757 to a snowmobile and taken the deep into the mountainous backcountry for winter camping excursions, employed it throughout a van life road trip across half of the country, used it to temporarily power water pumps at a ranch while troubleshooting an electrical issue, and found it exceptionally helpful to keep the lights on, music blaring, and tool batteries charged while rewiring my workshop.
The Anker 757 has proven itself powerful and reliable on these occasions, and I am impressed by its clean styling, smart display, 1500W pure sine inverter, ~102Ah capacity, plug and play compatibility with solar panels, fast recharge, and overall user-friendliness.
Out of the box it was super easy to get going, it recharges very quickly with the included AC power cord, and I have been able to hook 3rd party solar panels up to it with minimal hassle and great success.
The sturdy closed cell foam it came packaged in has proven useful for protecting it while snowmobiling on bumpy trails and trailering it behind a 4 wheeler across a bumpy pasture. If I planned to permanently install the Anker 757 into a camper van build I would probably incorporate that foam into my installation, but one of the nicest things about the 757 is its simplicity and portability.
Weight
The Anker 757 weighs in at a little under 44 lbs., so I wouldn't want to carry it too far but is easy to manhandle short distances and maneuver into place with its ergonomic handles up top. I think it is perfect for throwing in the back of a pickup truck for a camping trip, festival, or tailgating. With a 1229Wh capacity (~102Ah) it packs plenty of power for most of the common applications I encounter outdoors and it sure would be handy to have at home during a blackout. I wouldn't try to heat or cool my house with it, but it is pretty ideal to keep some lights and tech on and a fridge/freezer functional, especially when paired with solar panels or a traditional generator.
The only limitation I encountered was while trying to recharge my Anker 757 with a gasoline generator outdoors when temperatures were well below freezing. In that instance the Anker 757 display showed a blue snowflake icon which meant the batteries internal temperature was too cold. I brought it into a heated area and about an hour later the snowflake icon disappeared and it began recharging normally.
In my experience, the Anker 757 PowerHouse is a super simple, user-friendly, streamlined unit perfect for folks who want a reliable power source on the go or at home in the event of a blackout. It has 6 fast charging USB ports, 6 AC outlets, a car cigarette lighter style outlet, and a very pleasing, warm LED light with three brightness settings built into it.
How Many Charges?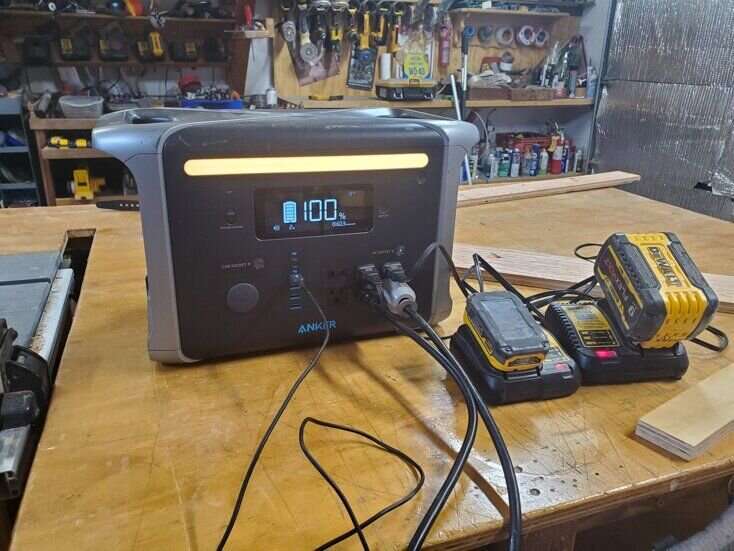 According to Anker, on one charge the 757 can recharge a smartphone about 100 times, a laptop about 20 times, and run a hot plate for about an hour. I haven't attempted to recharge my phone 100 consecutive times with my power station but I did run a 1500W space heater off of the 757 and it predicted (and delivered) a run time of 0.8 hours. When providing power the unit displays the realtime outgoing voltage and estimated remaining run time.
Overall Impression
The Anker 757 PowerHouse Portable Power Station ($1,399.99) comes with a 5 year warranty and is said to have a 10 year service life as the LFP batteries are rated for 3,000 discharge/recharge cycles. I'm looking forward to years of use with this Anker Portable Power Station for outdoor adventures and if/when my primary power source goes out.
Related Articles: