I spent Labor Day weekend tent camping in the high Uintas of Utah with my husband and our dogs. This time of year the weather is chilly at night, but can feel very hot during the sunny day. This was the perfect chance to wear my All-Paca Poncho by Appalachian Gear Company, made from 100% baby alpaca fleece. It is a perfect combo of practicality and functionality.
We arrived to camp as the sun was setting and the temperatures were already beginning to drop, it was time to put on my poncho. It was so quick and easy to throw over my head. My first thoughts were wow this material is so soft and "springy." I was waiting for the wool to begin itching, but instead I just started to warm up. I knew this poncho would be great layer, it felt like a blanket as night was upon us.
Sizing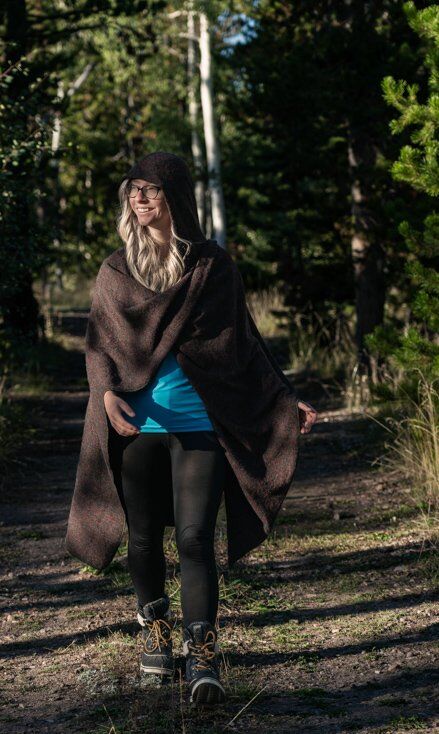 The size of the poncho was perfect for me. It is one size fits all, but I loved that it hit just below my knees. When sitting it draped my body like a blanket keeping me extra cozy. My favorite part is that is has a hood. This helped keep the heat from escaping from my head and kept my ears warm. As night fell and it was time to sleep, I waded the poncho up around me feet in my sleeping bag for an added layer. I'm a little weird and have abnormally cold feet so this added layer of wool kept them nice and warm.
Warmth
The morning air was chilly, but I threw on my poncho right away and kept warm as we moved around camp. Considering how light weight it is, roughly 20oz, it sure does keep you warm. As the sun rose and the temperatures started to get rather hot I draped a corner of the All-Paca poncho over my shoulder for some added breathability. You can style the poncho many different ways depending on your preference. I love that the poncho is highly breathable and temperature regulating. I was also able to use it to protect me from the sun as the day went on.
Why Ponchos?
Ponchos have been around for centuries, but what makes the All-Paca Poncho unique is how it's made. Made with zero synthetic fibers, a new innovative weft knit, and fair trade Peruvian alpaca yarn Appalachian Gear Company takes pride in making the poncho sustainable, and this is really important to me.
I didn't snag my poncho on anything this trip, but I like knowing that the knit of the fabric is weft so that if you were to get a hole in it you won't get a long running string, you can keep your holy garment for years to come.
I was a bit worried about my poncho smelling like a campfire and how I would get the smell out as night drew cold, but Alpaca fur freshens up on its own so you don't have to wash it, but if you choose to you can wash it in cold water. You can also throw it in the dryer on tumble if you need to refluff it.
Overall Impression
Overall, I love the All-Paca Poncho by Appalachian Gear Company ($175.00). It can be worn and used many ways and is a great layer for all adventures. The alpaca wool will keep you nice and warm. Appalachian Gear Company has made an amazing sustainable product that should get all outdoor enthusiast excited. We need more gear like this.
Related Articles: