The BCA Link Radio is a two-way radio system that is a huge step-up from other such radio systems on the market.
I have tested the BCA Link Group Radio numerous times over the past year while touring the backcountry surrounding Mt. Baker and the expansive Tetons range in Wyoming.
NOAA Weather Radio
The BCA Link Radio was specifically designed to be used in the backcountry by skiers and snowboarders to help you keep your entire crew in communication. A few of the best features include NOAA weather radio, a simple user interface featuring buttons that are easy to use even with thick snowboard gloves on, and a Smart Mic remote speaker microphone.
The Smart Mic feature is particularly interesting. It combines a remote speaker microphone and a control pad (with on/off, push-to-talk, volume, channel selection, and battery indication all at your fingertips). Essentially you can turn the BCA Link Radio on and off, switch between 5 preset channels and listen to the NOAA weather radio all through the Smart Mic.
I found that the Backcountry Access Link Group Radio was easy to use. It took only a few minutes to set up and figure out after taking it out of the box. And this simplicity is a big plus when you're out shredding. You don't want to fuss with your technology. You want it to work smoothly and seamlessly without a hitch. We did have some troubles at first making sure we were all on the same channel, however, once the channel was locked into place via the Smart Mic that problem disappeared.
Smart Mic
My favorite feature of the Link Group Radio is its Smart Mic. This makes it super easy to change settings or call a buddy without digging the radio out of your pack. The lithium battery gives this bad boy 140 hours of running time. Backcountry Access claims that the BCA Link Radio Range is a 2.5-mile line of sight range.
The farthest that we used it was likely never more than a mile. The radio signal strength stayed strong even while we dipped into valleys and left our trusted photographer sitting atop a peak.
The BCA Link Group Radio has 22 FRS and GMRS channels plus 121 sub-channels. This variety and range allow you to find one with minimal interference. The system includes options for pre-set channel selections and is compatible with all standard FRS/GMRS radios. It can be used with almost any backpack on the market.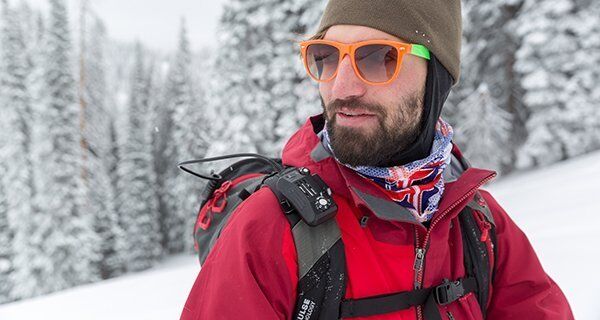 Ensure that your crew navigates the backcountry safely with this one-of-a-kind ski/snow-specific backcountry radio communications system with this innovative BCA walkie-talkie. Thanks to its ease of use and overall effectiveness, it is set to become a new standard piece of safety equipment for those venturing into the backcountry. The BCA Link Group Radio ($319.00) is seriously one of the best currently available and will be a valuable asset for you and your group of riding buddies to pick up.
Related Articles: