With 43″ inches of headroom, the Big Agnes Copper Spur HV UL3 is perfect for lounging around. Sleeping outdoors should be fun and comfortable, it's especially so when you find yourself stretched out inside the popular Big Agnes Copper Spur UL3 Tent. What makes this tent stand out from the others we tested this year?
Headroom, and plenty of it.
DAC Tent Poles
Thanks to steeper walls via a new pole design you can easily sit up straight, stretch and move about inside giving you the feeling of being in a much larger tent space. If you liked the past Big Agnes Copper Spur tents, you're going to love this one with an additional 20% of added interior space.
Need a place to store small items inside the tent? You will as this thing is huge, they added 5 interior mesh pockets along with 2 media pockets to the Big Agnes Copper Spur HV UL3 Tent.
Pitching the tent was super quick. The DAC poles (which are more environmentally friendly) are color coordinated which is great when you're trying to pitch your tent in a rush.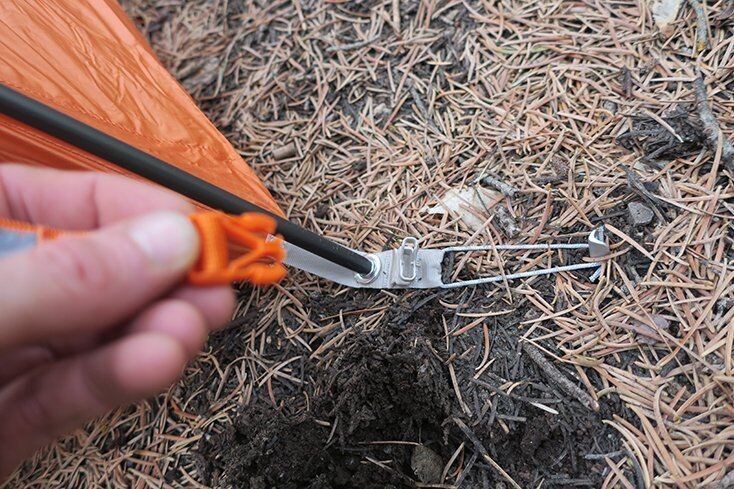 All in all, it took about 2 minutes to get the tent from out of the bag to pitched. Even the rainfly was easy to toss on which comes with some beefy clip buckles that snap everything into place without trying to stretch out material or cordage.
Taking down the Big Agnes Copper Spur HV UL3 Tent was just as easy as setting it up. Best of all when fully packed the entire kit was able to easily slide inside the tent bag. You no longer have to worry about stuffing poles into the bag with your tent after the fact.
Weight and Durability
With a packed weight of 3lb 14oz / 1.76kg and a trail weight of 3lb 7oz / 1.56kg the Big Agnes Copper Spur HV UL3 Tent can be taken car camping and even backpacking. Heck, this 3 person tent is lighter than some of the 2 person tents we took on overnight trips so far this year.
The only hiccup I found with was when I tried to get out of the tent. The door entry is double zippered, one goes up and one goes across. So you actually have to open both zippers separately, it's not the biggest deal unless you happen to like in my case have an eager dog looking to get out of the tent.
In terms of durability, the Copper Spur HV UL3 uses rip-stop nylon that's apparently 25% stronger. The tent looks stout and you can see the toughness in the durability on the shell and rainfly. However, the polyester mesh is what I ended up having an issue with. One morning my dog was eager to get out of the tent and started pawing at the door as I fiddled with the zippers. The next thing I knew there was a small hole in the nylon.
If you are going to use the Big Agnes Copper Spur 3 with a dog, be very mindful of this material.
Overall Impression
With an easy to carry weight and tons of room to spread out the Big Agnes Copper Spur HV UL3 is a solid bet for someone that spends a lot of time outdoors camping throughout the year. I have tested this tent in temperatures down to 30°F (0°C) with light rain and managed to stay warm and dry.
Once you experience the roominess the Big Agnes Copper Spur HV UL3 Tent ($499.95) has to offer you may just find yourself sleeping in, not wanting to get out of your sleeping bag in the morning. And with a couple of large vestibules, why would you?
The Copper Spur HV UL3 from Big Agnes ($599.99) is a very well thought out tent that will work for just about every 3-season trip you can imagine.
Related Articles: