What do a 70 year old groomer skier and a teen park rat have in common? They both will really enjoy the Black Crows Mirus Cor Skis. With a unique combination of playfulness and carving power, this ski makes the mountain your playground. Put these skis on your feet and let your creative flow take over.
Short Turning Radius
Looking over the specs of the Mirus Cor Ski from Black Crows, the first thing you will notice is a super short turning radius of 13 meters. This ski will pump out short, powerful and responsive turns on demand.
With rocker in the tip and tail and camber underfoot, edge grip is always there, while the ability to wash out the tail and scrub speed in the steep and technical terrain is always easy.
87mm Underfoot
Large tip and tail surface area creates enough surface area to keep these skis floating well thru soft snow. 87mm underfoot keeps the ski nimble The fish tail cut in the twin-tip tail not only looks awesome, but will allow the tail to sink down in deep powder while keeping your tips floating high.
Overall Impression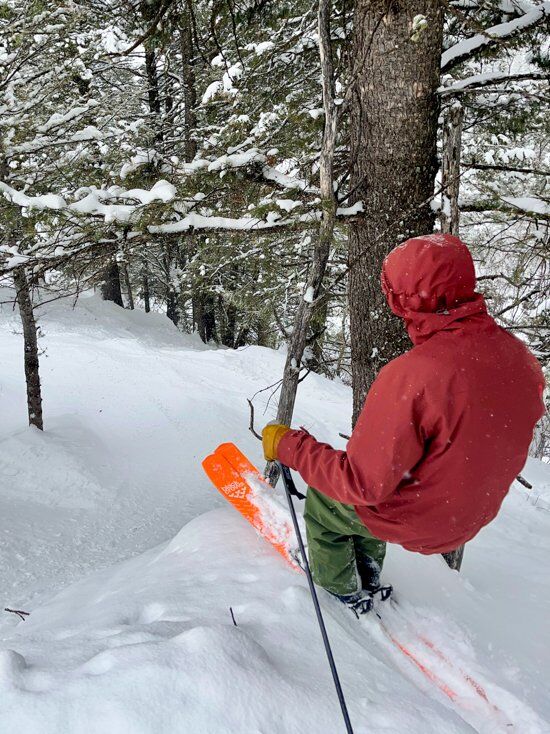 The Black Crow Mirus Cor ($899.95) was easy to ski from turn one. This is an inspiring ski that will please any ability skier—which is a tall task. Ripping skiers will enjoy the playfulness of the ski jibbing around, popping off features and laying huge horizontal carves at will.
The beginner skier will enjoy the ease of turn, the stability and the overall confidence this ski provides.
Tester specs:
Height- 6'
Weight- 160
Size tested- 178
Related Articles: