Sometimes great products come from surprising places— and the Blaupunkt Henri Electric Folding Bike is a standout example. This compact ebike is made by an electronics and stereo company, featuring tech-savvy touches to make your ride around the city even better. As I found out during testing, there's a whole lot more to this model than meets the eye, so let's dive right into the details of the new Blaupunkt Henri foldable ebike.
About Blaupunkt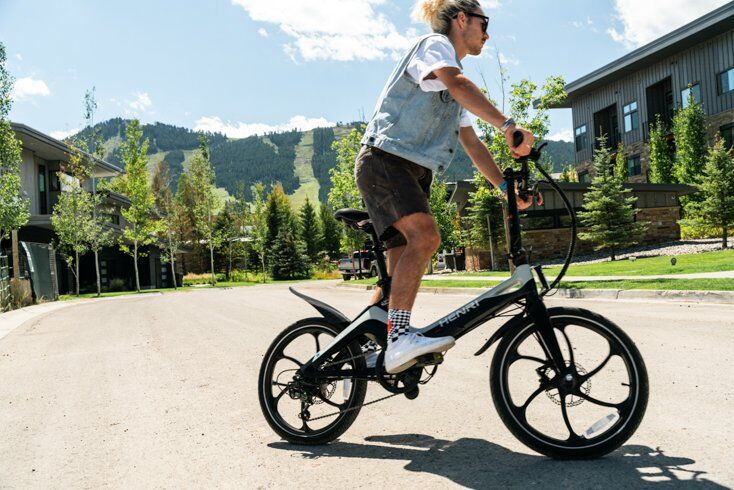 Unless you were a car stereo geek back in the 90's, you probably haven't heard of Blaupunkt before. The brand was a German manufacturer founded almost a century ago that specialized in car audio and electronics and was owned by Bosch (yes, that Bosch) until 2009. The name means "blue dot" in German, referring to the recognizable mark placed on electronics that had passed quality control.
However, Blaupunkt went bankrupt in 2016 and its name was sold off to a development company with production outsourced to China, embracing a kind of budget line of products. In North America, they continue to sell various models of car radios and have introduced their range of foldable ebikes. The three models are simply different color options of blue, orange, or gray. After some digging, I learned that odd-sounding model names are common European names or nicknames: "Fiete" is short for Friedrich and "Fiene" is a version of Josefine. The "Henri" (French version of Henry) is the gray and black model.
Blaupunkt Folding E-Bike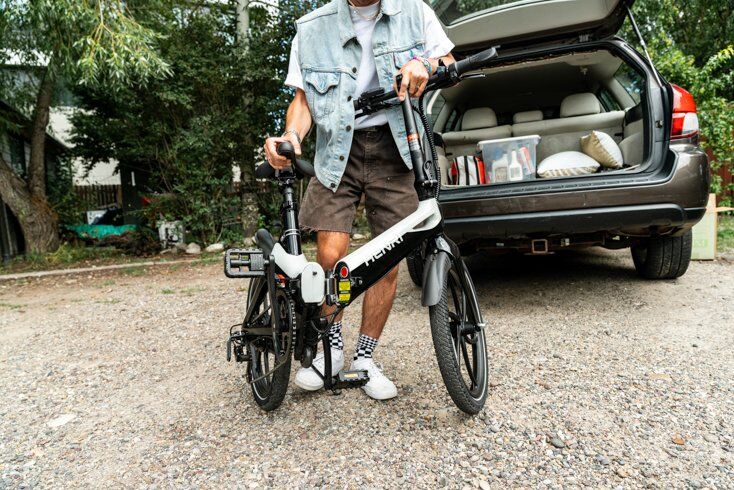 The Blaupunkt Henri is a foldable ebike that embraces a kind of "sleek done right" design philosophy. In other words, it's an ebike that actually follows through on its promise of being a compact and zippy set of wheels. Many other brands add unnecessary suspension or huge wheels that essentially ruin the portability of a foldable bike.
The Henri's rigid frame and small 20" wheels are appropriate for city riding and smartly avoid the temptation to over-engineer. I also enjoyed the lightning bolt-shaped alloy frame which neatly houses the battery, complete with a middle hinge for when it's time to collapse the bike.
350W Rear Hub Motor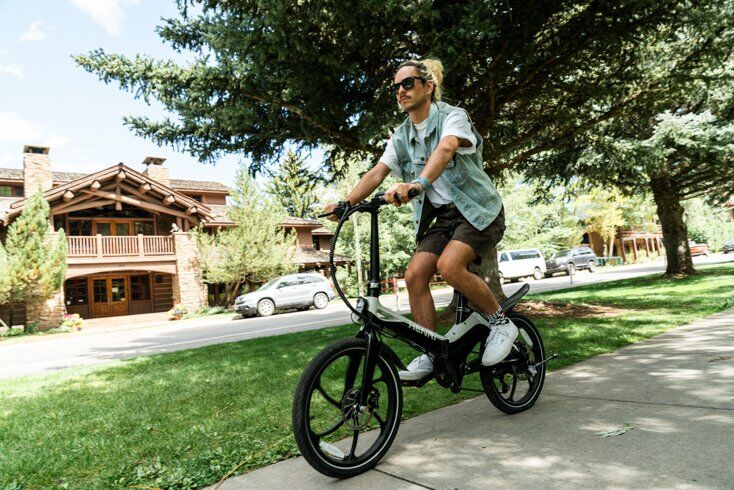 Where the Henri really impressed me was with its 350W rear hub motor. The motor felt much better tuned than other ebikes I've tested with similar stats, delivering a nicely proportioned boost instead of lurching acceleration— but it's still fast when you want it!
There are three pedal assist modes and a half-twist throttle. Level 1 is a modest 10 mph which is exactly the right setting for causing around town and Level 3 consistently made it up to the bike's top speed of around 19 or 20 mph. For relaxed city riding or speed-regulated trails, that's the perfect amount of pace.
10.5Ah Battery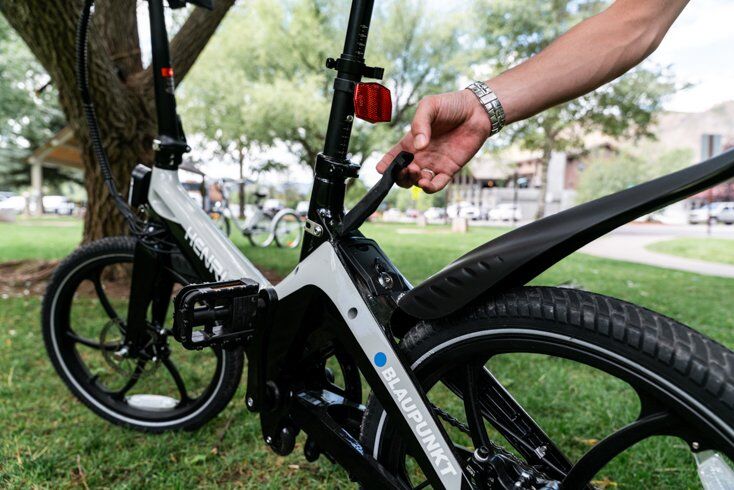 The 10.5Ah battery is integrated inside the frame and is made from LG lithium-ion cells with BMS (Battery Management System). That high-quality spec is likely a nod to Blaupunkt's tradition of being a premium electronics brand. There's a sleek rubberized battery cover under the seat post to keep rain or dirt off the battery.
Lift the cover and you can remove the battery that comes with a built-in handle. For such a small and powerful ebike, I expected a low range but it showed fairly impressive battery life throughout testing.
How Easy Is it to Transport?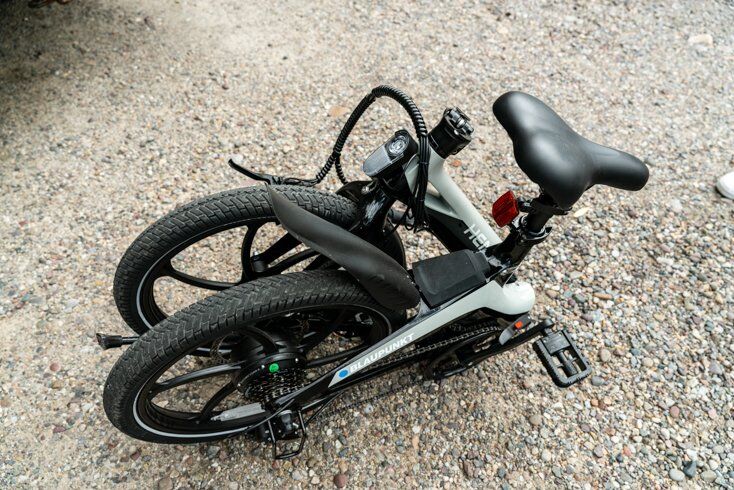 In terms of foldability, the Henri comes collapses at the middle of the frame and steerer column. The bike weighs 47 lbs. (decently light for an ebike) so it not too difficult to move the bike around while folding. There's even a kind of cut-out at the front of the frame to help with the folding process— not sure how functional it really is, but it was a unique touch.
I did notice that the steer tube angle was almost completely vertical which made handling while riding a bit fidgety at first, but I got used to it.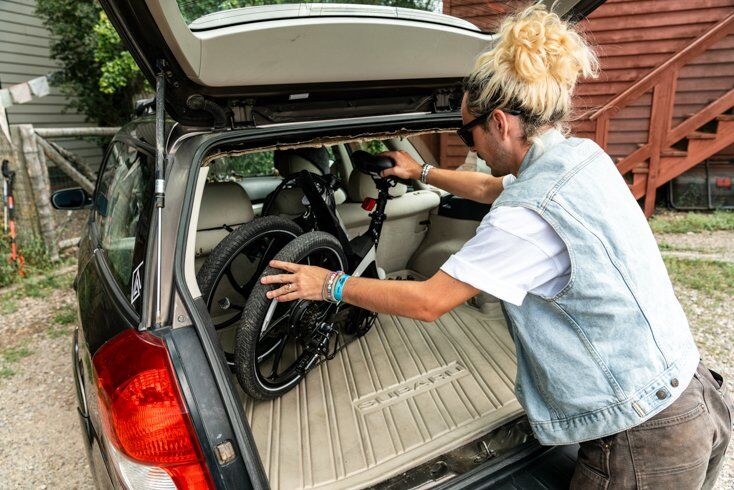 I also liked the foldable pedals and interesting double seat post clamps that allows the saddle to go all the way down to save on space. I almost missed the most surprising feature during testing— there's an integrated scooter or rollerblade wheel underneath the frame that acts as a stand or resting point when the Henri is folded.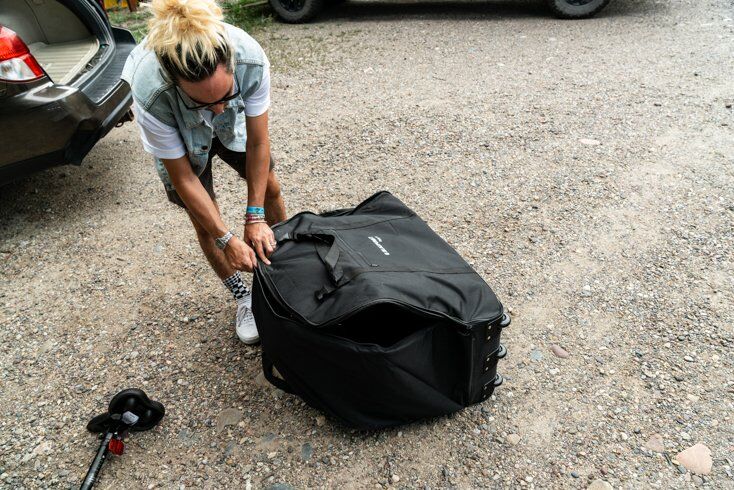 That wheel is also a helpful bearing to roll the bike when positioning it, say, far back into a car trunk. Instead of a traditional bottom stand we normally see on foldable bikes, this small piece of innovation really stood out— hats off to Blaupunkt here.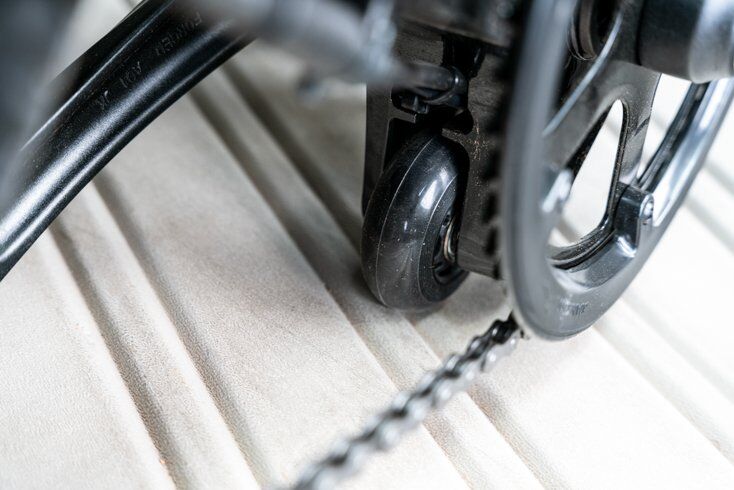 Hydraulic Disc Brakes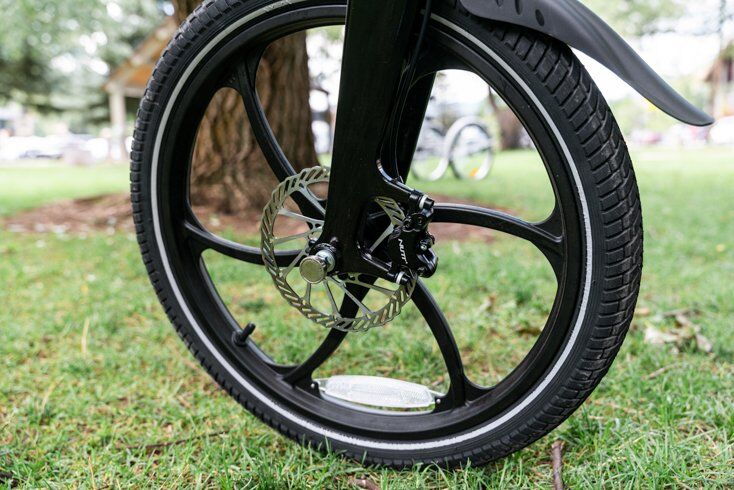 The specific model we tested was outfitted with Nutt hydraulic disc brakes that performed excellently. Again, I like that Blaupunkt stuck with the rigid frame design without any beefy suspension that would hinder the Henri's nimble ride feel. I would have preferred the look of spoked wheels, but the 20" solid wheels rolled just fine. The 2.125" wide tires offer a good amount of cushion and increase the wheel diameter a bit to feel that much faster. There are 6 gears controlled by a decent trigger shifter on the handlebars.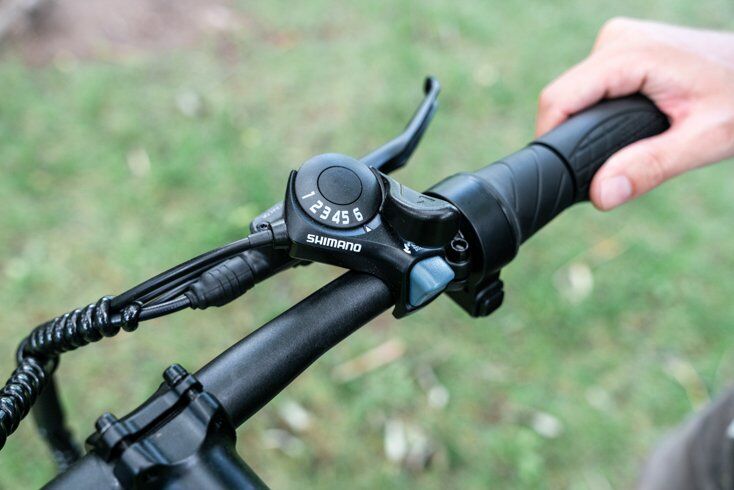 In terms of the finishing kit and accessories, there's a bright front LED headlight but no included rear light. For city riding, especially at night, having a dual set of lights is a must, so riders will need to purchase a rear light and keep it charged separately. The speed and mode display is positioned on the left side of the handlebars. The black-and-white screen is nothing to write home about but does it's job and the buttons have a premium feel to them. Last but not least, the ergonomic grips had both a comfortable shape and high-quality surface.
Overall Impression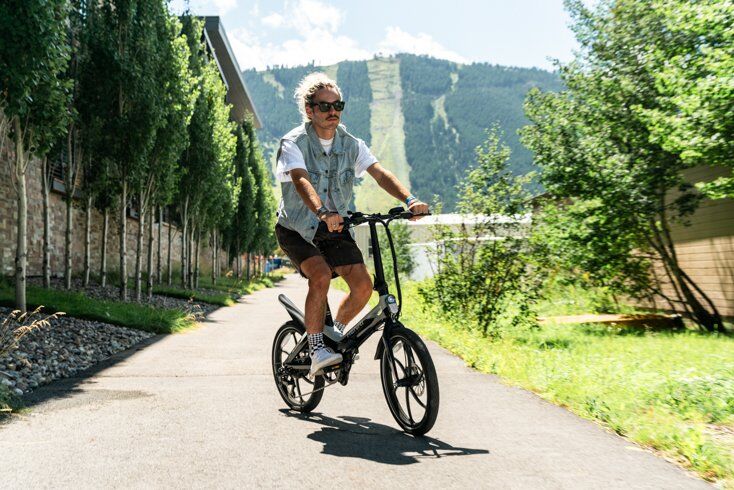 During testing, the Blaupunkt Henri claimed its rightful spot as a top performer. Compared to many of the budget-friendly foldable ebikes on the market, the Henri knows exactly what its meant for and does it well. It even felt faster and more capable than several full-sized ebikes we were placing it up against. For ($1,599, Blaupunkt's Henri) is a worthwhile investment for daily commuters and riders looking for a space-efficient ebike that's sleeker than most. It's time to on this innovative foldable ebike and start getting to know all of its hidden features!
Related Articles: