Excellent, Ultrafast and Young is what the name Euy Bike stands for and it's a fairly spot on marketing pitch. Why is that you ask? The Euy Bike Folding Electric K6 Bicycle is zippy, fast, fun to ride and will be a hit with the young city commuter crowd. Heck even "older" adults that want to have some fun will surely appreciate this foldable e-bike and for many reasons.
Size
The Euy Folding E-Bike works for a variety of heights thanks to the bikes adjustable handlebars and seat post. Euy recommends riders be between 5'1 -6'5 to ride this bike comfortably and the bikes total weight capacity can handle a whopping 300 lb.
Since this bike is foldable, you can actually put the Euybike in the back of your trunk or even in a closet inside your home if space is an issue which is one of the strong selling points of this bike. Some people are hesitant to ride folding bikes, maybe they don't think they perform as well as a bike with a standard frame or are that foldable bikes are not as safe?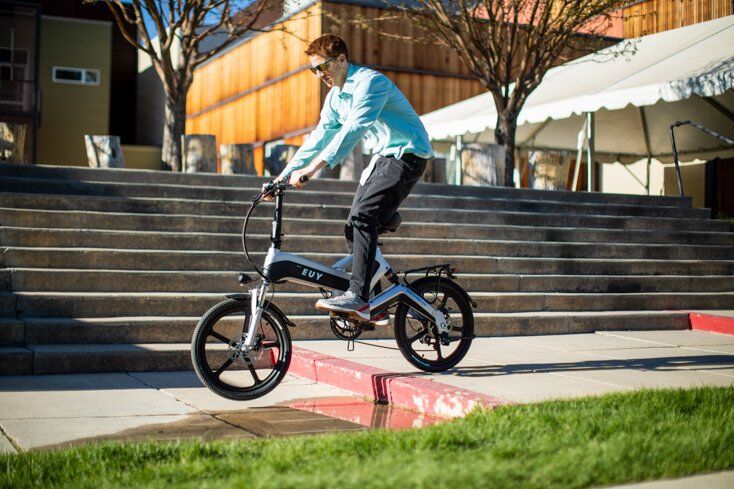 I would argue both would be wrong as some of our favorite e-bikes being tested as of late, also had the ability to fold up similar to the Rad Expand.
Weight
Some e-bikes are hard to lift and move around, with the Euy folding bike that's not the case. The K6 Euy Folding Bike model we tested has a weight of 56.4 lb with the battery installed. The lightweight compact design makes this bike even easier to lift into your trunk or even take up a flight of stairs at work or home.
Compare Prices
Last updated: 2023-12-02 04:17:39
Who's The Bike For?
Euy's Foldable E-Bike is built for city commuters that like to be a little bit sporty from time to time. The tires are thin 20″ x 1.95″ tires making them fast and easy to maneuver from side to side making this a great choice for bike paths, or for a city bike riding in and out of city traffic.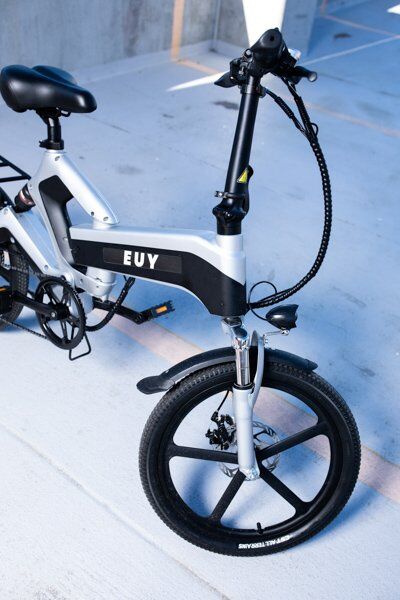 One thing that's cool about this city commuter electric bicycle is it has dual shock absorbers like you would find on a mountain bike in the front and rear which helps when going over bumps or even jumping off curbs if you like that sort of fun. Or you can just simply sit on this seat which is really padded and commute to work, the gym, yoga or whatever errands you may have.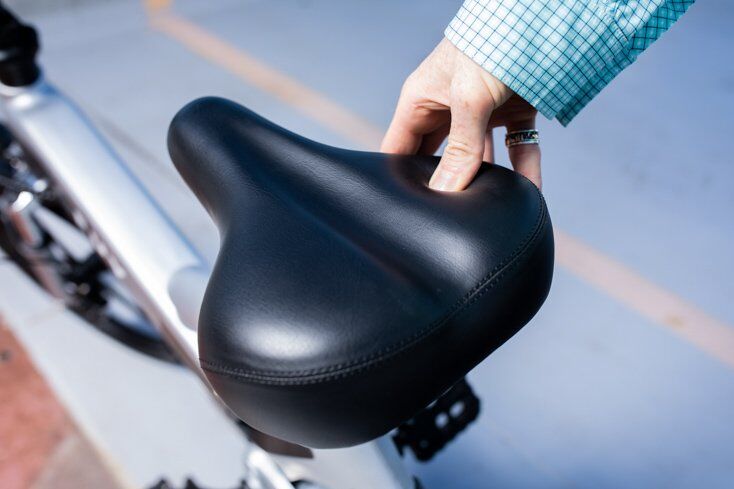 I live in a town with lots of traffic in the summer which makes a bike like the Euy Folding E-bike perfect for getting through traffic quicker and cutting down on gas money.
500W Hub Motor
This class 2 ebike has a top speed of 22 mph while using the throttle which is powered by a 500W rear hub motor power. This motor size is smaller than the majority of bikes we have tested in the 750W range but seems to do just fine with the bikes geometry, size and weight.
If only using the pedal assist mode the Euy Folding E-Bike can get up to 60 miles on a full battery and around 40 miles max if using the throttle vs pedal assist the entire time.
Keep in mind your mileage will also vary depending on your weight, wind, terrain and which of the 7 speeds or 5 pedal assist modes you find yourself using.
Battery
Euy's Foldable E-Bike uses a 48V12.8Ah LG Lithium battery that seems to have a longer battery life than other batteries we tested, perhaps due to the bikes lightweight design and easy peddling that doesn't take much effort. Peddling this bike even when not on is much easier than say a fat tire e-bike.
Plus the battery is built into the frame giving the bike a nice aerodynamic look and feel which might confuse some people as it doesn't really look like an e-bike.
Components
For the price of the bike it's nice to see this Euy Foldable Electric Bike including the standard Shimano 7-Speed Shifter and Shimano Derailleur. On the brakes, Euybike is using Wuxing Disc Brakes which is the first time we have seen this brand being used.
One thing we noticed was the Wuxing Disc Brakes stopping power was really quick as the Wuxing e-brake levers feature an electric cutoff switch that stops the motor from spinning while braking. This is a great safety feature we wish more electric bicycle included as it's no fun when the motor keeps turning when you're attempting to brake.
Overall Impression
To find an folding electric bicycle with this size, speed and fun all wrapped up in one package you should expect to pay more than the ($1,099) Euy Folding Electric Bikes Price Tag. Were excited by this bike and the RV crowd will be especially too. These are the sort of e-bikes that you should have with you all summer long for city rides and should always be considered to bring on your next road trip across the country, as they pack down so small and you surely won't regret having an ebike to ride where ever you may be.
Related Articles: