I've been searching for a refreshing take on moped-style e-bikes and the recently released Euy Bike S4 Full Suspension E-Bike could be the answer. It's become increasingly difficult to stand out amid the e-bike space but the S4's unique frame shape and full-suspension setup convinced me to take a closer look.
To see if the S4 really pulls its weight, we tested out this new model and recorded our initial impressions below.
About Euy Bike
The Euy brand is an underdog in the cycling industry that's carving out its niche of (mainly) foldable e-bikes. The company got its start in 2014 and currently offers six different foldable e-bike models while the Euy S4 is the only non-foldable bike within the lineup.
The EUY name stands for "Excellent, Ultrafast, and Young" that's marketed toward city riders and the youthful commuter crowd. Last spring, we reviewed the Euy Bike K6 electric folding bike with its futuristic urban look. Although there's still some debate on how exactly to pronounce the brand ("yew-ee"? "ee-yew"? or simply "yew"?), we can expect its name recognition to increase soon.
Non-Foldable Design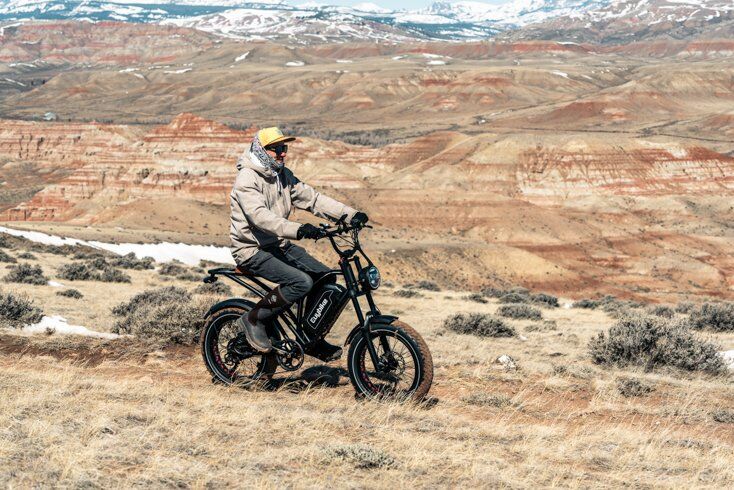 The new S4 model just rolled onto the scene this winter and embraces the moped-meets-ebike design. This electric bike is the brand's only non-foldable bike and the most expensive product in Euybike's fleet— its competitive $1,599 price tag, however, slots in among other mid-range fat tire e-bikes on the market. The S4 combines the comfort and city capabilities of a traditional moped with the compact size of an e-bike.
The feature that caught my eye first was the distinct frame shape of the S4. The heart-shaped chassis reminds me of aggressive dirt bikes and is an attractive alternative to the rectangular or step-thru frames of most moped-style e-bikes. The acute angles add flair and make the e-bike appear less bulky than similar models. To me, the unique frame gives off skeletonized motorcycle vibes that style-conscious riders will enjoy.
1000W Rear Hub Motor
The S4 dashes through the city streets thanks to its powerful 1,000-watt rear hub motor. The drive unit produces an impressive 96Nm of torque that outdoes many rival e-bikes and makes easy work of steep hills. The S4 has 5 pedal assist levels as well as a twist throttle for pedal-free cruising. Its top speed is rated at 28 MPH, while we reached around 17 MPH during testing on dirt road with mud so we didn't get to fully experience the top speed. The motor was occasionally slow during starts and accelerations but performs well when it gets up to speed.
48V 25Ah Battery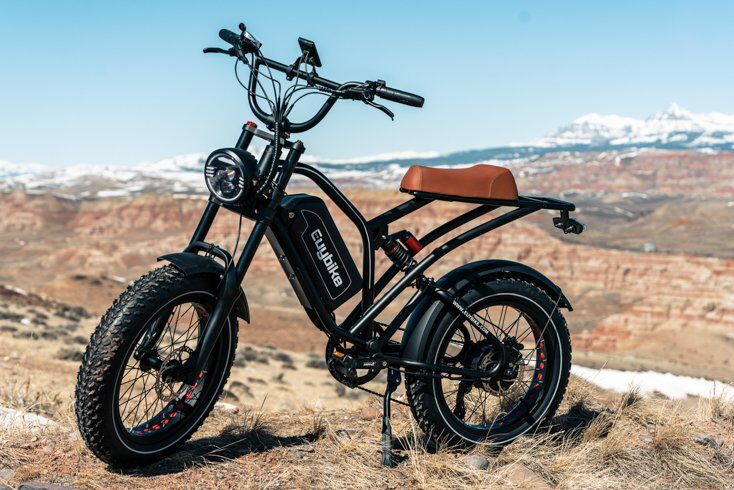 The motor draws its power from an externally-mounted 48V 25Ah battery pack. A capacity of 20Ah sits toward the high end of battery range for fat tire e-bikes and I'm glad to see Euy equipped the S4 with enough juice, especially since it's marketed as a long-range e-bike. It's hard to give an accurate maximum range estimate as it depends on a variety of factors but I'd say that 75 miles is the upper limit.
It takes around 7-8 hours for a full charge and the entire drive system hooks up to an LCD display positioned in the middle of the handlebars. The black-and-white display is fairly standard but works fine and clearly displays all your ride stats and battery level.
Carbon Steel Frame
Euy makes a big deal out of the S4's frame being made from "strong high carbon steel" which is probably more of a marketing strategy than a real advantage. Steel is a common, cost-effective material for e-bikes on which the extra heft doesn't matter as much. But carbon steel is actually the inferior material to premium Chromoly steel that's more durable and flexible.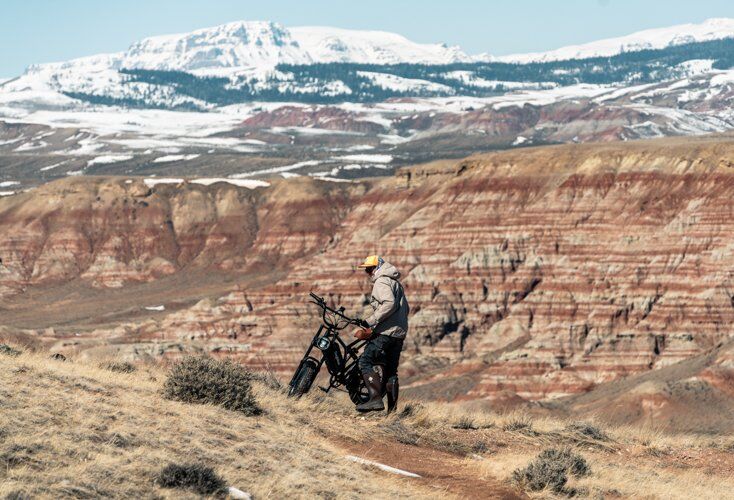 I've never seen such a focus on "high carbon steel" with bicycles, so I suspect Euy is cashing in on the "carbon" buzzword. Given the heavier frame material, the entire bike with battery weighs 70.5 lbs. and has a generous maximum payload capacity of 330 lbs.
Full Suspension E-Bike
One of the most important elements of the Euy S4 is its full-suspension setup. The e-bike has burlier suspension specs than many of its competitors, including a double-crown front fork and rear coil shock. The large front fork takes inspiration from motorcycles or downhill mountain bikes and floats over city potholes.
During testing, we enjoyed the way the rear suspension is responsive and sinks a bit when sitting on the bike. The plush shock stands out with its cool, red color and effectively absorbs road buzz and bigger bumps.
Handling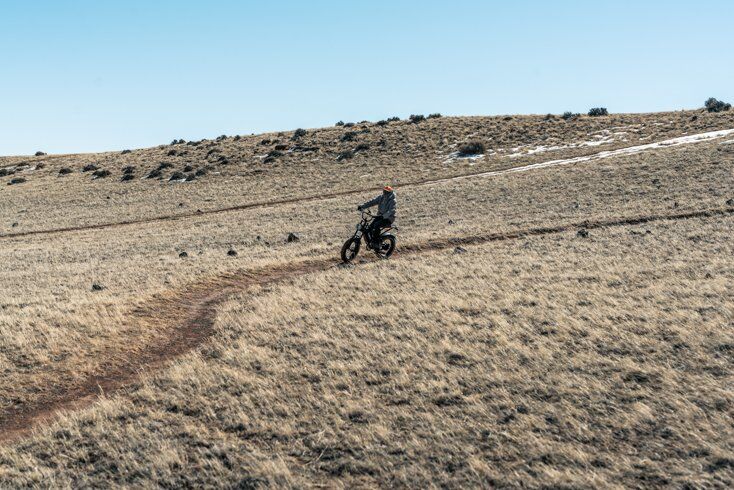 For a bike with so much integrated tech and extra weight, it delivers great handling and feels like a regular bike. Comfort is a main feature of the Euy S4 E-bike with a relaxed, upright riding position, cushy suspension, and wide tires. The large saddle is made of a kind of memory foam and has a cool look but remember that it can't be adjusted— the moped-style seat is fixed in place to achieve the laid-back posture. The one-size frame is recommended for riders between 5'5" and 6'5". The S4 offers a smooth ride on bike paths and motorized fun on dirt trails. It's worth noting that is not a dirt bike or all-terrain machine but offers plenty of throttled thrills on a variety of surfaces.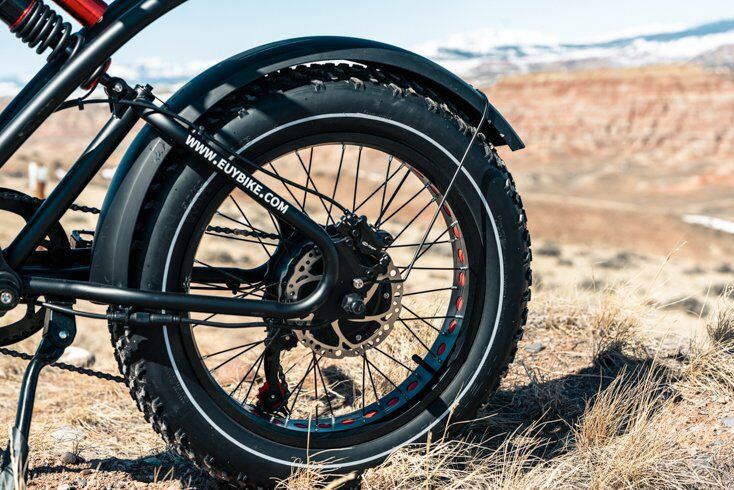 Pivoting to the mechanical side of things, the S4 relies on a Shimano Tourney 7-speed drivetrain. That's a common piece of kit for fat tire e-bikes but I wish Euy would have upgraded the outdated SiS thumb shifter for something more modern. Tektro 160mm hydraulic disc brakes are quality components that deliver reliable stopping power at high speeds or in wet weather. The 20" wheels and 4" wheels have a moderate tread pattern and roll over just about anything in the S4's path.
The bright, oversized headlamp lights the way for the S4 and pays homage to old-school mopeds and motorcycles. That retro touch improves visibility at night and the rear taillight functions as an automatic brake light. For added safety, there's a push-button horn that is sufficiently loud for city riding.
Overall Impression
Euy took on the challenge of creating a kind of frankensteined e-bike that mixes elements of mopeds and motorcycles and achieved an aesthetic and well-performing final product. While it shares many similarities with other moped-style electric bikes, the Euybike S4 ($1,599) paves its own way with an attractive frame design and burly suspension. For urban riders looking to swap their gas-powered vehicle for a city-proof e-bike, the S4 is a creative solution.
Related Articles: