Now let me be straight up the G-Force ZM E-Bike blurs the lines of e-bike and motorcycle, which may depending on how you ride this bicycle, cause some issues.
For our test I rode the 85 lb. ZM G-Force Electric Bike on dirt trails and on pavement through town to see just what this bike was all about. I even donned full face helmet for the first test ride as I wasn't sure how rowdy this bike would get.
110mm Front Suspension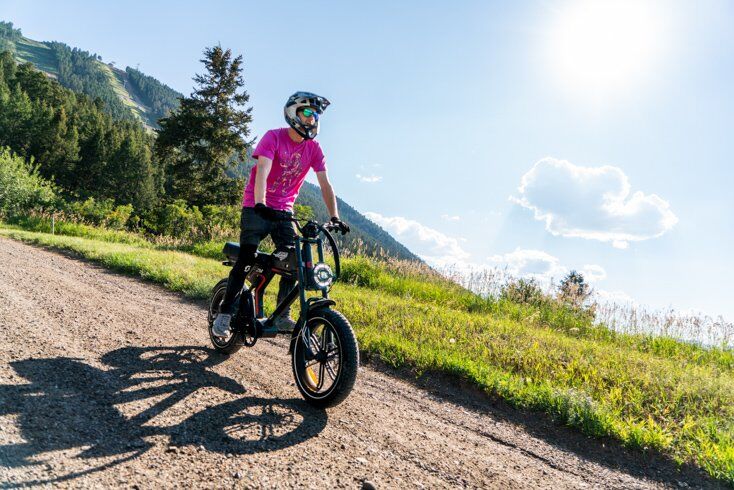 With 110mm adjustable front fork suspension and a rear suspension system coil spring the G-Force ZM Fat Tire Electric Bike does well on and off trail. Keep in mind this isn't a dirt bike, nor a mountain bike, nor really a bicycle, it fits someplace in the middle.
Traditional mountain bikes have around 130mm-160mm of travel so you won't be able to hit the same sort of drops on this bike. What you can do is zip around on a variety of trails from mellow single track to zipping down the street while passing cars in many instances. This bike wants to go fast and does that best on the street.
750W Hub Motor
The G-Force ZM E-Bike is built around a 750W rear hub motor that has a peak output of 1300W. Now you won't notice the 1300W on dirt, but when the tires of this bike hit the pavement lookout. Off the line this is the fastest e-bike I have ever tested.
Which brings us back to the whole getting in trouble riding an e-bike thing I started this article off with. The G-Force ZM is an e-bike first and foremost however it looks much more like a dirt bike and performs like a motorcycle with it's incredible pickup and go. When you hit the throttle on this bike be sure your really holding onto the handlebars as it wants to go fast, even in the lower power assist modes you can still hit top speeds. I got the bike up to 28mph which was plenty for me as our local speed limit in town is 25mph.
G-Force ZM Video
Class 3 E-Bike
Where can you ride this G-Force E-bike? If your not being an idiot riding the G-Force ZM on your local bike paths shouldn't be a problem. The bike seems to do best though riding with traffic as it's incredibly quick at starting and stopping. This is one of the e-bikes you ought to be wearing a helmet when riding as well your basically on a motorcycle classified as a class 3 e-bike.
48V Battery
Currently there are two batteries for G-Force ZM E-Bike available. The stock bike comes with the 48v 13.5ah or the upgraded battery the 48V 20Ah battery. The difference is only $100 to go with the upgraded battery which offers almost 30 more potential miles per charge.
The battery took about 3-4 hours to charge and worked best on a full charge. As it went down a bit I noticed the throttle lost some of its power as is the case with most e-bikes. I would recommend charging this bike fully after each use. Your buying this bike for it's power, so why not operate it at full capacity, full send, the entire time?
Features
One of the rad things about this bike is it's built in horn. It's a push button horn on the handlebar that you can actually hear while traveling in a car. Far from the little cheap ding bells a lot of e-bike brands are using as of late. So if your riding in the street with traffic why not have a horn. I would guess turn signals will be coming next.
The bike also has a super powerful headlight, it's massive like the sort you see on off road trucks as aftermarket adds ons combined with a tail light for riding at night.
For seat the G-Force ZM E-Bike uses a banana style seat that can hold a second rider thanks to the bikes total carrying capacity of 400lbs.
Tires
For tires the G-Force ZM runs 20″ x 4″ fat tires with lots of knobs and thread. They offered good traction on dirt but even better on pavement.
LCD Screen
Talk about a bright LCD Screen, the G-Force ZM displays offers everything you want to see (think speed) along with fun stuff like wattage, odometer and more. Anytime you activate one of the 5 pedal assist modes the number shows up on the display.
The LCD Screen also has a USB port that you can charge a phone with, however there won't really be anywhere to install a phone mount as the handlebars are narrow. So bring a long cord and leave your phone in your pocket.
Dual Hydraulic Disk Brakes
Borrowing from automobile industry tech the G-Force ZM E-Bike utilizes dual hydraulic disk brakes. This allows the front and rear brakes to communicate with each other. Combined with a motor cut off anytime the brakes are engaged for added safety. The stopping power on this bike is impressive and with the power coming from the motors peak output the use of upgraded dual hydraulic brakes was a smart move for Z-Force.
Overall Impression
Are you looking for a fun way to ride to work? To a friends house or maybe even a sporting event? The G-Force ZM is an impressive electric bicycle that allows someone that doesn't own a motorcycle (like myself) to feel like they do. Heck even people that have motorcycles might even appreciate this bike.
It's fast, the G-Force ZM E-Bike ($1,999) will turn some heads and if you put a fake gas tank lid on the top it would be darn near impossible to tell this was an e-bike.
Related Articles: