The Himiway Zebra is a Class 3 fat tire ebike designed with all-terrain enthusiasts and cruiser riders in mind. Ideal for city riding and off-path adventures, the Zebra ($1,999) combines MTB capabilities with the comfort of an urban cruiser.
This model is the updated version of the fan-favorite Himiway Cruiser (now $1,599) and features a significant aesthetic facelift via an integrated battery and stylish paint job.
Himiway vs Rad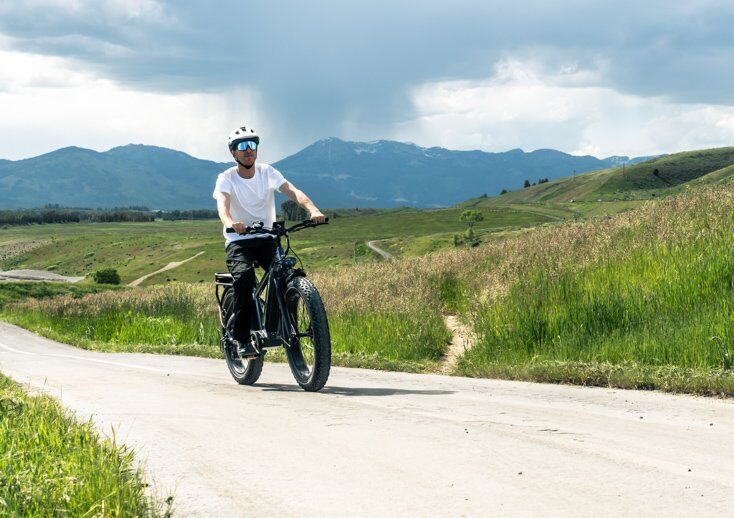 With the all-new Zebra, Himiway expands its lineup of tried-and-tested fat tire ebikes. Each bike from Himiway features 4" wide tires and a powerful rear hub motor for a rugged and comfortable build. This tough-as-nails approach makes sense when you consider the brand's namesake, American icon Ernest Hemingway.
Rival brands like Rad Power Bikes and Aventon produce similar bikes, but for riders who are on the hunt for the most robust options, Himiway stands out as the fat tire e-bike specialist.
Frame Sizes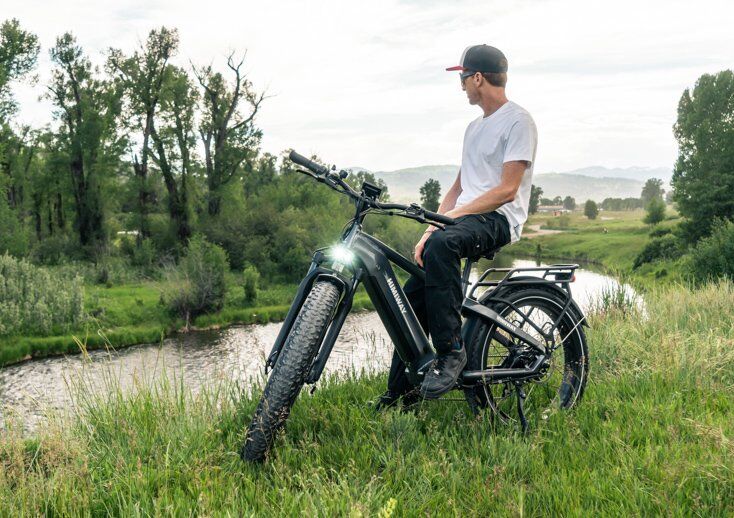 The Himiway Zebra E-bike is constructed around an upgraded 6061 aluminum frame that's available in step-over and step-through geometries. Step-through versions typically offer the best fit for smaller riders, but it's worth keeping in mind that the Zebra frame is larger than most.
Himiway rates that the standard model fits riders from 5'2" to 6'2" and the step-through bike is appropriate for heights from 5'1" to 6'2".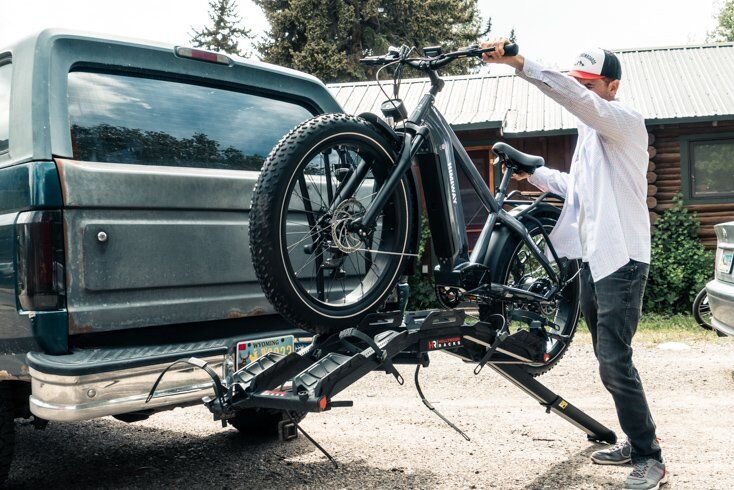 This large ebike weighs 79 lbs. which is relatively heavy even for a fat tire ebike. The Zebra doesn't have the most nimble of handling, but its bike-meets-monster-truck feel is part of the fun of this category of ebike.
Currently, the step-over version comes in an attractive silver color way and the step-through model is white with unique zebra detailing.
750W Rear Hub Motor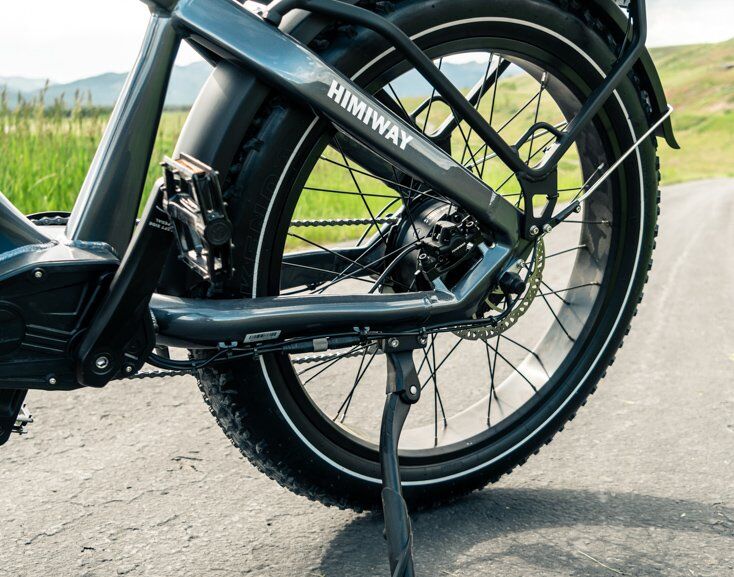 The redesigned 750W rear hub motor delivers serious horsepower and 86 Nm of torque that improves on the previous generation's performance. The proprietary Himiway motor features five levels of pedal assist that topped out at around 27 mph during our tests. There's a throttle mode with a max speed of 20 mph as well as a walk mode to facilitate rolling up ramps or transportation while off the bike.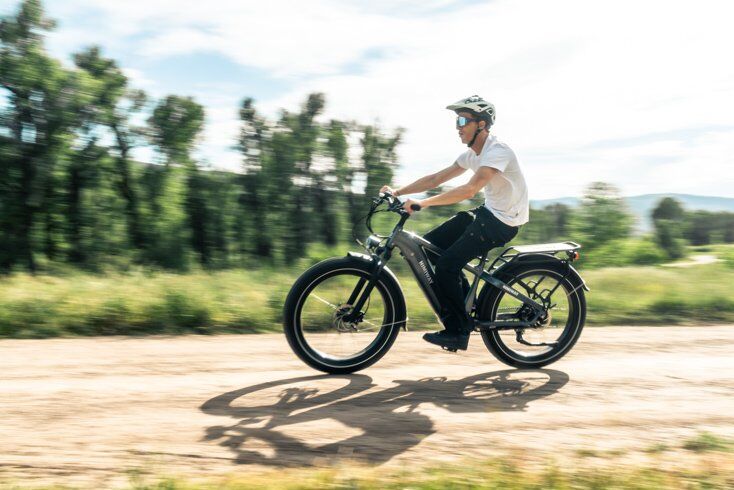 Himiway claims the updated motor has better heat dissipation for a longer overall life expectancy. Acceleration is relatively smooth, but the Zebra still runs a cadence sensor rather than a more accurate torque sensor to synchronize pedal strokes and the motor's power. For a $1,999 all-terrain ebike though, the motor packs a serious punch for the price.
20Ah Battery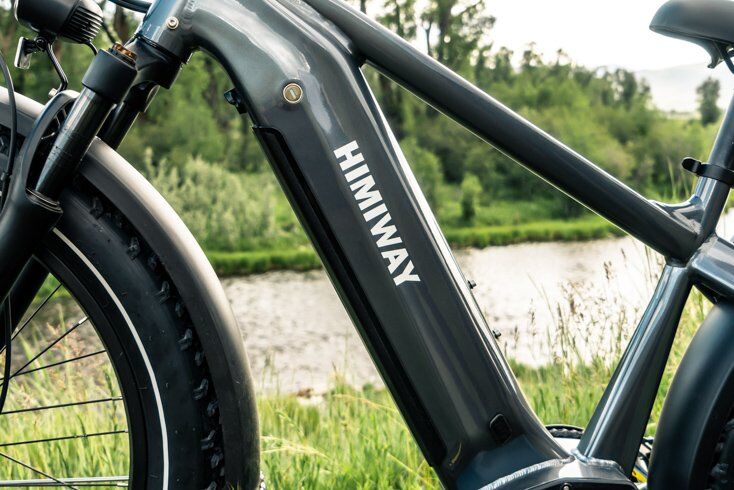 One of the biggest updates on this Himiway e-bike is the high-capacity battery that's now neatly integrated into the downtube instead of being mounted externally. The 20Ah battery is made up of Samsung/LG cells and has a range of 80 miles with pedal assist and around 60 miles in throttle mode.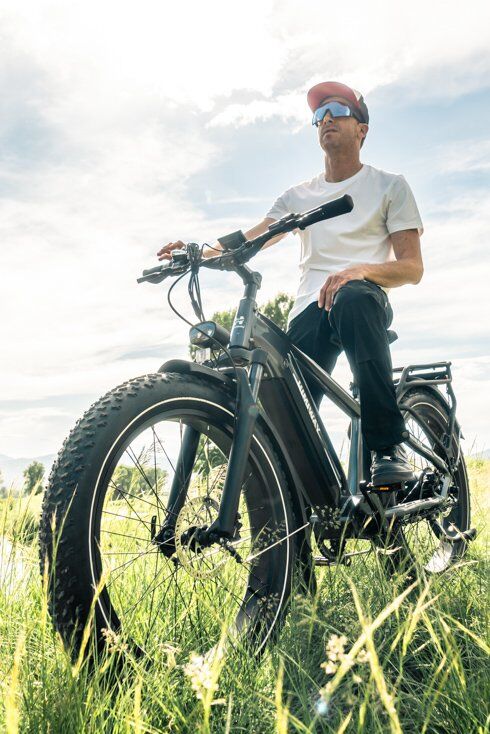 With this large battery capacity a single charge takes about 7 hours which is relatively long but makes sense considering the Zebra's battery is longer-lasting than most. Just in time for an upgrade, the Zebra achieves a much sleeker look than the old Himiway Cruiser thanks to the removable battery tucked into the frame.
The motor and battery hook up to a large, user-friendly display positioned at the center of the handlebars. It shows important metrics like ride time, distance, speed, and more at a glance. The LCD display is black and white so nothing too fancy, but it gets the job done.
Components
Even the most tech-savvy of electric bicycles come with traditional mechanical components and the Zebra has reliable Tektro hydraulic brakes and a Shimano Altus drivetrain. The 7-speed 14/28t cassette connects to an SiS Shimano shifter— it's thumb shifter type is ubiquitous on ebikes, but one that lacks in performance, especially considering the other more modern specs on the Zebra.
Fat Tires
The adventurous spirit and safari-ready feel of the Himiway Zebra is largely due to the ultra-wide 26 x 4" Kenda fat tires. With large air volume for cushion and knobby treat pattern for extra traction, those tires can handle light off-road detours from normal bike paths. The front suspension adds more cushion over the rough stuff and the overall geometry feels stable to ride.
Ride confidently in all types of weather conditions and there are fenders to prevent water and mud from spraying up. Year-round recreational riders will love the Zebra, but if steep-and-chunky mountain biking is more your thing, feel free to check out the Himiway Cobra and Cobra Pro.
Luxurious Extras
Small details can make a big difference and the Zebra comes outfitted with plenty of accessories like a chic wooden rear rack and blinking automatic rear light integrated taillight / brake light.
When the brakes are applied, the rear light activates even when the lights are switched off and is easily visible day or night. There's a bright integrated front headlight and comfortable Selle Royal Saddle.
Overall Impression
The new Himiway Zebra E-Bike ($1,799) offers a collection of upgrades that add up to give it a more refined feel than many of its rivals. Riders looking at the RadRover 6 or Aventon Aventure can be convinced by the Zebra's powerful motor and impressive battery range.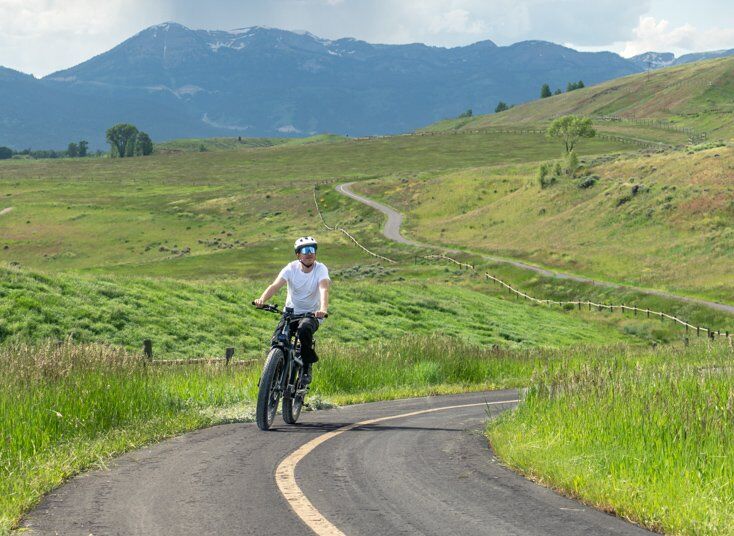 It's a hefty electric bike with a large silhouette that might not fit smaller riders, but that brawny build is the key to having fun while riding in all types of weather and terrain.
Himiway Coupon Code for $50 Off: MTNWeekly50
Related Articles: