The Himiway Cruiser Electric Bikes shows off the recent advances in ebikes with its brawny set up and impressive motor headlining an elaborate package, all at a reasonable price. Its fat bike design and tires can get you comfortably away from paved trails and into more rugged adventures in any season.
Himiway Bikes Top Speed
Fitted with a 750W motor and trusty Samsung battery to match, the Himiway Electric Cruiser has a range that can reach 60 miles on a single charge. It falls on the speedier side of things with its twist throttle offering immediate oomph or you can toggle between the five levels of pedal assist.
Himiway claims the maximum speed is 28 mph but this Himiway E-Bike seems to top out closer to 26 mph in our tests. The motor pushes out some serious power, even in tough conditions like gravel, loose rock, mud or sand, tests where off-road ebikes can often fall short.
Kenda Fat Bike Tires
A set of burly 26" x 4" Kenda fat tires legitimize its classification as a fat bike ready for just about any terrain or conditions. That said, the extra wide tires can make turning on pavement or in tight situations a little awkward. Himiway lists the ideal rider height as between 5'3" and 6'4" but smaller riders might take longer to acclimate to such a zippy ebike with beefy tires.
The puncture-resistant tires keep your adventure going safely and can work well with a variety of tire pressures to suit the conditions. The heavy Himiway Cruiser has a solid range considering the high power output and hefty tires.
Tektro Aries Disk Brake Pads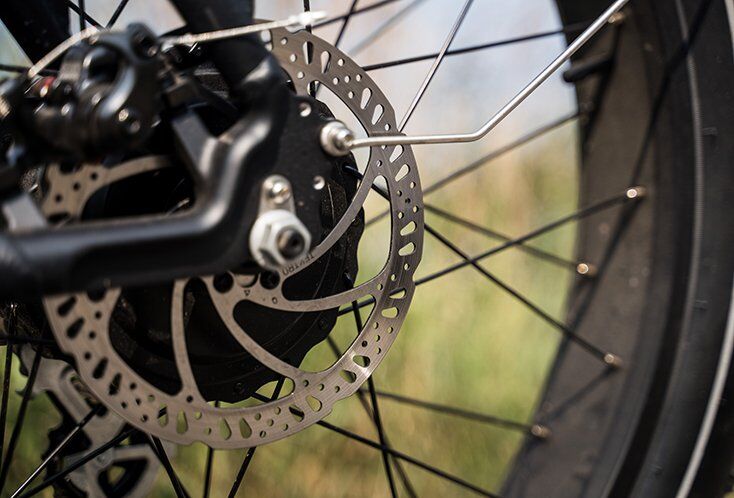 Himiway calls it a hybrid but this bike falls into the ever-growing class of electric fat bikes that thrive on rough terrain rather than the urban pavement jungle. The jumpy acceleration and beefy tires could feel out of place during casual city riding but the serious motor can surely give those pesky cars a run for their money! With all that speed, stopping power is provided by reliable Tektro Aries 180mm mechanical disc brakes. Higher end hydraulic disc brakes would offer stronger braking for such a heavy fat bike but the mechanical option is dependable and keeps maintenance costs down.
The smaller touches and accessories neatly enhance the experience with a powerful front light and LCD display unit for all your most important ride stats. The slick wood rear rack is easy to assemble and Himiway touts that it's usable as an extra passenger seat— but they better hang on if the battery is at full charge! The twist throttle gives it a motorbike feel but the quick acceleration and a small lag can catch unaccustomed riders off guard. Take care to switch into pedal assist mode when you hit the mountain bike trails if your local riding area has rules on ebikes.
Overall Impression
With other electric bicycles on the market with fast tires like the RadRover 5 on the market, the Himiway Cruiser ($1,599.99) is a sleek workhorse ready for all the elements. If you are prioritizing speed and power in your search for an ebike, this bike comes ready to impress on adventures and its range will run out of juice long after you do.
Himiway Coupon Code for $50 Off: MTNWeekly50
Related Articles: