The Magicycle Deer is a burly Class 3 fat tire e-bike that's as fully-loaded as they come. Magicycle has included just about everything but the kitchen sink on this SUV-style ebike with full-suspension. But with so many extra features, is the Deer a capable workhorse or simply too much bike for most riders? We recently tested this beast of an e-bike and jotted down our honest thoughts below.
Magicycle Brand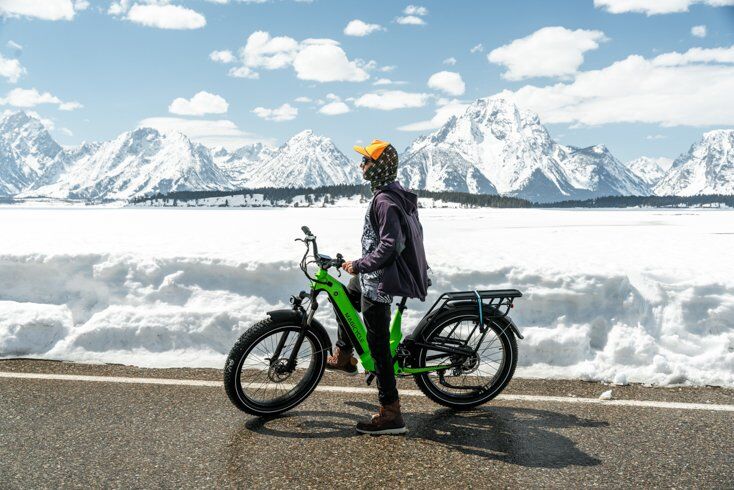 Having launched their first bike in 2021, Magicycle is continuing to carve out more of a place in the highly-competitive e-bike industry. It's still not one of the biggest hitters yet, but the success of their original Cruiser model allowed them to expand their range of fat tire electric bikes. The brand doesn't have the name recognition of, say, Rad Power Bikes, Aventon, or Himiway but it embraces their same focus on powerful, affordable e-bikes.
Here at Mountain Weekly News, we've previously reviewed the Magicycle Cruiser Pro and Ocelot Pro e-bikes. Along with the Deer and Jaguarundi model names, there seems to be a bit of a fun animal theme going on. The Magicycle brand is yet another China-based manufacturer that's entered the North American market with few actual details of how it got its start. As the story goes, engineer and CEO Wade Wei was inspired to design an e-bike for his father who suffered from arthritis, later describing the new set of wheels as "magical"— but you can believe as much of that anecdote as you'd like.
What is an SUV ebike?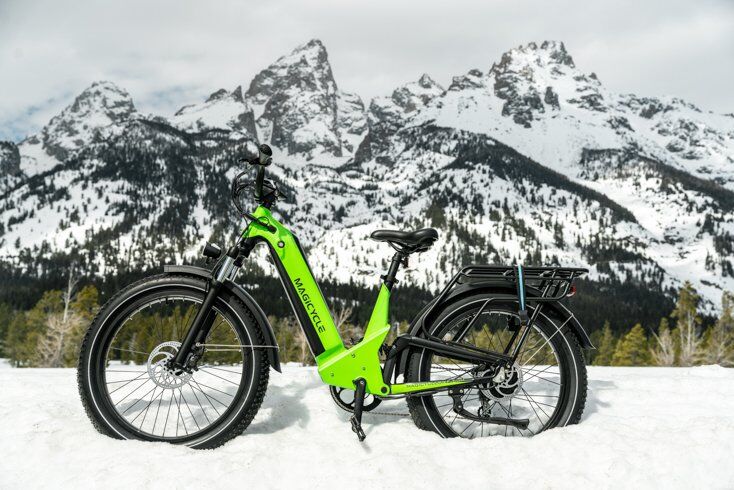 While I wouldn't say the Deer is suffering from a complete identity crisis, it can be difficult to pin down its exact category. The easiest way to look at it is via the two available versions: Off-road and Touring. Both are full-suspension setups but the Touring model ($50 more) comes with fenders and an extra-long rear rack. This is probably where the SUV designation comes in, injecting additional utility and letting riders carry plenty of cargo over bumpy or tricky terrain.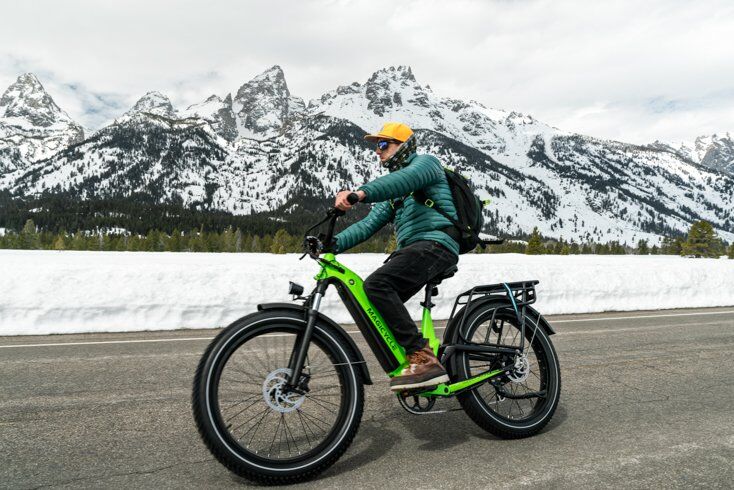 The maximum payload is a generous 400 lbs. Room for fenders and a rear rack is a rare sight on full-sus bikes and can come in handy for off-road haulers, hunters, or backcountry adventurers.
This supersized SUV e-bike opts for big performance and a large frame that leads to its whopping 92.3 lbs. weigh-in. The motor is plenty powerful to handle that weight but riders won't be able to use a car bike rack or easily bring it up stairs.
Recommended Rider Height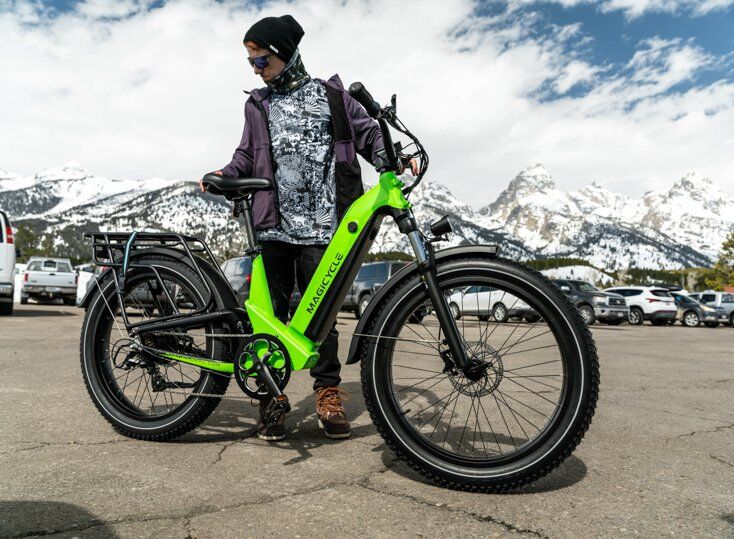 The one-size frame is recommended for riders between 5'5"-6'8″ and is available in step-thru or high-step geometry. We tested the step-thru version and enjoy the model's bold, cool color options: neon green, dawn yellow, and space gray.
Motor
The Magicycle Deer gets its pace from a powerful 750W rear hub motor with a max output of 1100W. The ebike's Class 3 rating means it can reach up to 28 mph with pedal assist which we confirmed during testing. There are 7 levels of assist— that's more than most other ebikes— and a half-twist throttle mode.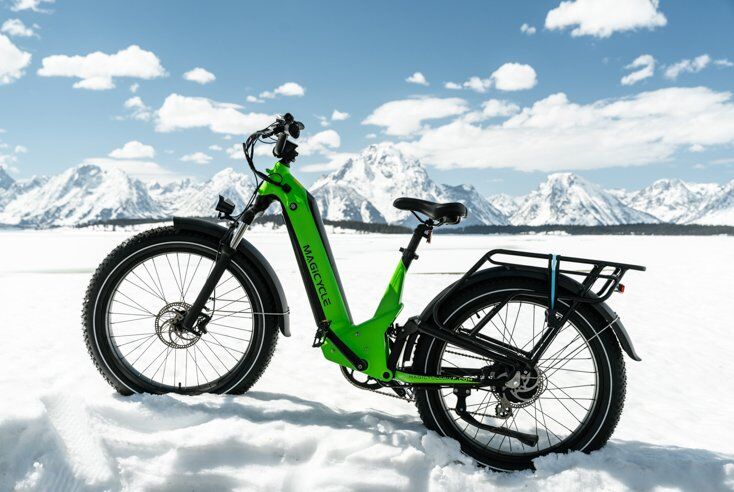 The 96Nm of torque also goes beyond most of its rivals to get you up big climbs with ease. In testing, we noticed that the motor does get a bit louder when going up steep hills but it won't get overwhelmed or too strained. The motor utilizes a cadence sensor instead of a higher-quality torque sensor, which led to a few jumpy starts from a motor with so much power. Initial acceleration can be a bit jarring but it's a fast and smooth ride once the bike gets going. The motor also features a cut-off function when the brake levers are engaged.
Battery
A high-capacity 52V 20Ah battery completes the drive system. Magicycle estimates the range to be between 60 and 80 miles on a single charge while riding in the lower pedal assist levels. The actual number is probably a bit lower but we don't think that range is too far off. Expect significantly less distance if you are cruising pedal-free via throttle mode. The color LCD display shows remaining battery and other metrics in an attractive and easy-to-read interface.
Componentry
As an unmistakably fat-tired bike, the Deer boasts 26" wheels with Kenda 4.0" tires with a slight knobby tread pattern. That big rubber along with the full suspension setup means you can take on just about any terrain throughout the year. There's a rear coil shock and front fork with lockout so you adjust the ride quality. Above the bottom bracket, however, is the awkward and a bit unsightly seat tube junction triangle that's designed around the rear shock.
Ride in any conditions— rain or shine— and enjoy responsive handling that's surprisingly as good, if not better, than a traditional mountain bike. The Deer is a hefty ebike which boasts a ride quality that's enjoyable, consistent, and smooth.
On the mechanical side of things, the Deer relies on a Shimano Altus 7-speed drivetrain that shifts smoothly. The range of gears should be plenty for almost all routes, especially when combined with pedal assist. For such a heavy and powerful bike, I'm glad to see 180mm hydraulic disc brakes that provide some serious stopping force. The bike is also equipped with a bright front headlight and a detachable rear red light.
Overall Impression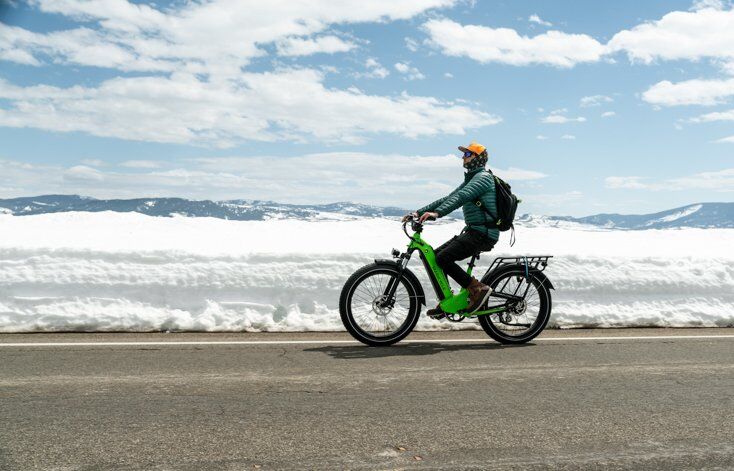 Magicycle combined many of the best elements of their preexisting fat tire ebikes to create the Deer. Its feature-laden design doesn't feel like a frankensteined bike, however, but rather an ultra-capable off-road machine. The standard Magicycle Deer is currently priced at ($2,449) with a $200-off discount which makes it an attractive deal for a full-suspension ebike. That said, if you're not doing much demanding backcountry riding, the nearly-100-pound Deer may simply be too much bike for your needs.
Related Articles: