The burly HOVSCO HovAlpha E-Bike has recently rolled onto the scene, aiming to stand out amid the crowd of fat tire electric bikes. High-traction 4" tires, a torque sensor, and a battery that doubles as a bright LED strip light bring extra performance to an affordable package. The HovAlpha comes equipped with some unique, nifty features which I haven't seen anywhere else, but keep reading to see if this all-new ebike really stands up to the hype.
The HovAlpha expands HOVSCO's growing range of electric bikes which now includes fat tire, city, foldable, and commuter models. The brand is one of the latest newcomers to the e-bike market, launching its first bike in 2019, but is starting to compete with the bigger names like Himiway and Aventon. Honestly, there's not much information out there about the HOVSCO Electric Bikes but they state on their website that their headquarters are in Southern California along with an address for a future showroom there.
Frame Size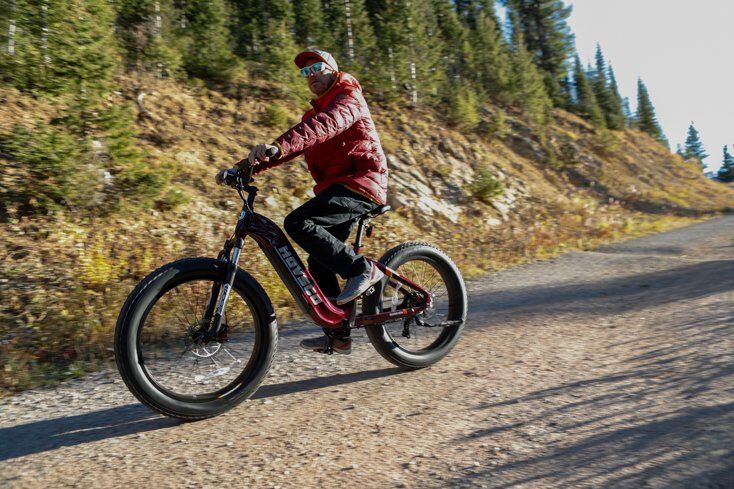 At first glance, the HOVSCO HovAlpha doesn't distinguish itself much with regard to frame design and price— both are fairly similar to other rivals on the market. My initial impression of the bike's oversized and chiseled 6061 aluminum frame design reminded me heavily of the Aventon Aventure. It's a great look, but we've seen it before. The HOVSCO HovAlpha E-Bike is available in both step-thru and standard versions and we got our hands on the step-thru model to get a feel for it.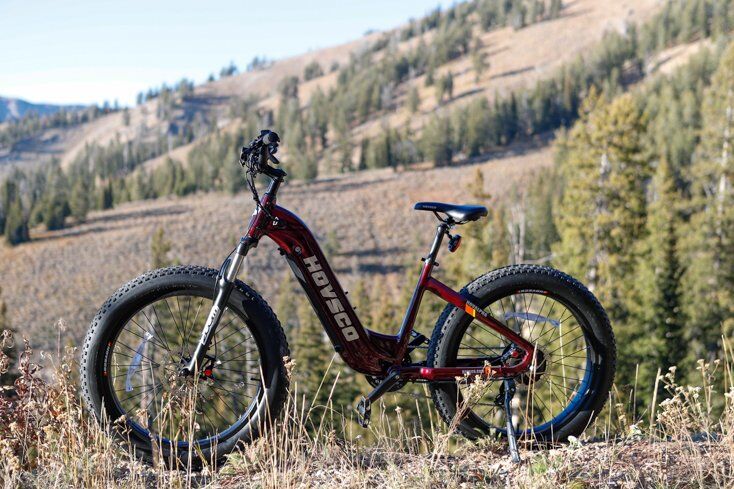 The low swoop of the frame makes it a breeze to hop on and off the bike, ideal for riders with limited mobility or those who simply like the ease of use. Both models have a sticker price is $2,199 which is slightly on the higher end in the budget ebike space, but there's a big sale at the moment that drops the cost to $1,699. One major plus is the range of creative color options— the tan, red, and green paint jobs add a rare splash of color without being too showy.
Where the HovAlpha does make a name for itself, however, is with its torque sensor-equipped motor. Ebikes in this price range typically opt for the lower-cost cadence sensor to determine when to engage the pedal assist and how much power to deliver. This model features a torque sensor that responds to the force of the rider pedaling, adding more speed the harder they pedal. This leads to a more sensitive and natural delivery of power from the motor.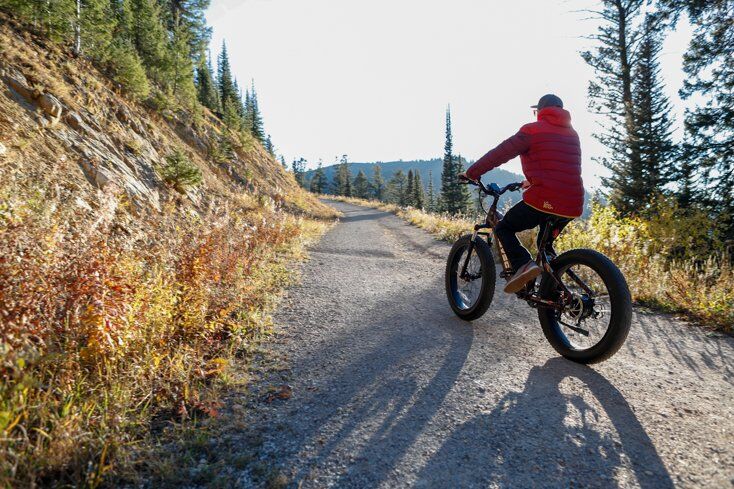 During testing, we noticed that the torque sensor removed any lag between stopping to pedal and the motor stopping assistance which made the ride feel more lively and responsive to the user.
750W Motor
The HolAlpha relies on a powerful 750W rear hub motor from Sutto, a subsidiary of ebike giant Bafang. There's an impressive 85Nm of torque and the motor can be configured as a Class 2 or Class 3 bike, maxing out at 20mph or 28mph, respectively. Users can "unlock" the faster speeds via the HOVSCO app available for iPhone or Android. Riders can toggle between five levels of pedal assistance as well as a throttle mode controlled by a left-thumb trigger.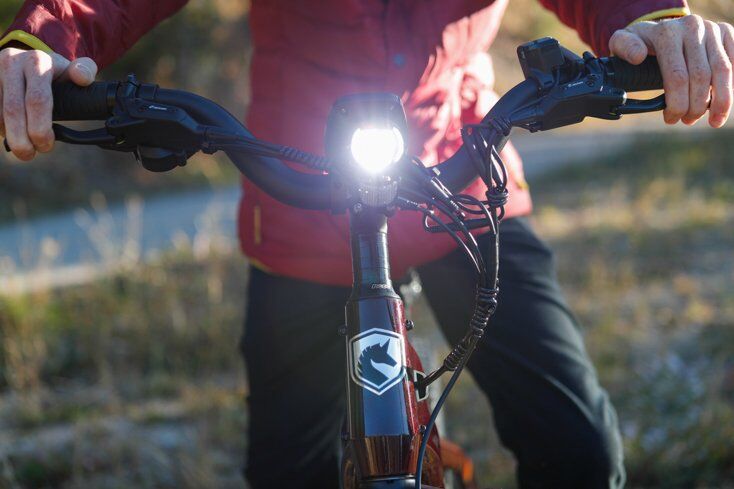 We found that the HovAlpha is super smooth while riding but feels a bit jumpy when starting— this could be a settings thing, though. The burly bike has a quick pickup off the line and then tapers off into providing a more predictable delivery of power. This is likely related to the torque sensor and can probably be fine-tuned within settings or the app. There are lights on the left-hand side controller which comes in handy during night rides.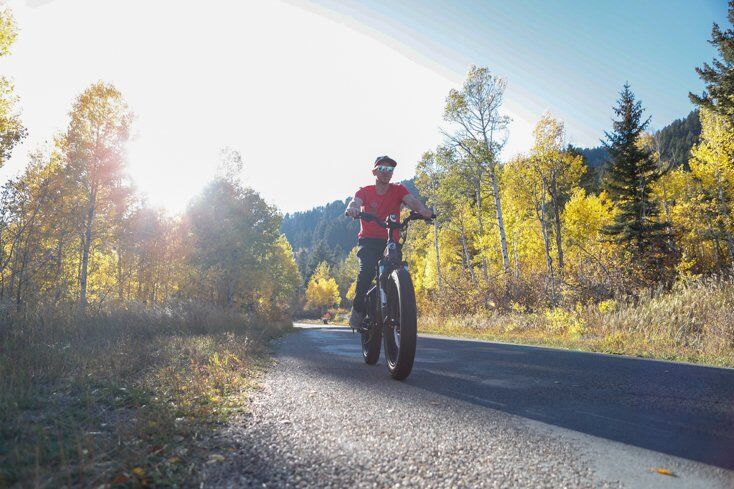 20Ah Battery
Another stand-out feature of the HovAlpha is its unexpected battery design. The 20Ah battery boasts Samsung/LG cells for extra reliability and is rated to have a whopping 80-mile range on pedal assist and up to 60 miles using the throttle. Range numbers are creeping up across the industry, but those are still some pretty impressive stats especially considering the HovAlpha is a decently beefy model at 71.9 lbs. The battery sits neatly integrated inside the large-profile downtube.
The pièce de résistance, though, is the huge LED light strip that's attached to the battery! Only visible when the battery is removed from the bike, one entire side is a brilliant, white LED strip with four brightness modes: low, medium, high, and flashing. This is a totally wild feature that caught us off-guard and we are still thinking of practical uses for this hidden flashlight. I'm tempted to cast off this feature as a gimmick, but it could be useful as a camping lantern or emergency source of illumination during a night-ride repair. Considering it's a fat bike, these kinds of adventures and unexpected situations are well within the realm of possibility.
Mechanics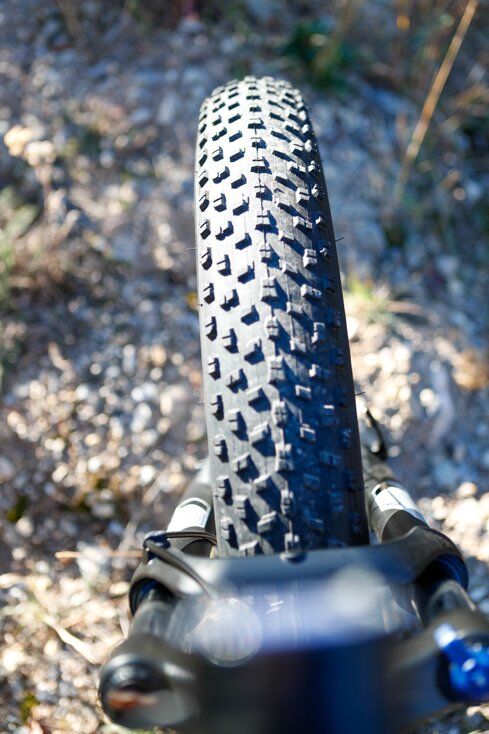 When it comes to the mechanical side of things, the HovAlpha runs a pair of 26"x4" fat tires, a 7-speed drivetrain, and 180mm hydraulic disc brakes. I'm glad to see these higher-quality brakes and the tires are knobbier than competing models, perfect for trail shredding and extra traction. There's a short-travel suspension fork that provides 80mm of cushion. The HOVSCO website doesn't mention the brands of these components which lowers my confidence slightly but may just be because they are switching between suppliers at the moment.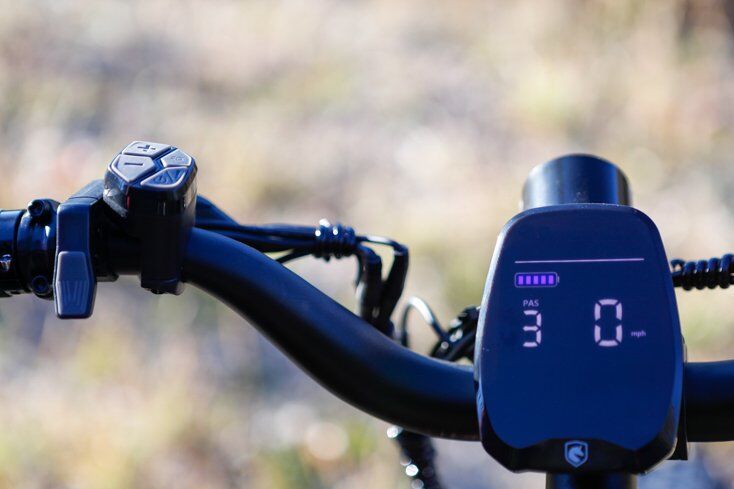 The HovAlpha's finishing kit includes a cushy saddle, included kickstand, and an innovative LCD display positioned in the middle of the handlebars. The digital dashboard is large and I appreciate the rounded-rectangle design to enhance its aesthetic appeal. Near the cockpit, however, the brake and shift cable management is a bit messy and bulky, but a few well-placed zip-ties could solve that. Riders can install an optional front basket or rear rack and the bike can support a maximum payload of 450 lbs., great for larger riders or carrying heavy gear.
Overall Impression
My overall thoughts are that the HovAlpha offers incredible handling for a fat tire ebike and it feels much more nimble and trustworthy than similarly priced models. It's a true adventure machine that comes with a series of impressive features up its sleeve including the torque sensor, typically reserved for higher-end bikes, and the light-up battery.
If you're on the hunt for something different to get through over the snow, ice, sand, or wherever else you ride, the HOVSCO HovAlpha ($1,899) will go the distance and arrive in style.
Related Articles: