The Aventon Aventure is a powerful fat tire ebike with standout customization so riders can fine-tune its performance and choose the perfect set-up. The Aventure ships as a Class 2 ebike, but can be configured to a Class 3 rating for additional power settings that max out at 28 mph. It's elegant frame design and mighty 750W motor achieve the best of both words, justifying this bike's spot at the top of Aventon's ebike range.
The Aventure, a bad-ass machine manufactured by Aventon, one of the main ebike competitors on the market today. The California brand was founded in 2012 by JW Zhang and originally focused on fixed gear bikes. I remember when they got their start— the sleek aesthetic and chic designs made a big splash with urban riders. Later in 2018, they added their first ebike, the Pace 500, to the lineup.
Since then, the brand discontinued their trademark fixies and switched over to only producing ebikes. The available models range from lightweight single-speed ebikes to the beefy, do-it-all Aventon Aventure. The pandemic witnessed ebike sales skyrocket and Aventon, with its west coast style, has cemented its place as one of the best brands.
This all-terrain beast has a competitive price tag of $1,999 that's sure to convince all types of riders to join the ebike movement.
Sizes & Height Range
5'1″ – 5'7″ – Aventon Aventure Small Frame Suggested Sizing
5'7″ – 5'11" – Aventon Aventure Medium Frame Suggested Sizing
5'11" – 6'4″ – Aventon Aventure Large Frame Suggested Sizing
The Aventon Aventure Ebike is built around the stellar 6061 single-butted aluminum alloy frame, available in three sizes and three colorways. Many rival ebikes have one-size-fits-all frames, but this model has plenty of options to choose from. There are neat welds and I especially love the 'SoCal sand' and 'camouflage green' paint jobs— you won't find those stylish colors on many other ebikes.
The downtube is beefy but has a cool beveled shape with integrated cabling. The bike weighs a hefty 73 lbs. which is typical for its category and is available in the Step-Through version as well, with 2 sizes S/M and M/L .
Bafang 750W Hub Motor
At the heart of this rugged ebike is a 750W Bafang rear hub motor that delivers power via throttle mode or five pedal assist levels. The on-demand throttle is relatively punchy and can reach a top speed of 20 mph. Class 3 configuration increases the maximum pace to 28 mph with pedal assistance.
The thumb trigger throttle is on the left which might throw some ebike veterans for a loop, but I think it's an improved design over a grip twist throttle, especially when it comes to fatigue as it's much easier to press down on the button then to twist the throttle over the course of a few hours.
Hidden within the downtube is the high-capacity 15Ah ebike battery. The overall 720Wh of energy storage is rated as having a 45 mile range and has an impressively quick charge time of 4-5 hours. There's an extra step of pushing the frame button to turn on the battery before you ride, and another button to switch on the LCD display on the handlebars.
Tires and Suspension
The Aventon Aventure Fat Tire Ebike has all the right components to conquer mixed terrains and feel at home in the city, too. The standard 4" fat tires have enough tread for traction on loose dirt or gravel and they aren't overkill for paved roads. The Zoom front fork offers a moderate 80mm travel for suspension and there's a lock-out option.
Zoom hydraulic disc brakes with large 180mm rotors are a dependable choice for such a heavy ebike. The 8-speed drivetrain with a 12-32t cassette isn't the highest quality, but does have one more cog than its closest rivals, the Himiway Cruiser and RadRover 6.
LCD Display
A standout feature of the Aventure is its high-tech easy to read color LCD display and Aventon app synchronization. Most ebike displays are simple grayscale screen that show ride metrics, but this display is also the control center of the bike. Riders can set and adjust all kinds of settings: switch between Class 2 or 3, alter integrated front and rear lights, configure speed limit, track rides, and make workout goals.
The onboard computer is positioned in the center of the handlebars and syncs with Aventon's ebike app with an user-friendly interface and plenty of fun, motivating features. The standard functions like battery health and ride stats are also available, as well as a USB port to keep your phone charged.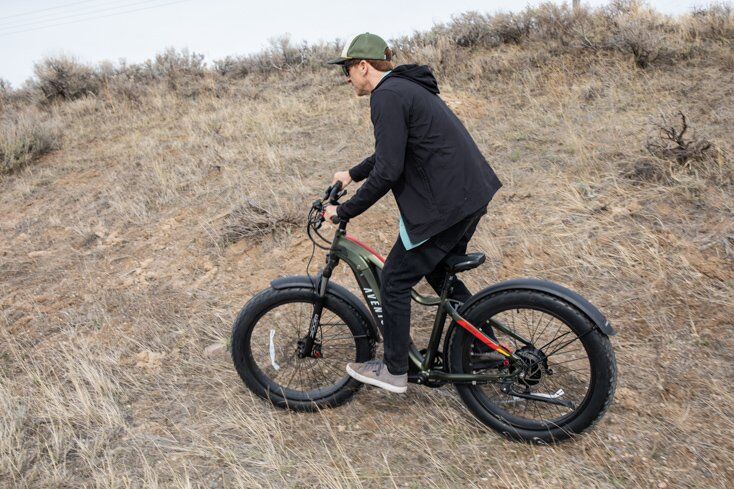 Enjoy the excellent ride feel and responsive handling for such a big bike. Horsepower fiends will appreciate the thrill when the motor switches on. The bike comes equipped with a cadence sensor instead of a higher-spec torque sensor, so acceleration from a stopped position can feel a bit abrupt.
Aventon opts for a sporty saddle that offers a plenty comfortable ride — much better than one of those oversized comfort seats common on other models.
Overall Impression
This bike's do-it-all attitude is complemented by the integrated fenders and lights, front and rear rack compatibility, and high payload capacity. The Aventure is rated to support up to 400 lbs. so feel free to install racks and load it up with cargo, whether its outdoor equipment or weekly groceries. If you're on the hunt for a new ebike, the Aventon Aventure Ebike ($1,999.99) is a fantastic all-year-round fat tire e-bike beast decked out with Aventon's signature flair.