The Mokwheel Obsidian is a full-suspension electric bike that's been rocking our world recently. The fat tires and well-designed suspension package give more expensive eMTBs a run for their money, making this model an attractive option for mountain bikers looking for a boost on a budget, currently priced at $2,399. We put the Obsidian through the ringer to review its off-road performance, dropping our honest thoughts below.
About Mokwheel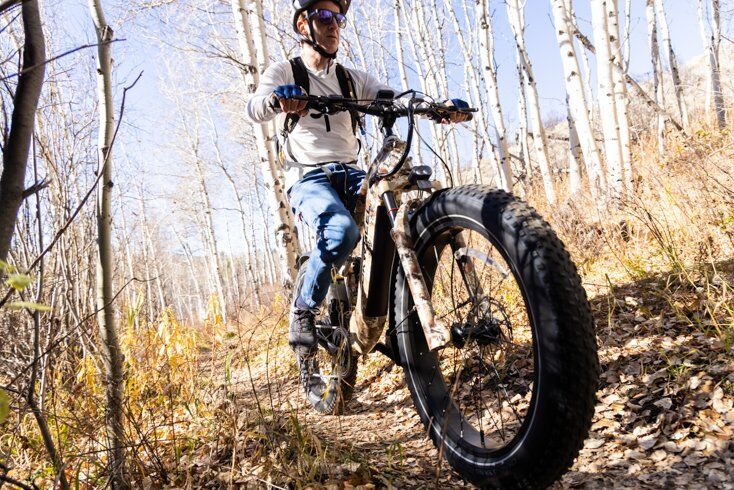 The Mokwheel brand has been around for a while and made a splash with its flagship all-terrain electric bike, the Basalt. There are a handful of other models in the Mokwheel fleet, each embracing the trendy combination of fat tires and a hub motor that's common on entry-level ebikes these days. That said, they do have the Mesa Lite model that's a lighter-weight hybrid with slightly skinnier tires. Coming out with a full-suspension eMTB was a bold choice but I think Mokwheel executed the brief excellently with the all-new Obsidian.
Smooth and Efficient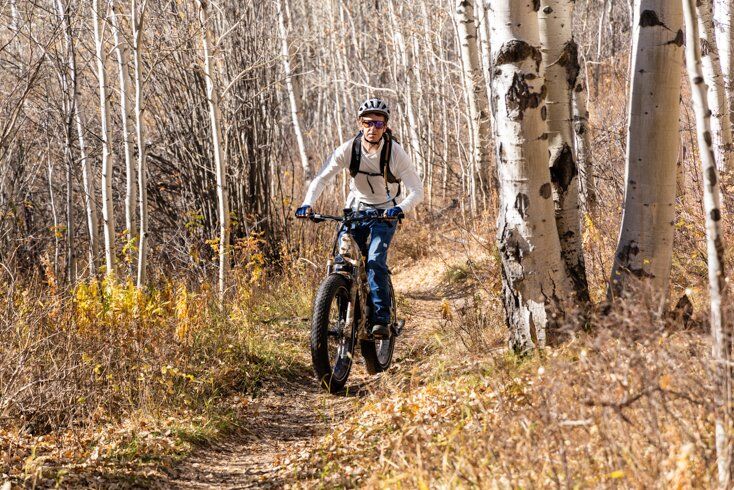 The Obsidian model is designed to climb steep mountain trails and descend chunky routes with confidence. Although its price point splits the difference between entry-level fat tire ebikes and the premium, $5,000+ eMTBs from the likes of Trek and Specialized, it shares much more with the latter. Even at first glance, the geometry and rear suspension are clearly more advanced than those confused, cheap ebikes that stick on a rear shock simply because they can, arguably providing enough cushion to justify the added weight.
Instead, the Mokwheel Obsidian performs much like its expensive cousins from fancier brands. During testing, we rated the ebike as having incredibly smooth and efficient pedaling that's some of the best we've experienced yet— and we've ridden a lot of ebikes. This is probably due to the integrated torque sensor that delivers smoother assistance based on how hard the rider is pushing on the pedals, rather than the cheaper cadence sensors used on many ebikes.
Frame Design
The trail-oriented frame design is noticeably aggressive— in a good way— and accommodates the full-suspension setup nicely. The kinked seat tube is a nice touch along with the sufficiently beefy downtube that houses the battery. There's a generous 130mm of travel on the front suspension fork the plush rear shock soaks up bumpy trails. The Obsidian was one of the first fat tire eMTBs that we actually felt comfortable riding up and down mountain bike trails instead of just flat off-road paths. That quality full-suspension package is a huge reason why this ebike is so comfortable and capable on rugged trails or around town.
We tested the desert camo version of the Obsidian which I think would work well as an approach bike for hunting. The bright yellow color option is also attractive but likely too flashy for hunting— there's also a red/black paint job available. The wide 26 x 4.0" ChaoYang puncture-resistant fat tires roll over almost anything and are a good match for wild terrain. The 400 payload capacity means you could load this bike up with gear or try to use it to haul out cargo. The one-size frame is listed as Large and is recommended for riders between 5'6″ – 6'8″.
1000W Motor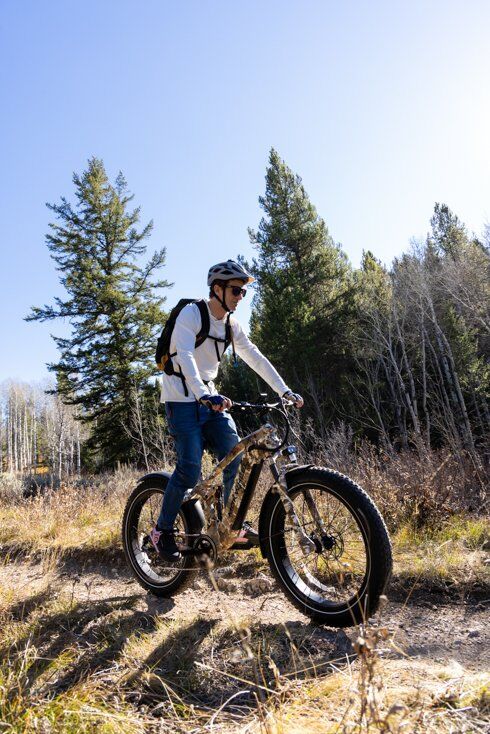 The engine room of the Obsidian is a 1000W rear hub motor with 5 levels of pedal assist and a throttle mode. The rear-heavy balance of a hub motor setup isn't as natural as that of a fancier mid-drive motor, but it's a worthwhile tradeoff to keep the price down. If you're a dedicated mountain biker who's picky about those things, you'll probably want to shell out a bit more cash anyway. The 77 lbs. ebike reaches a top speed of 28 mph and has the thumb throttle on the left side of the handlebars.
Samsung Battery
The Obsidian relies on a high-quality Samsung 19.6Ah battery with a decently fast 3-amp charger. That capacity is par for the course these days and is rated for between 60-80 miles on a single charge, but intense riding or climbing will lower that range.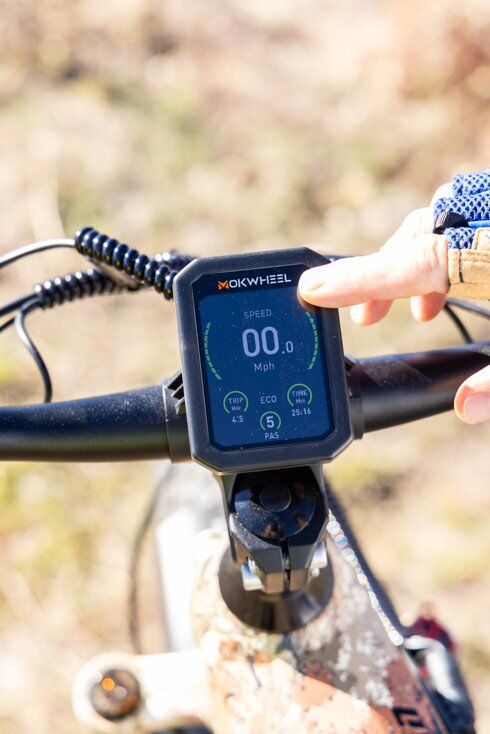 Mokwheel Inverter
Mokwheel makes a big deal of marketing their so-called "Inverter" which is essentially a portable power station. Riders can use the Inverter to charge their ebike as well as plenty of other devices which can come in handy while camping or as a backup energy source. The brand offers a bundle deal with the Obsidian, Inverter, and foldable solar panels to save 20% on the package if that's what you're after. I think it's cool that the company is putting battery technology and power expertise to good use.
Components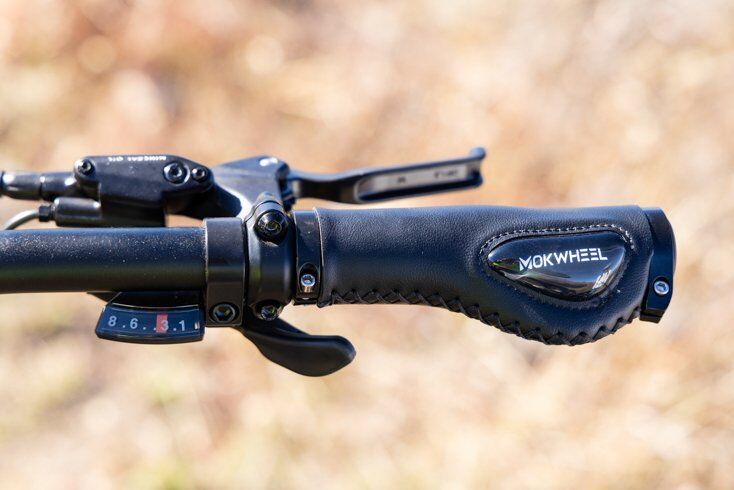 Another premium component is the Tektro hydraulic disc brakes that deliver excellent control in demanding terrain and steep gradients, especially considering this bike's heft. There's a Shimano 8-speed drivetrain and a quality trigger shifter that's head and shoulders above the outdated SiS shifter included on so many modern ebikes.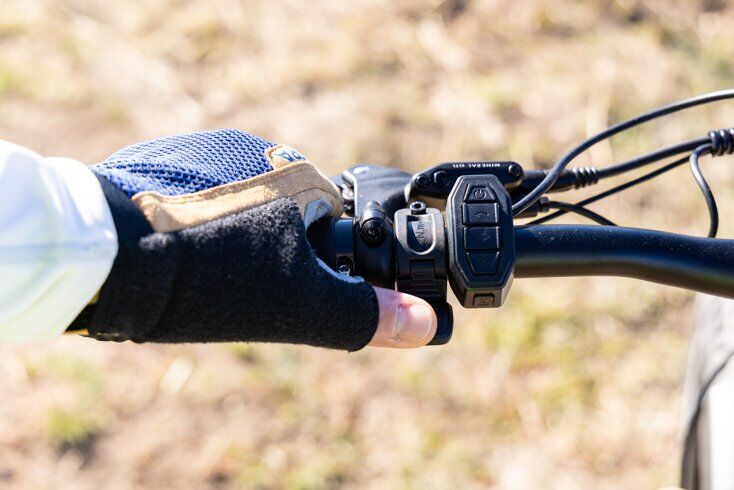 The non-slip grips feel great along with an extra padded section branded with the Mokwheel logo. The saddle is nothing crazy but we noticed it was comfortable, even on longer outings.
Overall Impression
In just a few words, the Mokwheel Obsidian ($2,399.99) impressed us. It's obvious that Mokwheel is making huge strides here and stepped up to the challenge of building a very capable full-suspension ebike that doesn't fall flat or cut corners. To us, the Obsidian is well worth the $2,399 sticker price and is an exciting alternative to higher-priced models for the mountain bikers out there that ride on rough terrain.
It flies fast everywhere it goes, from town to trails and back again. The incredibly performing Obsidian ebike may not be exactly as shiny and flashy as its volcanic glass namesake, but its clean aesthetic gets pretty darn close.
Related Articles: