The all-new OKAI EB50 Electric Bike disrupts the bike industry with its jaw-dropping tech that shows a real jump forward in ebike design. Priced at a wallet-friendly $1,999, the EB50 has faced some tough competition from other budget ebike brands but stands out thanks to its integrated stem LCD display and ambient frame lighting. Keep scrolling to learn more about this innovative ebike and see if it's really worth the hype.
The OKAI brand is known for its electric scooter and ebikes, providing massive fleets to ride-sharing businesses and selling directly to consumers. The company is based in Hangzhou and Zhejiang, China, but operates out of its European headquarters in Berlin, a fairly standard setup for emerging ebike brands. The new EB50 is a cross between the robust city-proof, ride-share models and the lighter EB10 that OKAI launched a while back.
Fat Tire E-Bike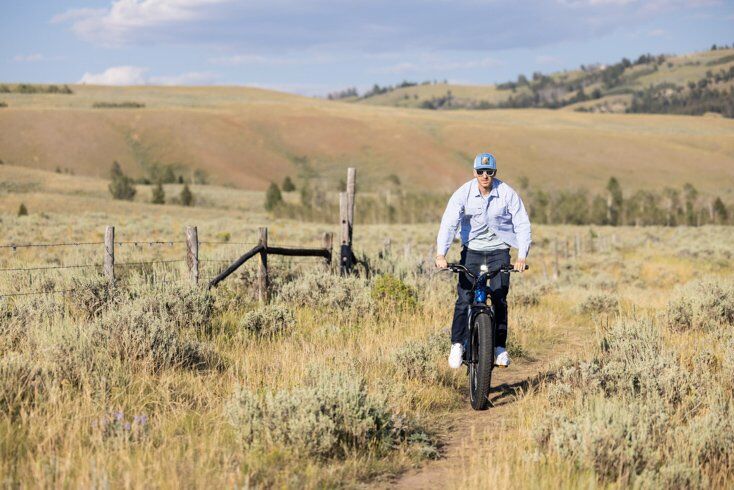 Competing with rival models from Himiway and Rad Power Bikes, the OKAI EB50 is a fat tire ebike built for a range of terrains and uses. The frame has a large silhouette— but that's to be expected— and the CST BFT 26"x 4" wide tires roll over just about anything.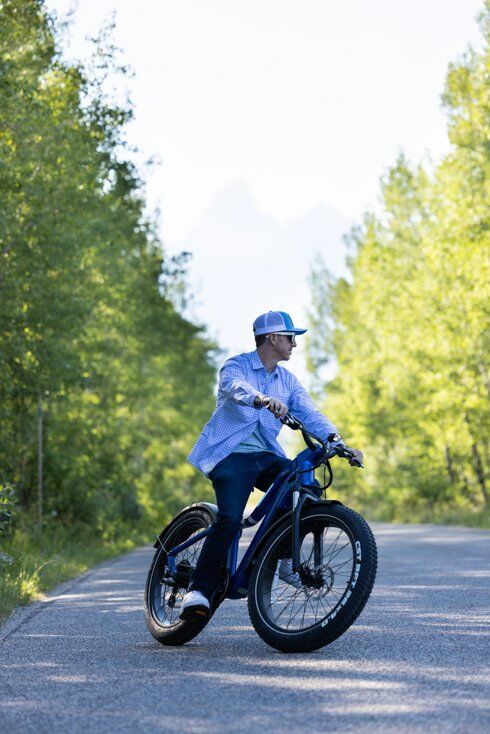 We've found that it performs the best on bike paths but can tackle dirt trails and other light terrains without a problem. The EB 10 weighs 84 lbs., which is fairly standard for all-terrain ebikes.
Starting the Bike
The fun begins when you turn this ebike on, which can be done in three different ways. Riders can press the orange button on the handlebars or switch on the bike via the OKAI App. The last method— and perhaps the coolest— is using the included key fob similar to a car key. Simply pass the fob over the integrated stem display, and the bike turns on. The fob also has a metal key that opens up the battery compartment inside the downtube.
750W Rear-Hub Motor
The motor is a Bafang 750W rear hub-drive system that can reach 20 mph in throttle mode (left side thumb lever) and up to 28 mph with pedal-assist. Depending on where you buy it, though, all modes may be limited to 20 mph, which won't take advantage of the motor's serious power, but maybe this has to do with where OKAI wants to market the model.
There are three pedal-assist levels as well as a walk mode. The 85 Nm of torque is plenty and keeps the motor running efficiently even in tough conditions like steep climbs, mud, or sand.
45 Miles Per Charge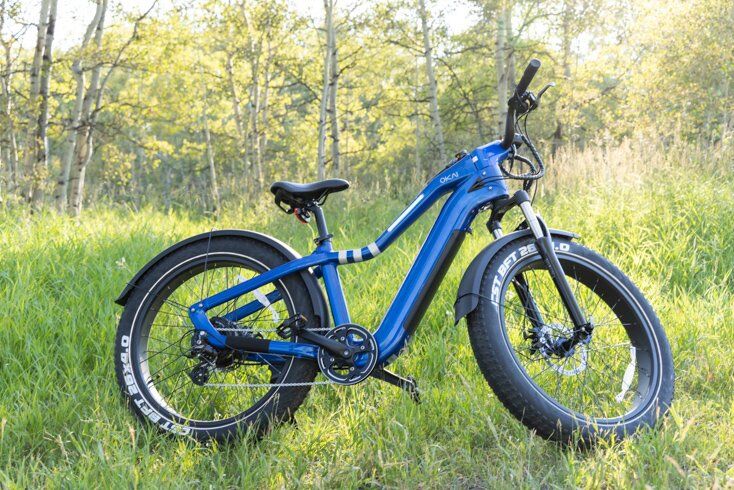 The battery tucks neatly inside the downtube and can provide up to 45 miles on a single charge. That's an impressive range for a 14.7Ah battery, but considering that so many rival ebikes have made the move to 20Ah, I would have expected a slightly larger battery for the price.
However, one feature I really love is that the LCD display shows you exactly how much range you have left based on the power mode you are riding in. Users can see the distance they can go on Levels 1, 2, or 3 according to the real-time battery level. This practical feature doesn't exist on other models, but it makes total sense to me and helps bikers organize their rides. The estimated charging time is around 6 hours.
LCD Screen Smart Computer
The LCD touchscreen display is integrated into the stem for a seamless finish and futuristic feel. It pairs with the OKAI App and shows all your most important ride metrics as well as tons of customizable options for the power modes and lighting colors. From your phone, riders can change the color of the built-in ambient lighting on the top tube, which looks amazing and increases lateral visibility at night. I've never seen this tech on an e-bike before and the fact that it's fully customizable is a huge plus.
OKAI E-Bike Video
Components
In terms of the mechanical components, the EB50 runs Shimano Altus 8-speed gearing and comes with Tektro mechanical disc brakes. For such a brawny bike, I'd expect hydraulic brakes, so this is a bit of a shortfall for me. That said, the Shimano under-handlebar trigger shifter is a huge upgrade to the cheap SiS shifter that has become ubiquitous on modern budget ebikes despite its outdated tech.
All the cables are smartly integrated into the frame to achieve a streamlined look— the ambient lighting, smooth finish, and battery charging flap almost remind me of a Tesla. The chain tension feels a little loose and will definitely slap around on bumpy terrain, but there is a covering on the chain stay and a double-sided guard on the front chainring.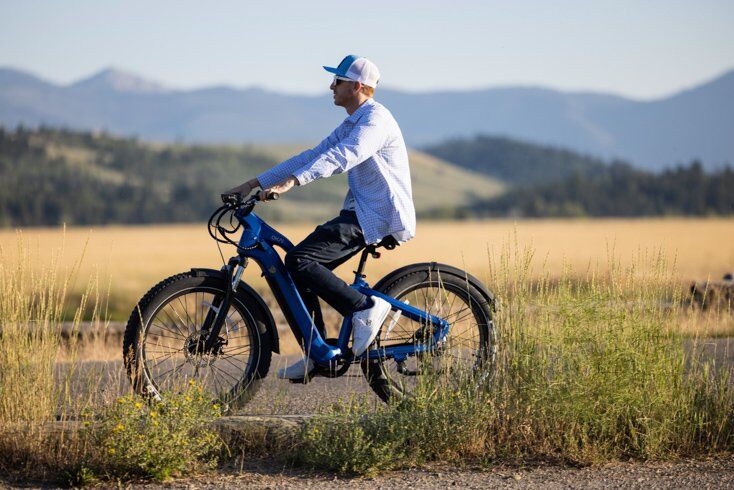 The EB50 is a joy to ride and comes outfitted with several user-friendly features. The riding position is very upright due to the nearly 3" riser handlebars, so it's a comfortable setup that offers confident handling. The integrated headlight is also placed quite high for an extended field of view and is extremely bright— it has a wrap-around lighting strip to be seen from all angles.
The removable rear light, however, is a let-down and feels like a free, cheap light you would receive at a giveaway. The saddle is comfy, and there is a useful handle under the seat to help pivot the heavy bike. The one-size frame is rated for riders between 5'1" and 6'6".
Overall Impression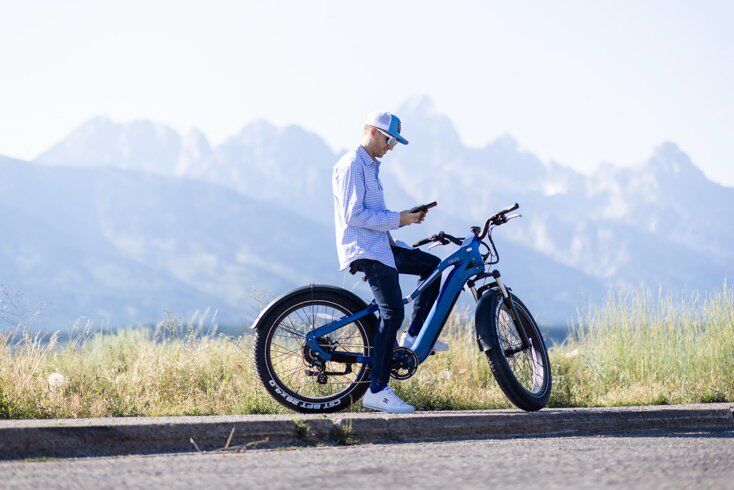 The OKAI EB50 appears to be a standard fat tire ebike from a distance, but up close, it's a unique machine with the latest tech to hit the bike industry. With its affordable $1,999 price tag, I wouldn't hesitate to choose the EB50— with its cool ambient lighting and integrated stem touchscreen— over similarly priced bikes.
While I was worried that the EB50 would feel more like a work-in-progress prototype, the final product successfully combines attractive tech with great performance.
Related Articles: